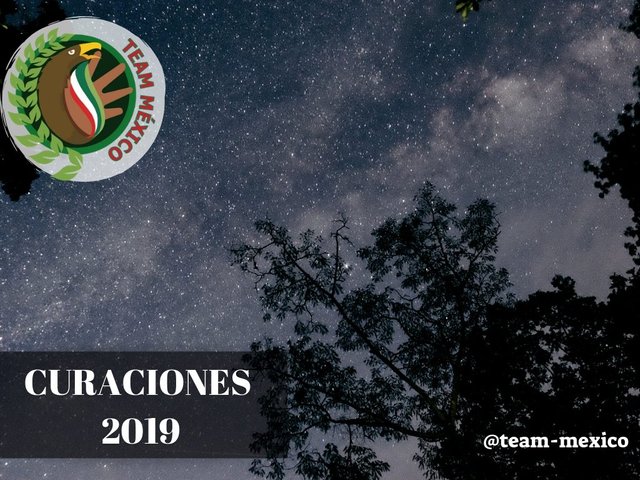 Reporte de curación 2019. - @team-mexico.
Tenemos una nueva imagen para nuestras curaciones, ahora serán mas sencillas y practicas. El objetivo es el siguiente y se le debe de dar clic a las imágenes y se te va a redireccionar a la publicación original de los escritores.
¿Que necesitas para que @teammexico te vote?
Es muy simple, deberás usar el #mexico o #team-mexico por supuesto tener buen contenido en tu blog y que sea de ayuda para la comunidad en general, debes de ser un usuario activo y con muchas ganas de crecer, lo mas importante ayudar a los demás y si encuentras errores en sus post debes de ayudar a las personas corregirlos.
Usa la etiqueta #team-mexico de parte de la equipo mexicano y de los usuarios en conjunto les estaremos dando votos a las mejores publicaciones. Hazlo ahora y no dejes pasar la oportunidad.
---
| | |
| --- | --- |
| Mexiquillo, Durango, Mexico, Parque Mexiquillo. @yadir100 | |
| Bordeando el castillo de Monterreal / Bordering the castle of Monterreal. @volcandemorcilla | |
| De tenerte. Clave .Spanish Freewrite 05 de Agosto de 2019 - Mensaje diario de 5 minutos @larryparra | |
| SPACO - El token de la comunidad hispanohablante @reyvaj | |
| Random photography: Altar to the Black Christ of the Blisters @vickaboleyn | |
Delegadores:
---


Una iniciativa que promueve el uso eficiente del UpVote con el fin de apoyar a todos los usuarios que forman parte de la comunidad del Blockchain de Steem promocionando y recompensando sus posts a través del UpVote planificado y consensuado por medio de nuestro trail de curación. - @votomasivo.
@team-mexico apoya a la comunidad VotoMasivo con su Fanbase al 100%. Quieres la ayuda de nuestra comunidad, contactanos por discord.
---
Únete a nuestro servidor Team-Mexico en Discord
Únete a nuestro servidor Team-Mexico en WhatsApp
Cuenta oficial del proyecto @Team-Mexico


---
Posted from my blog with SteemPress : https://teammexicopro.000webhostapp.com/2019/08/da-clic-y-entra-para-ver-las-curaciones-de-team-mexico-71
---