The STEEM Catch-22
I've been reading some posts and comments by those who were in favor of, if not largely responsible for, the implementation of Hardfork 21, principally the Economic Improvement Proposal (EIP), noting that there is a lack of 'quality' content to upvote.
While there's an issue with the definition of 'quality' that apparently still needs to be addressed, may I point out, at the risk of stating the obvious, that the whole presumption of the EIP is, you need to incentivize more curators to curate first, so that they can search and find those 'quality' posts that were sinking below the waterline because there weren't enough curators out there looking.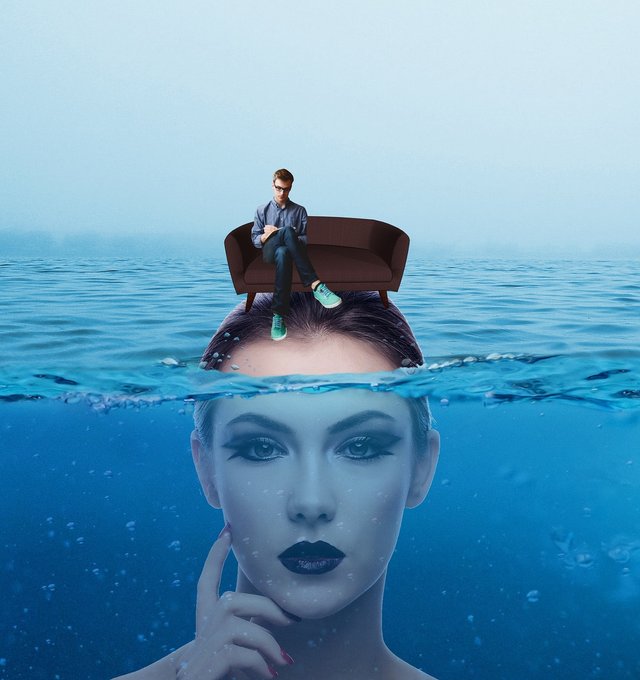 Turns out, I guess, that there's just more non-quality posts below the waterline, too.
Kind of like an iceberg.
Or something like that.
Let's Get This Out Of The Way
Let's just call it what it is, shall we?
Instead of quality content, can we call it something that means "stuff I like," because that's more of what we're talking about. There are no true measures of quality on STEEM anyway. Don't spam, don't plagiarize, and maybe something to do with some amount of words to go with the image posted. That's about as barebones as it gets, but those are essentially the unwritten rules governing quality on STEEM.
Unless you get into tribes and curation trails. Then there are more rules, and more subjectiveness as to what constitutes quality, or acceptable material.
But that's what it is. Subjective.
What moves me, or what I find significant, doesn't do it for you, and vice versa. We're not really talking quality, however that's even objectively measured. It's always been and always will be a preference deal, unless we actually get down to it and define, once and for all, what quality means, and then somehow make everyone adhere to it on both ends, creation and curation.
Not going to happen. Nor should it.
To those who aren't finding enough 'quality' content to curate, it's out there. The truth is, there's plenty of stuff that someone will read, even if I have to wade through a lot of it myself to find something I want to read. Does that mean the stuff I don't read isn't quality. Heck, no, though some of it probably isn't. It mainly means I'm not interested in it.
Another Thing
Then, there's the tendency of people to upvote people, not posts. I've been told by others that's what they do. Personally, I try to avoid it because that's not how you get 'quality' content in my personal opinion, but whatever. Just don't call it quality and we're good.
Back To The STEEM Catch-22
If we want stuff we want to read, how do we make that happen? Around here, we say, you need to incentivize the behaviors you want, and there are those who will even go as far to say, you need to punish or de-incentivize the behavior you don't want.
Okay. So we have the EIP. What's it supposed to incentivize? Curation, downvoting, and I would say, concentrating more upvotes on a smaller number of posts, because that's what I understand the convergent linear curve does. That's supposed to cause the 'stuff we like' to emerge to the top.
Great. So, by many accounts, the curators have been coming out of the woodwork to upvote, so much so, they can't find stuff they want to upvote. The downvotes have been raining down so much that it's already putting a dent into the bottom line of bidbots and some of the big name producers of perceived non-quality content (stuff we don't like). I also believe that the rewards have been concentrating on fewer posts. It has to be, if folks aren't finding enough stuff they like.
So Now What?
Well, if you were to take a poll of the content creators still around, how many of them do you think would say they felt their posts were overvalued before HF21 took effect? How many of them would feel like they were getting too much in post rewards? How many would say, "I don't deserve all of this engagement."
My guess is, not that many, relatively speaking. I certainly wouldn't, and in reality, I'm probably in the upper 50% of rewards on STEEM, and maybe even into the upper 25% (mainly because it's a steep climb after that). And that's with most of my posts getting less than $1, with a few hitting somewhere between $1 and $5, and one or two a month going over that. That's pre-HF21. Now, all are under $10, so far, but fewer have been under $1. Hard to tell what the net is, but if you were to ask me, I still think I should be earning more.
And that's just it. Very few of us content creators who think we're worth anything, who take the time to do this, don't think we should be earning less. For some of us, maybe there's a reality check needed, and now we're getting it. For others, maybe we do merit our expectation, and more.
If that is the case (maybe I'm all wet), then taking what people thought was more or less a pittance before (I mainly post because I like to create—it's certainly not because of the awesome rewards), then taking from that pittance to give to curators who weren't incentivized enough already to look for stuff they like is not the same as incentivizing content creators to create stuff people like.
Therein lies, in my mind, the great STEEM disconnect.
How To Incentivize
Good question. I don't know if I have the answer. There always seems to be as many if not more counter arguments for every point for. This I do know. For every action there is an equal and opposite reaction. In this case, if you continually do things to de-incentivize stuff you want to read by those who would create it, guess what, no matter how good your intentions, you end up with less of the stuff you want to read.
This EIP was rammed through at the last minute, as hardforks generally go, because it was urgent that we get STEEM back on the right track, no matter the cost, because doing nothing was worse than the status quo. That despite the fact that it delayed the STEEM Proposal System, which was more widely accepted than the EIP, in my estimation, and for all intents and purposes, delayed SMTs further, which most of us have been waiting on since we got here. That along with Communities.
Some have even gone as far to say that SMTs will do what the EIP is intended to do, and that Communities will further tighten things up. If that is actually the case, then we could have actually been looking at SMTs right about now, since the SPS was ready to go much earlier in the year, and was well into testing before the EIP became a foregone conclusion. Instead, SMTs are, at soonest, March or April, 2020.
And don't forget, because of HF21, HF22 was required. So, the idea of not messing up the exchanges with regular hardforks went straight out the window because, delegations (dang it!).
Some More Thoughts
Those of us who have been around since before HF20 should remember life without RCs, and the effects they had on most everyone immediately after and which I believe still linger for many. Because of the RCs, what seems to get lost in that hardfork, or forgotten, is that it was dubbed Velocity. Why? For onboarding new users more quickly than ever before possible.
What's happened? More or less the same trickle as before. Why? Someone knows, but I'm not clear on it myself, and I don't know that it really matters if I understand it or not. The main thing is, velocity is not happening, and apparently there's something else that needs to happen to make it a reality.
Regardless, I think we've whittled away quite a bit at the active users with all the different things that have happened with the last three hardforks, not to mention the cratering of STEEM values relative to what they were when the majority of us signed up. So, here we are, with the curators now more incentivized, right, but we have a lack of stuff we want to read, and we can't bring on more people who might create the stuff we want to read, and we can't seem to retain enough of the folks that were here that were creating the stuff we want to read.
I don't know. It seems to me like we're kind of treading water. Those who were getting decent rewards before the hardfork, by and large, are still, and maybe they're doing a little better, while those who weren't, are, by and large, doing the same or a little worse. There are surely exceptions, but I don't see it as a wholesale flip flopping of fortunes.
Why? Because it's not about quality. It's about stuff we like. And we all like different stuff, and so we all should be curating different stuff, but there's not enough different stuff to go around, so we're concentrating on a lot of the same stuff, and oh, by the way, the curation system is kind of designed that way so as to maximize curation rewards.
Oh, But, Don't Expect Whales To Upvote!
Go out and network. Except, the whole idea of the EIP was to roust the upper SP to curate instead of delegating or whatever else they do for ROI. So, yeah, we kind of depend on whales now more than ever, be they individuals, part of a curation trail, or a bidbot turned curation hunter.
I've been feeling a lot like the world is upside down here on STEEM since HF21, that we're trying to create another reality with #newsteem, but at this point, it just feels like the same old reality, with maybe a shift in alignment as to who benefits, but with the rank and file yet to get in on the action.
But it's still too early to tell.
Maybe we all just need to declare what we like to read, so we can try some content targeting.
Sounds like another post. Hopefully there's someone out there who might see it who will like to read it.
Image source—Pixabay