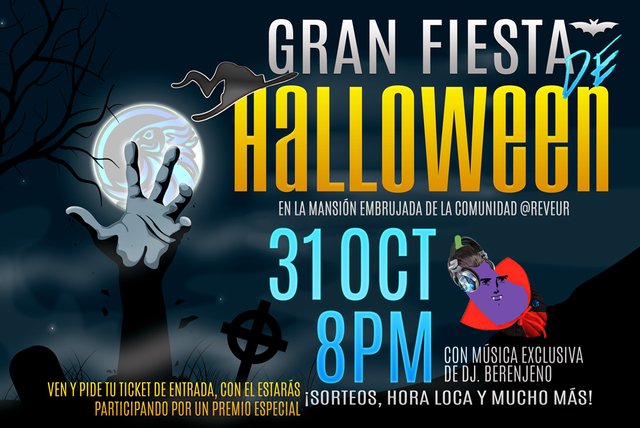 On Wednesday, October 31st, a recreational activity was held on the @reveur Discord server.
The Halloween party was an activity full of laughter, funny names, costumes, contests and many prizes to make very happy all the guests who gave us the honor to join us that night.
As stated in a previous publication, the goal of this party was to create new bonds of friendship and respect among the entire Hispanic community and strengthen those that already existed. We have made the decision to dedicate all our efforts to unify the Hispanic community, to build a sense of belonging and teamwork for our human and financial growth. We firmly believe that through teamwork we will be able to build a Stemian image to the rest of the world of professionalism, camaraderie and the desire to make this platform the best crypto of all. In this way, we seek to increase the possibilities of diverse Hispanic projects to receive economic support from foreign capital.
We can say, with great pride and joy, that the objectives of our activity were achieved excellently. Our party was attended by several prominent personalities of the community as: @ilazramusic, @betamusic, @fermionico, @megaela, @roelvi, @abdulmath, among many others. Similarly, we have the presence of the leaders of friendly communities such as: @engranate, @swimproject and @equipocardumen.
We greatly appreciate the presence of each of the participants in our activity. We consider that it was a great opportunity to get to know each other better and coordinate future similar activities that will continue to build a more united and supportive Hispanic community.
We cannot forget to pay tribute to all those who worked behind the scenes to make all this possible, to @nairesc, @yaibak, @kruznik, @nakary, @vanessapinedos and @yosuandoni. They all worked very hard dedicating many hours of organization and development of all those brilliant ideas that became contests and dynamic start smiles.
We say goodbye, but not before promising the whole community that we will continue to work for the benefit of all, striving for each time to have a collective more united and participatory.

Castellano a conglomerate were the bigger picture is built on synergy from the little ones.

Find us at our Discord Server