---
---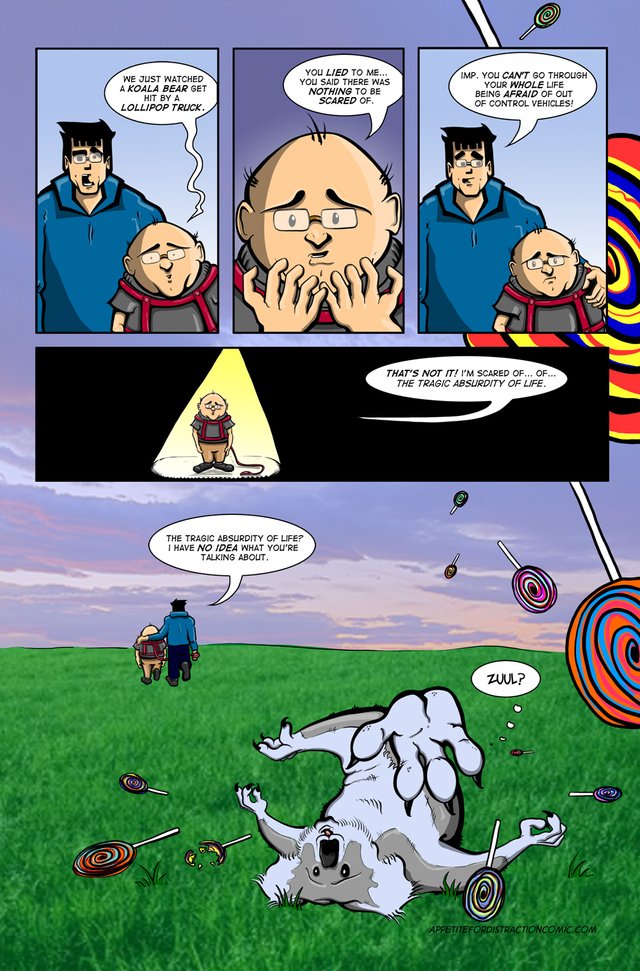 view comic fullsize at the official site
---
Appetite for Distraction Presents... Second Helpings!
Bonus commentary and educational materials for your enjoyment!
---
A rain of lollipops, child leashes, injured koalas making Ghostbusters references... and a link to a City Slickers clip? I guess we'd best jump into some fun facts on Absurdism!
---
Fun facts!

Absurdism is a philosophy that believes the efforts of humanity to find inherent meaning will ultimately fail.
One of the leading absurdist philosophers was Albert Camus. His exploration of absurdity led to the ideas that "The freedom of humans is thus established in a human's natural ability and opportunity to create their own meaning and purpose; to decide (or think) for him- or herself."
Camus probably would have gotten along pretty well with "Curly."
---
* Read new installments of Appetite for Distraction by following @spottyproduction.
* Follow @bryan-imhoff for more by this creator
* Vote, Follow, and Share to let us know you'd like to see more!