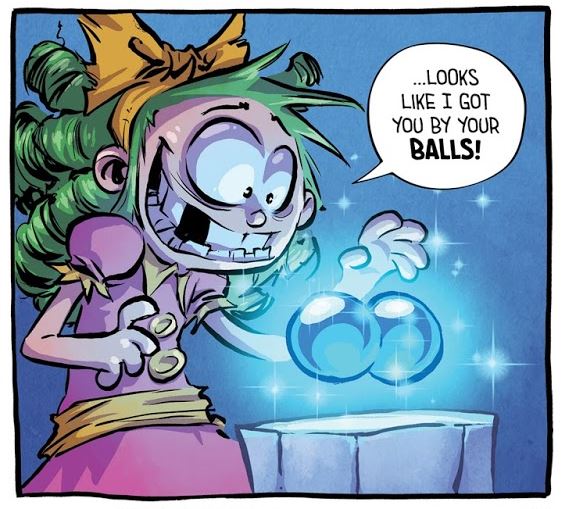 Welcome Steemians!
Hugger-puffin' bad language, violence and gore in vibrant colour and a bizarre 'Munchkinland-meets-Dungeons & Dragons' adventure, I Hate Fairyland will draw you in with Skottie Young's art and keep you trapped with his freshly-stropped wit.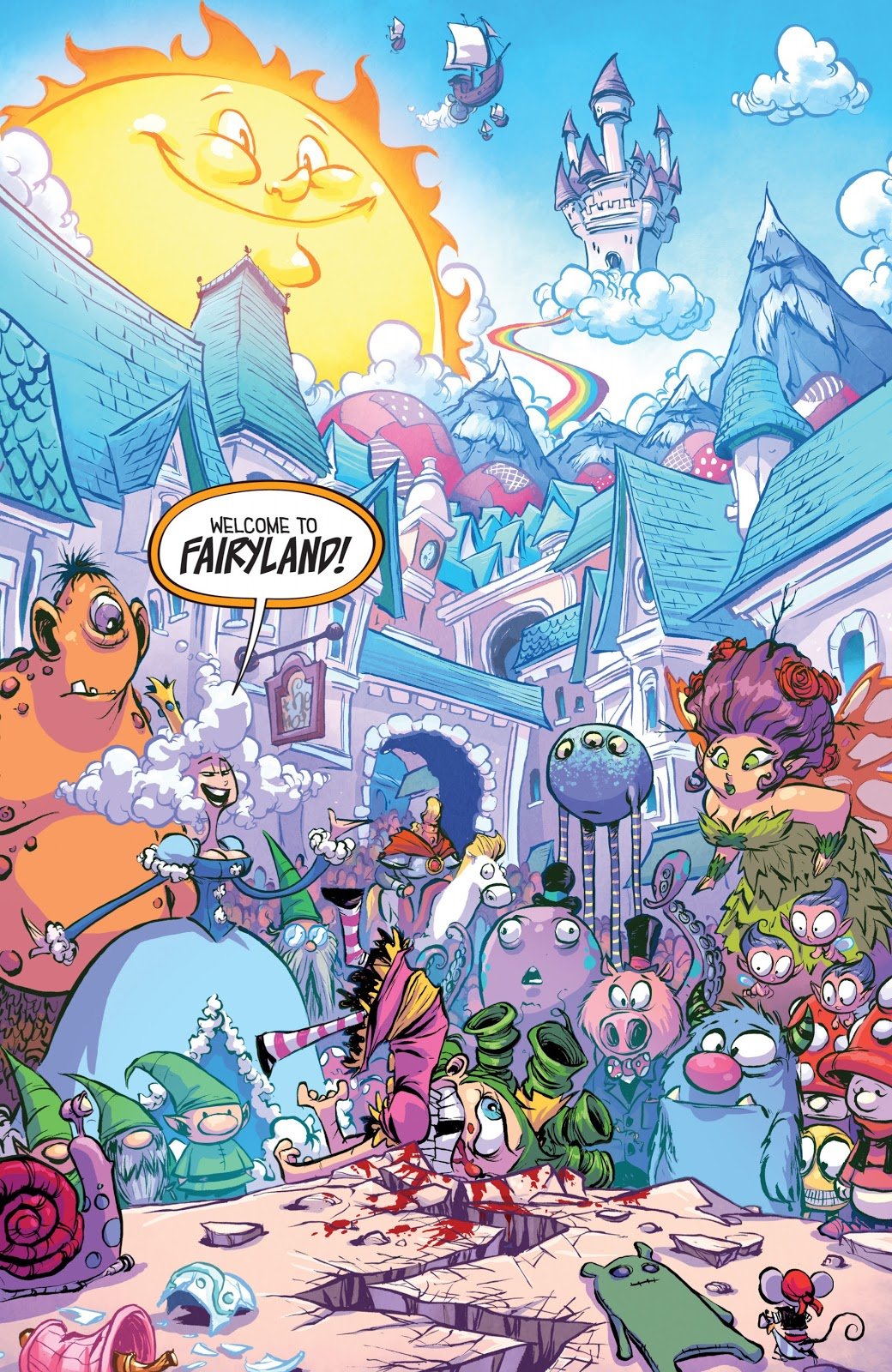 I absolutely love 'I Hate Fairyland'.
I'm fourteen issues in, and to be honest, it's a comic I probably didn't think I'd want to chew on aside from the obvious allure of the beautiful array of colours that adorn the cover of each new issue. Thankfully, the same gorgeous art is found WITHIN the entirety of each issue. Month after month, I return to the magical and enchanting landscape populated with an amalgamation of characters snipped from every nook of pop culture. What makes them memorable however, is Skottie's ability to transform them to fit perfectly within his own fictional world. This world is one of cigar-smoking guides and talking celestial bodies (Mr. Moon. You got it, right?).
The protagonist and anti-hero of the story is a little girl named Gertrude. Tight, emerald curls sit atop her head giving her the impression of innocence. Look a little closer and you'll see those gnarly teeth and an unmistaken weapon in her dainty hands. She's annoyed, see. She's been promised a quick return back to her world after accidentally wishing open a portal into Fairyland. None of that has gone to plan. To say she's annoyed is an understatement.
She is furious.
If you are interested in what Skottie Young with Image Comics have created in 'I Hate Fairyland', I would implore you to peruse what the internet has on offer. A quick Google search will lead you to easy access to comics online without paying a cent upfront. While viewing this content freely is great for the reader, it does nothing to help the artist and creators of these works. I would definitely suggest reading a few issues online first and BUYING the ones you really enjoyed. After all, there is nothing more of a deterrent to buying the next issue of any given comic if the one you just read happened to be a lemon. Not every Stan Lee issue of Spider-man was a hit and the ability to preview a comic before it was purchased would surely show the true value of those issues.
My go-to website for comic viewing is Read Comic Online.
http://readcomiconline.to/Comic/I-Hate-Fairyland/Issue-1?id=12140
If you're looking to support the creators, Comixology is a brilliantly devised comic-viewing platform for digital devices. The latest issue of IHF will cost you USD3.99.
https://www.comixology.com/I-Hate-Fairyland-14/digital-comic/513666?ref=c2VhcmNoL2luZGV4L2Rlc2t0b3Avc2xpZGVyTGlzdC90b3BSZXN1bHRzU2xpZGVy
Otherwise, head to your local comic shop. In Wollongong, I try to support comic Café or Kings Comics when I'm in Sydney.
https://www.facebook.com/ComicCafeWollongong/
https://kingscomics.com/
Any thoughts? I'd love to hear what you think of I Hate Fairyland and any comics you've recently read that have caught your interest.
As always, UPVOTE if you're enjoying this minnow's contributions to the wonderful world of Steemit!
All the best,
Nick