---
It's been 10 months since I first started posting my comic Seer here on the Steem blockchain through my @spottyproduction account. In that time I've made some friends, earned some Steem, and received a great deal of encouragement and support from a wonderful community.
My last post wrapped up the first issue, Seer: Round One. I honestly don't know when I'll dive into Round Two. My momentum on Seer was sidelined by nearly a decade of health problems, during which time another idea germinated which has seized my attention and will be receiving the lion's share of my creative energies in 2018. If you follow me you've probably already seen a few columns about that idea, "I Thought It Would Be Zombies..."
With all the earnest enthusiasm I saw for Seer, as well as the amazing possiblities that Steem seems to be bringing closer and closer to being realized each day... I earnestly hope that I will also have the ability to revisit James' nightmare world sooner rather than later.
In the meantime I still have a small collection of additional materials I would love to share, and will find small ways to continue keeping Seer alive as it patiently waits it's turn to be fully realized.
First up is another sequential page. This page was done some time after the completion of Round One, as you can probably see by the change in style. While Seer: Round One was published in black and white, the passage of years made color a viable option for the next iteration - so this is an inked page ready for color to be added.
---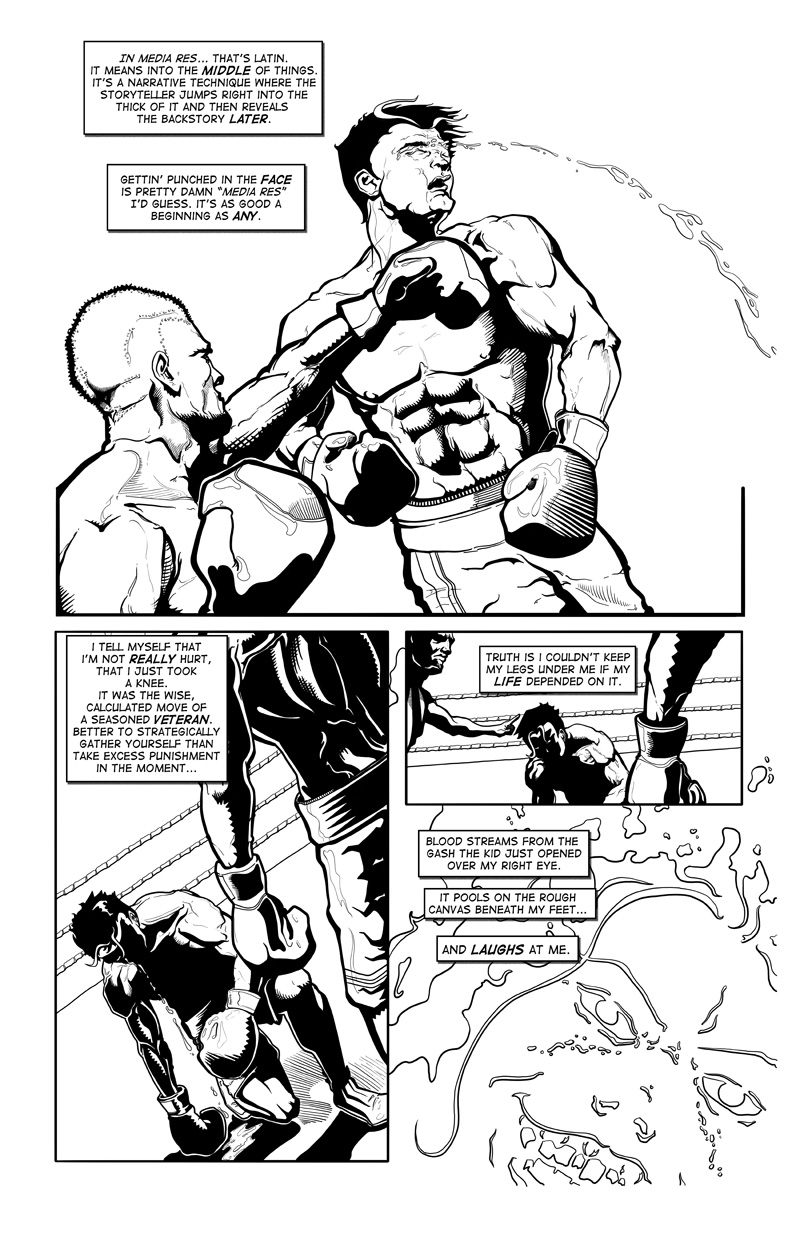 ---
I feel my draftsmanship had shown improvement over the prior issue, and I'd also begun to experiment with mannequins and 3d models for the visualization and reference of my figures, with some good results. While all the prior pages had been penciled and inked traditionally, this page was the first page that I digitally inked. I've since gone to an all digital workflow.
I created this page as part of a pitch for a comic crowdfunding competition that was running online, in the hopes of getting funding and bringing Seer back to life. James' was doing pretty well in that online slugfest but despite some reputable industry backers... the competition folded before ever awarding a prize.
I structured this story beginning to pick up right where Round One left off, but with the intention that it could also serve as a jumping on point and readers would not have to read Round One to make sense of it. Fans of "Bloody Mary" will be happy to see that she is still around... playing her insidious games.
---
In the next "Looking at Seer" column, I'll share more unpublished promotional artwork and insights. I hope you enjoy!
-Bryan "the Imp" Imhoff
---
Support the growing comics community here on Steemit! by joining the @steem-comic-con!