Over the past week I've begun delving back into the coloring process for the first issue of "I Thought It Would Be Zombies..." I'd done a bit of experimenting around colors about 6 months ago (holy hell I can't believe it's been that long!) with some satisfying results mixed with dissatisfaction. This is of course no different from the other aspects of the work such as the writing and illustration, but I'm particularly anguished over the colors because it is my least practiced area and not something I feel comfortable with.
That being said, I'm beginning to grow happier with the results through a mixture of both improvement and a shift in mental attitude. My increasing confidence, satisfaction, and productivity can't come soon enough because I've only got a couple months to get this issue finished up and off to the printer!
I experimented with several looks for this panel in a prior post but went back to the drawing board to give it a fourth go round and think I'm finally dialing in a workable style that's pleasing to me and fits the tone of the book.
---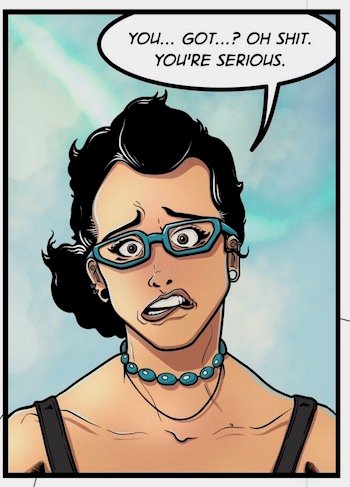 ---
I'm working toward a nice vibrant, animated feel that I can also skew dark and moody when the story calls for it.
With this fairly successful test under my belt, I wanted to jump ahead to another panel that I knew was going to be reliant on the color phase to really push it over the top.
---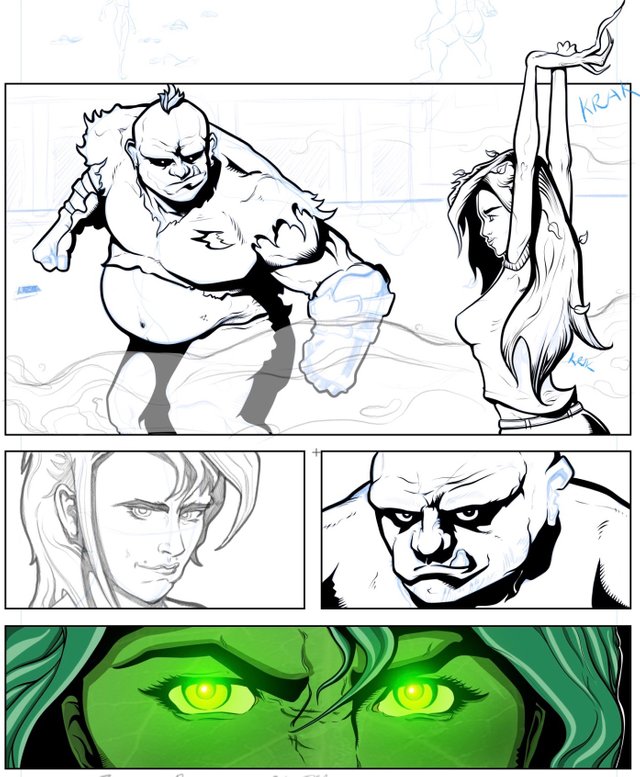 ---
The color and luminance are hopefully what take Julie's determined stare... and turn it more intimidating! Like Vinz Clortho in Ghostbusters, a good glowing stare just signals, "Don't mess with this individual!"
Further heartened, I moved on to working on the cover image that I've had sitting around for the longest time. This has tons more work to do but is showing a hint of promise I believe! I've just begun experimenting on rendering the sky and flames, everything else is just simple flat color placeholders.
---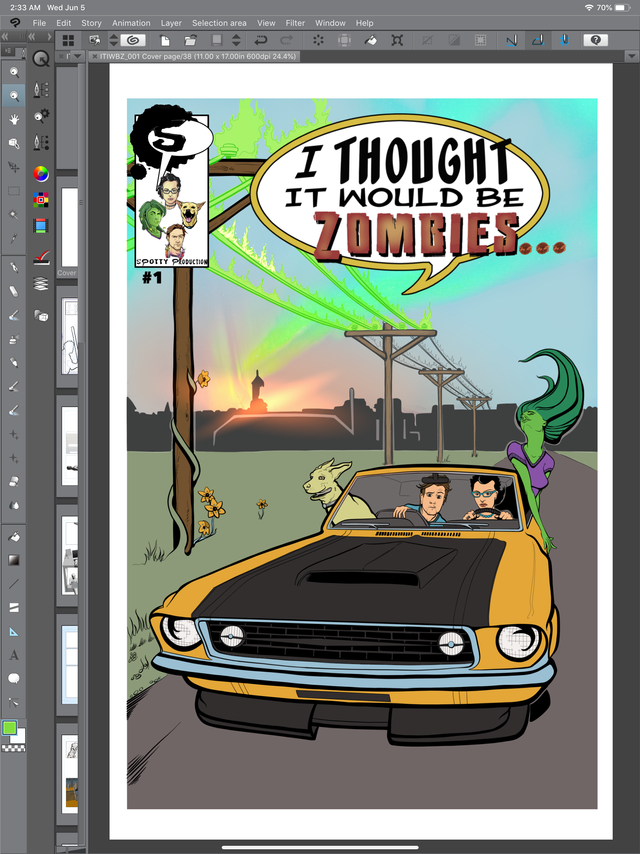 ---
The skies and overall atmosphere of "I Thought It Would Be Zombies..." are going to be an ongoing and large challenge. Your typical zombie apocalypse is a cold, drab, grey world for the most part. But this is not a zombie apocalypse, it's a magical apocalypse that despite its chaos and destruction also can hold immense beauty.
Capturing these aspects will be tough and my big fear is that I won't be able to do this without making it all look garish and amateurish. Already I think some of these examples are a bit oversaturated and lacking cohesiveness, so I'll be playing with the tones and brightness until the end. Thankfully that is something that I can do working digitally.
---
With my self imposed deadline of launching "I Thought It Would Be Zombies..." #1 at the Baltimore Comic Con in October fast approaching, I am finding my behavior and mindset changing. I'm putting lots more time in and possibly finding a better balance between quality control and perfectionism.
Have you ever seen the movie A League of Their Own? Tom Hanks has a great role in it as baseball manager Jimmy Dugan, and a delightful character arc and scene as he works to reign in his temper when coaching his team.
"Vinz Clortho? Jimmy Dugan? Did I miss a memo about movie reference week?" you may be asking yourself...
Nope! That's just how my brain works! And for some reason I was just thinking how I'm my own Jimmy Dugan. As I work toward a deadline and completing a massive project, I'm forced to suppress my urges and forge ahead regardless.
---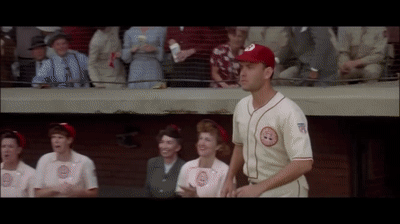 ---
"Bryan! Bryan! Could you come here a second...
Your composition, anatomy, perspective and color theory are all... kinda lacking...
That's something I'm gonna need you to work on... for next issue...
Okay?"
---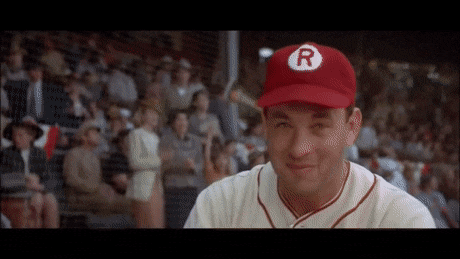 ---
So that's just what I'm planning on doing thanks to my inner Jimmy Dugan. Making the next issue better than this one, and the third issue better than the second, and.. you get the point.
Thanks for reading my ramblings! Possibly a bit punchier than usual as I am pretty tired! But I'll put in an hour or two of drawing before bed because I really need to, and because "there's no crying in comics."
-Bryan "the Imp" Imhoff
(that last bit was another League of their Own reference... but there definitely is crying in comics, at least the way I do them!)
---
This is an official Fundition campaign update post to help fund the publication of the independent comic "I Thought It Would Be Zombies..." meaning your votes alone can help you earn rewards like a free copy of the comic and more! For more information check out https://fundition.io/ and the prior update articles for "I Thought It Would Be Zombies..."!
---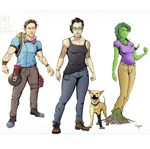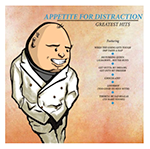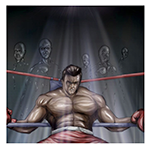 ---
@bryan-imhoff | @spottyproduction | @exploreunlimited
@steem-comic-con | @creatingcomics