B.C. stands for BlockChain! (May 07, 2017) – Best Wallet
IT, blockchain, decentralized cryptocurrencies version of B.C. comic by Johnny Hart.
This episode is dedicated to our @ramta, for his generous support to this comic and his wonderful explanation why Steemit Wallet is by far the best wallet ever created!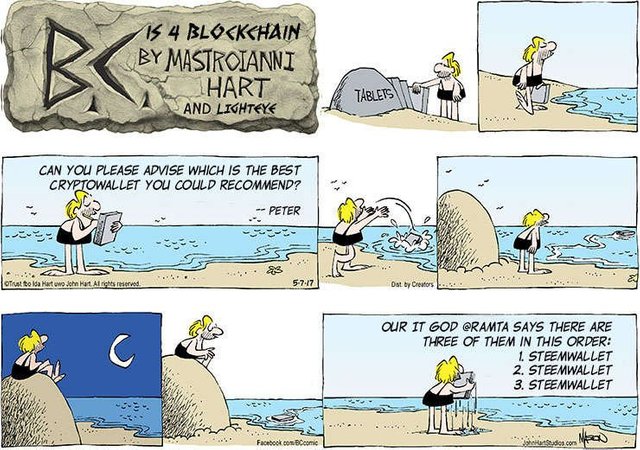 Drawings: B.C. Team, Text: @lighteye

Other date comics:
05-27-2017 – Easy Steem
05-25-2017 – Evolution
05-24-2017 – Nailed
05-23-2017 – Math
05-23-2017 – Cliché
04-27-2017 – Burning
04-24-2017 – Allergy
04-20-2017 – Schizophrenia
04-12-2017 – Wrong Bait
04-11-2017 – Strike
04-10-2017 – Masternode
04-09-2017 – New Leaf
04-07-2017 – Scam
04-04-2017 – Consensus
04-03-2017 – Icehole
04-02-2017 – Steemian
04-02-2017 – Steemian 2
04-01-2017 – Resolution
03-30-2017 – Inspection
03-28-2017 – Echo Forking
03-27-2017 – Dash Dyke
03-03-2017 – Mt. Gox
03-01-2017 – Shaving
02-27-2017 – Extinction
02-21-2017 – Decentralization
02-20-2017 – A Bug
02-17-2017 – Provider
02-15-2017 – Web Expert
02-11-2017 – Remorse
02-06-2017 – Hardforking
01-18-2017 – Picasso
11-28-2016 – Nessy
11-25-2016 – Whale's Cave
11-25-2016 – Irish Troll
11-11-2016 – Steempathy
11-07-2016 – Voting
10-14-2016 – Password
10-13-2016 – Blockchain Recipe
10-12-2016 – Vacation
10-05-2016 – Advice
10-04-2016 – Pumpkins
09-27-2016 – Wrong Crypto
09-22-2016 – Prophecy
09-12-2016 – Holdout
09-09-2016 – Bubble
09-07-2016 – Confiscation
09-05-2016 – Strange Lands

Остале епизоде:
27. апр. 2017 – Спрцавање
11. апр. 2017 – Штрајк
10. апр. 2017 – Мастернод
03. апр. 2017 – Рупа у леду
10. мар. 2017 – Инспекција
18. јан. 2017 – Пикасо
14. окт. 2016 – Лозинка
12. окт. 2016 – Летовање
05. окт. 2016 – Савет
---