Background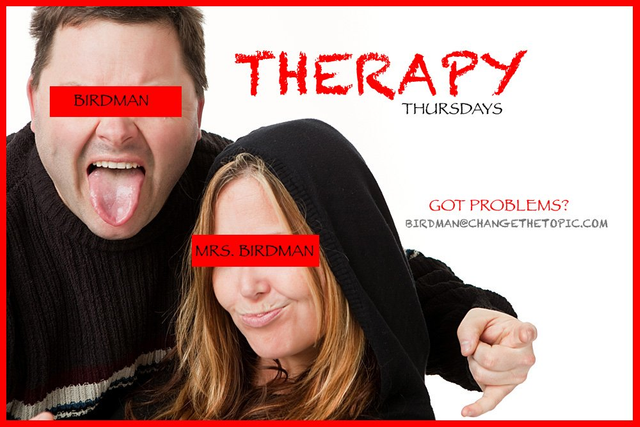 I have recently learned about a wonderful program on Steemit where Birdman and Mrs. Birdman host an exciting new show called Therapy Thursdays (Click Here To Read About It). Its really entertaining and I predict the show will go viral very soon. So if you haven't watched it, please do as you will be quite amused :).

Prelude To My Letter
After watching the show and seeing what great therapists these two are, I decided to come forward and try to help my friend (who coincidentally was featured on their show just last week). At first I was going to keep his name hidden, but then I realized that if I have a "public intervention" then maybe he could get some help by not only Birdman and Mrs. Birdman, but maybe by the community too!

Cryptkeeper17 Needs Serious Help, NOW
Dear Mr. and Mrs. Birdman,
I'm a big fan of your show, Therapy Thursdays. I love how you really try to help out the people that truly need it, and this week I have a friend of mine that really needs it. You even know this man as he was the person that send in a letter about F'ing his 2 cousins, and now that I know more about his situation, I realize that was just a smokescreen to hide his inner problems as he has become detached from all reality.
Yes I'm talking about none other than @cryptkeeper17.
Obviously when I saw your show I knew that something strange was going on with him, since I talk to him on a daily basis and F'ing his cousins wasn't normally our topic of conversation. I couldn't quite put my finger on what was exactly wrong, but I started to dig a little and uncovered some serious shit.
First, as you may or may not know he has become quite a fan of Steem Monsters. While that seems normal and fun, what I have noticed lately (in the past month or so) is that he talks about nothing other than Steem Monsters. Fire Beetle this and Sabre Shark that, and don't get me started when he talks about how sexy Naga Warrior is. I mean its literally non-stop. He talks about leveling up at least a dozen times a day, how to get more Rares and Epics, and I think he's even jealous of Magi of the Forest as he keeps saying Lyanna Natura shouldn't be around Magi anymore. I don't even know what he's thinking there.
Quit His Job?
In addition, I asked him how he has so much time to buy these Monsters on the market and he told me that he "quit" his job. I said, "WHAT?". He said, "Yes, its was a pretty boring job anyways and besides I don't think I had a future there anyways."
Well, if you don't know about cryptkeeper17's job, then let me enlighten you. Because it is anything but boring.
He is a hot dog vendor in a women's prison. Yes, that's right... he literally sells his hot dog and buns to women prisoners.
(Picture of cryptkeeper17 at work in Decemeber of 2017)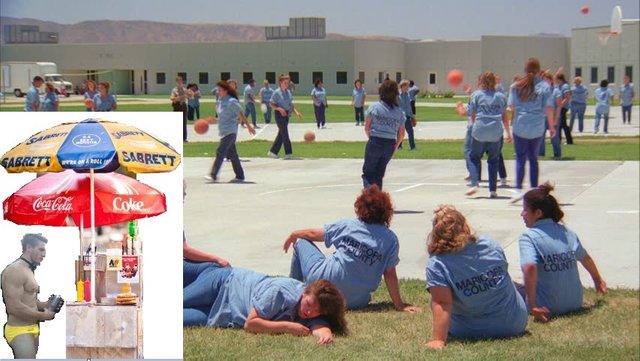 Now I know it isn't the most challenging job, but come on dude seriously?
Something Went Awry
So I called the warden of the prison and asked her how come he quit. And the answer was really really sad, because he didn't quit, he got fired (and almost thrown in jail).
It turns out that Cryptkeeper17 had gone from being the most loved employee of the prison (literally), to the one that was feared the most. She said that about a month ago he kept pretending to be different people. At first they thought it was cute.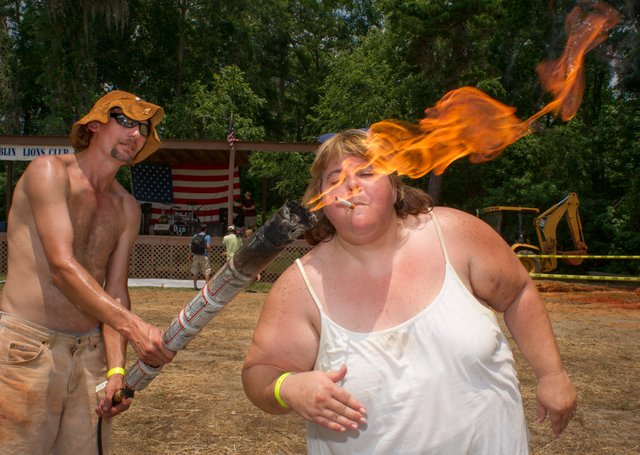 He was a Pirate Captain one day and a SilverShield Warrior the next. He was fun and the prisoners liked it too! He even got some of the prisoners to play along and dress up as the Angel of Light, Enchantress of the Night, and the Mischievous Mermaid. But oddly he really liked the fire characters, like Malric Inferno, Fire Demon, and Serpent of the Flame. He and Skinny Bula (pictured right) just loved to carry on and on, they loved to play with fire and were quite the pair of firebugs for sure.
Then one day out of nowhere, Cryptkeeper17 came in and said Zintar cast a spell on him and now he IS the Fire Demon.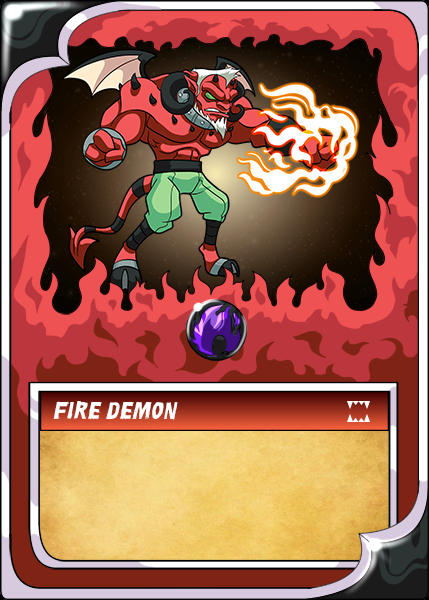 To make matters worse, he tossed away his homemade fire-stick and brought in a military grade flame-thrower and started burning down the prison. There was so much fire, it was like hell had opened up and everyone was running everywhere to escape the flames and smoke. When the guards tried to stop him, he said that he needed to level up and couldn't stop until he maxed out his power.
It took 27 commercial water hoses and 45 firemen to stop him, and even then he kept saying "F..K you Water Elemental, just wait until I see you in the next round, you'll pay".
I'm not a psychiatric professional like the two of you, but it seemed like he is suffering from Steem Monster Addiction.
Please help my friend Birdman and Mrs. Birdman. My friend is addicted to Steem Monsters and I don't know what to do!

My 2nd entry for #comedyopenmic, Round 23
https://steemit.com/comedyopenmic/@comedyopenmic/comedy-open-mic-comedy-contest-round-23
Rules can be found here
Nomination: @simplymike and @lynncoyle1