After facing sexual assault allegations that didn't actually lead to any sort of criminal charges Aziz Ansari found himself on the wrong side of the news for a while. Although what he was accused of was kind of "glanced over" compared to other celebs who have been put on the spotlight lately, it was definitely not the sort of attention he was looking for. Right Now was the first public appearance that Aziz has made since that story came to light.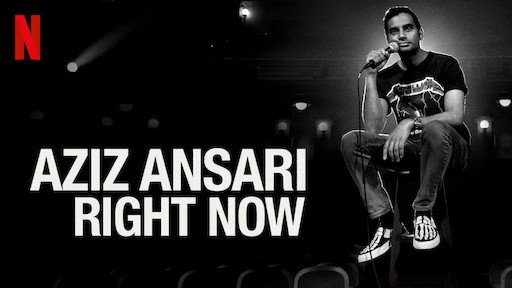 source
Like most stand-up comedians Aziz relies on no props on stage and uses no multimedia throughout the performance. It is simply him, a microphone and a chair that in my opinion he uses entirely too much (the chair, not the microphone.) The microphone on the other hand, is something that I feel as though he used a bit improperly during this special. In an effort to have more of a "heart-to-heart" with the audience, it is actually quite difficult to hear what the man is saying during multiple segments of the special. If you do watch this, go ahead an plan on having your volume on 100 or you are going to miss out on about 30% of it.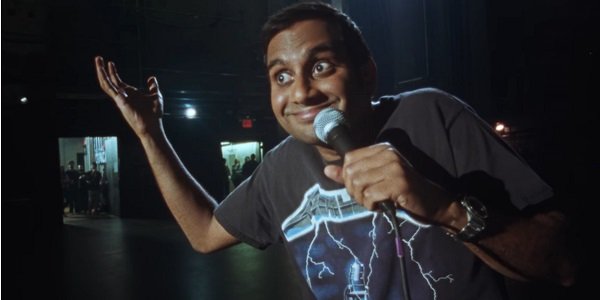 source
I think speaking audibly is probably the 2nd most important aspect of stand-up
He addresses a variety of topics but mostly this special focuses on explaining "his side of the story" about the sexual (misconduct?) allegations against him. It is sort of a comedy "penance" and to be honest, this part of the special isn't meant to be funny in any way and to be honest, i don't think it really has any place in a comedy special. I can understand why he did it though because some level of "damage control" was necessary since these sorts of accusations have been annihilating careers left and right
The special was performed in Brooklyn in a rather intimate fashion and I think that was the artistic intent. Spike Jonze directed the special and personally operated the camera for close up shots. I think it was nicely filmed but to be honest, the entire thing seemed like an apology tour rather than a stand-up comedy special.
from the official Netflix channel
While i would say that i walked away from this special feeling as though Aziz is probably a genuinely nice guy (and I am sure that was the primary motivation behind this special) I also didn't find a great deal of it to actually be funny. If you are interested in a 40 minute apology from the man, I would say give this one a go, and remember to put your device on maximum volume in the meantime.
Otherwise, I can't really rate this very high seeing as how I didn't really laugh during the whole thing.
Rating = "Decent"
---
If you are interested here is a list of the specials I have watched that are currently available on Netflix (for my region anyway.)
---
Stuff I rate as "Excellent"
Dave Chappelle: Sticks and Stones
Ricky Gervais- Humanity
Adam Sandler: 100% Fresh
Joe Rogan: Strange Times
Dave Chappelle: Equanimity, The Age of Spin, and Deep in the Heart of Texas
The "Really Good" stuff I have seen includes
Nate Bargatze: The Tennessee Kid
Kevin Hart: Irresponsible
Bill Burr: Paper Tiger
The "Decent" stuff I have seen includes
Zach Galifianakis live at the purple onion
Ellen Degeneres: Relatable
Ken Jeong: You Complete me, Ho
Tom Segura: Disgraceful
Aziz Ansari: Right now
And the really not so good to awful stand up is
Amy Schumer: Growing
Amy Schumer: The Leather Special (quite possibly the most unfunny thing I have ever seen)
Donald Glover: Weirdo
Hannibal Buress: Comedy Camisado
Simon Amstell: Set Free
Bert Kreischer - Secret Time
Mo Gilligan: Momentum