Hi Steem friends,
For my entry into today's colourfulphotography challenge, I'm sharing a photo that I took a couple of days ago after getting my weekly groceries. Normally my groceries aren't quite this exciting or picturesque, but I had a few recipes in mind, so I had to get myself stocked up for the week ahead! My selection of groceries also has the added benefit of being very colourful.
In red, we have a handful of tomatoes, some apples, and a red pepper. In green is some fresh parsley, a head of iceberg lettuce, a bunch of grapes, and a container of melon. In orange, we have a container of cantaloupe and a couple of Spanish onions. In white, there are a half-dozen eggs and a head of garlic. In blue, there are a package of blueberries. And in purple we have an avocado and a second bunch of grapes.
Am I forgetting anything?
I'll be sure to share my photos of the various meals I make with them if they end up turning out okay!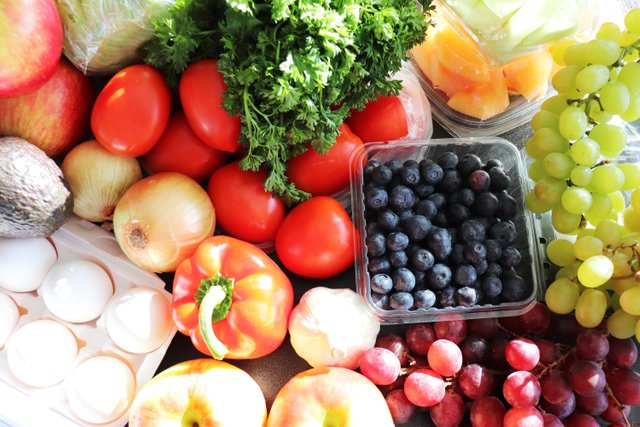 ---
This photo was taken using the Canon EOS Rebel T7i + 18-55mm lens (ƒ/5, 1/40, ISO100)

For contest details, please check out this post by @juliank!
---
Thanks for taking the time to check out my post!

Please upvote, comment, resteem and follow me if you'd like to see more content like this from me in the future!
@shawkr13