Steemit Photography Color Challenge: Wednesday Yellow
This is a flower in my garden.
I believe it is a Lily. My photo was a little out of focus so I added a filter to sharpen the edges a little. It kind of turned into a painting.
I am thinking I will print this on a 30 " x 40" canvas at Costco and hang it above the Fire place.
Ever do that with a digital Photo ?
They turn out pretty nice.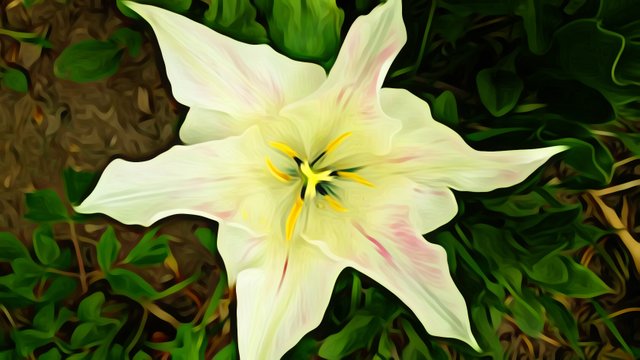 True lilies, those plants grouped taxonomically into the family Liliaceae and genus Lilium, share common traits in the structure of their flowers. While lily plants grow from either bulbs, their leaves also share a common characteristic of being parallel-veined and arranged in whorls or spirals on the stems. There are around 100 different species of Lilium in the world, all native to the Northern Hemisphere.
Source: https://www.gardenguides.com/12338041-how-to-label-the-parts-of-a-tulip-flower.html
Costco Canvas Prints : https://www.costcophotocentre.ca/ProductDetails/GalleryStyleCanvas
Canvas Prints
Canvas makes every photo look like a piece of art. Create a personalized masterpiece that is ready to hang in your home.
Why choose canvas prints?
Textured canvas makes prints look painted
Glare-free so can hang anywhere
Framed or unframed and with black, white or full edge wrap.