For Friday Sky Blue, I was fortunate to have a beautiful blue sky to work with as a backdrop for the nail polish that's the feature of today's #colorchallenge.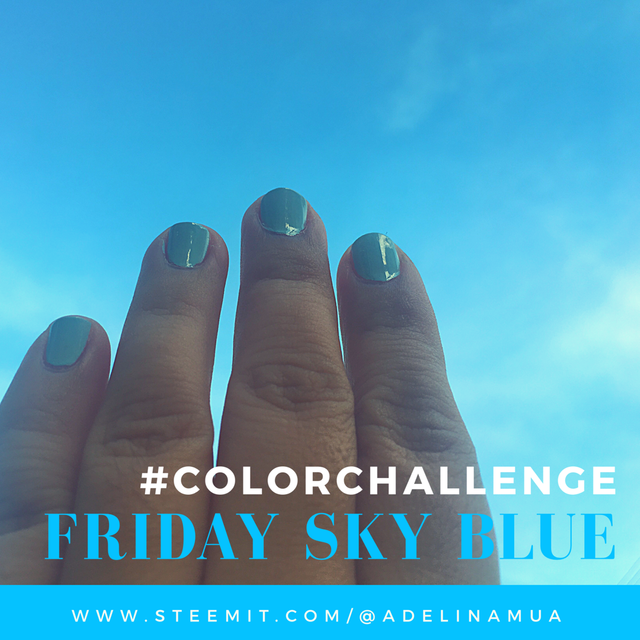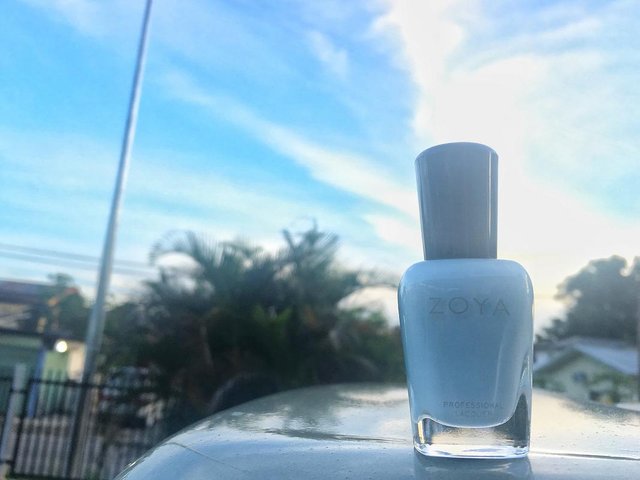 This colour is Zoya nail polish in Blu.  It's a very soft pastel blue that reminds me of the beautiful blue skies we get on clear days.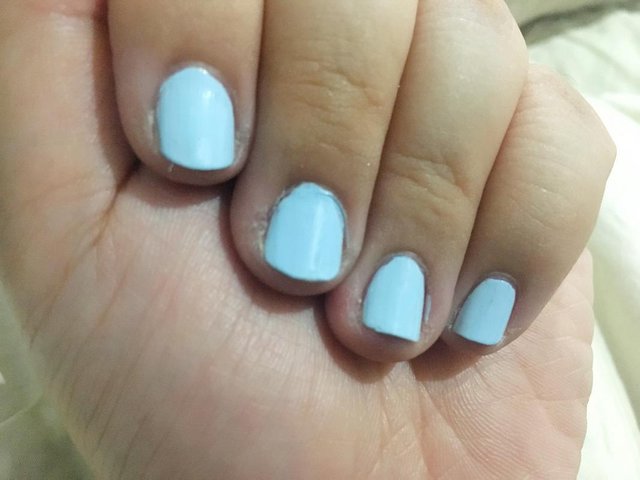 The nail polish here is applied on nails without a base and top coat.  I applied 2 layers to get to the opacity I was happy with it.  The formula of the nail polish is of medium consistency and smooths out any ridges on my nails.  I also found it to be quick drying which is great as it meant that I didn't have to wait too long for the polish to be dry to the touch and was less prone to smudging.
HOW I APPLY NAIL POLISH
1. Use a nail polish remover to remover any nail polish residue (from a previous nail polish) and excess oil on nails.
2. Apply a thin even layer of a base coat of choice.
3. Once the base is dry to touch, apply a thin even layer of nail polish starting from the bottom centre to the tips.
4. Once the first layer is mostly dried, apply a 2nd coat.  If the colour is showing up well, I won't go for a 3rd coat.
5. Apply a quick drying top coat to seal in the colour.  Run the brush along the tips of the nail to reduce colour from chipping.
Removing Nail Polish
When I was younger, I used to buy nail polish remover that came in a small glass jar with a white cap for only RM1.00.  However, those types of removers are usually 100% acetone and can be harsh and drying on the nails.  Later on I upgraded to brands like SilkyGirl, Cutex and Sally Hansen which costed a bit more but were much more gentle on my poor nails.
Some years ago, I stumbled upon a revolutionary product in Sephora on one of my travels.  The concept of no longer needing to use cotton pads to remove nail polish and the results was quick and efficient was exciting to me.  From then on, I never looked back.  Before Sephora opened it's store in my hometown, I used to buy backups of the product just in case.  Now, it seems like they've discontinued the product though as they shrank their nail polish selections.
Here is another alternative that won't break the bank: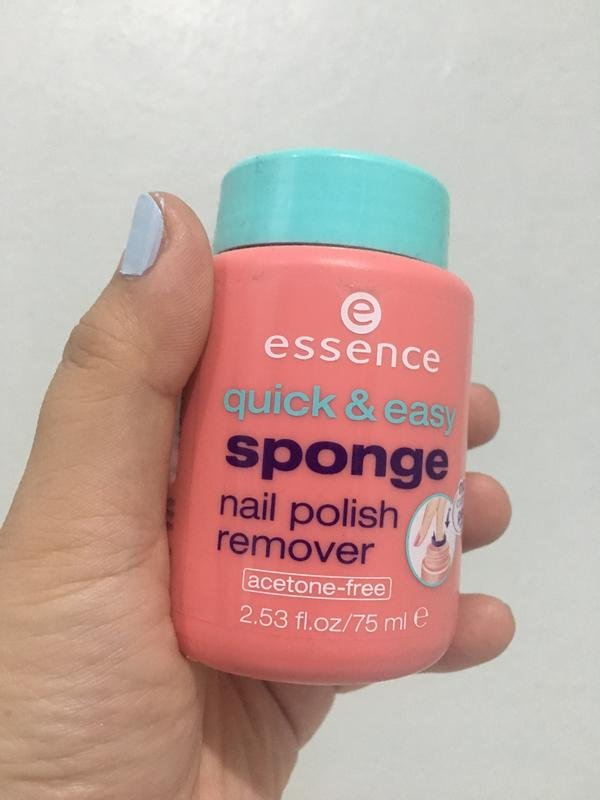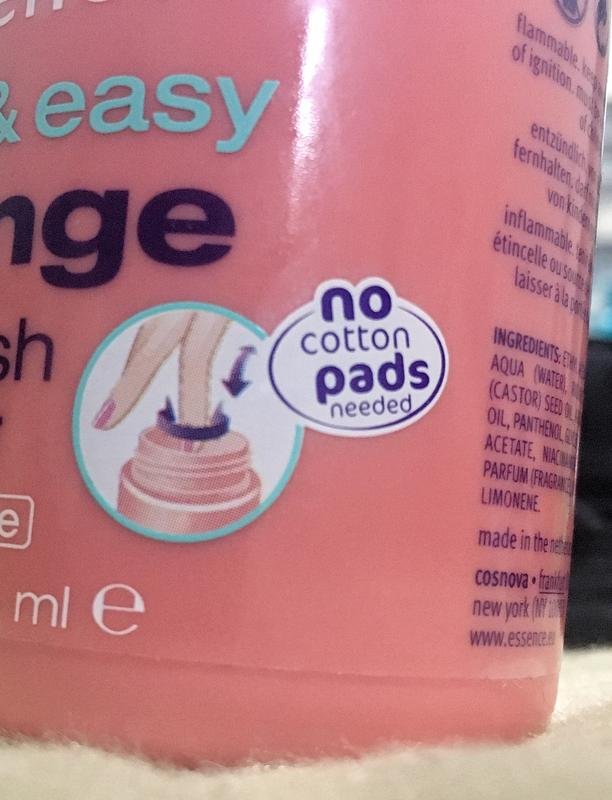 As you can see above, the essence Quick & Easy Sponge Nail Polish Remover is acetone-free and has a fuss free no cotton pads required removal system.  The product contains castor oil, argan oil and vitamin E to nourish and moisturize the nails while effectively removing nail polish.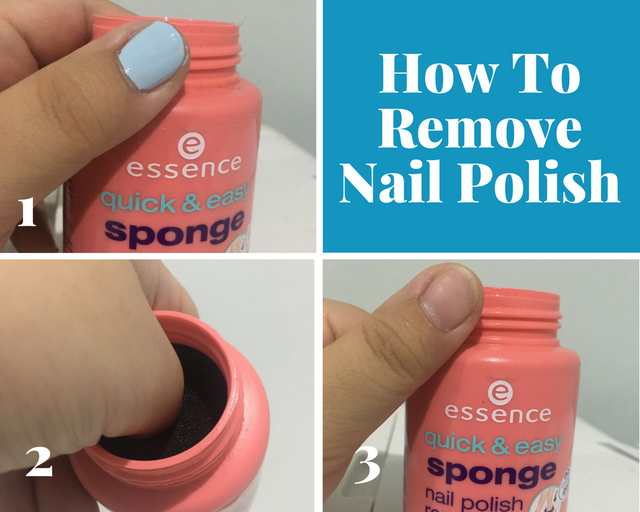 This is how easy it is to use:
Before: Pick a fingernail. Shake bottle before use to saturate the sponge.
Dip fingernail into the centre of the sponge and twist left and right.
After: Nail is nail polish free!
essence is sold in select Watsons in Malaysia.
A point to note, this product is a little harder to work with on toenails.  I've not attempted it though as I hardly ever apply nail colour on my toes.  I remember Sephora selling a version for toenail polish removal but I've never tried that product.
---

You can start your #colorchallenge journey as well by visiting @kalemandra's post here. The above banner is also sourced from the post.
---
Have a look at my previous #colorchallenge posts:
Lots of love, Adelina
Website: Make Up by Adelina
Online Store: Adelina Beauty
Facebook: @AdelinaMUA
Instagram: @adelinamua