Greetings Steemian's
Today I am going to share the 15th card from my collection that I recently acquired.
I am sharing these cards in sequence of least valuable, to the most valuable card I own.
Any input regarding these cards, or the game, is highly welcome, and encouraged!
The 15th card in the collection is:
Searing Meditation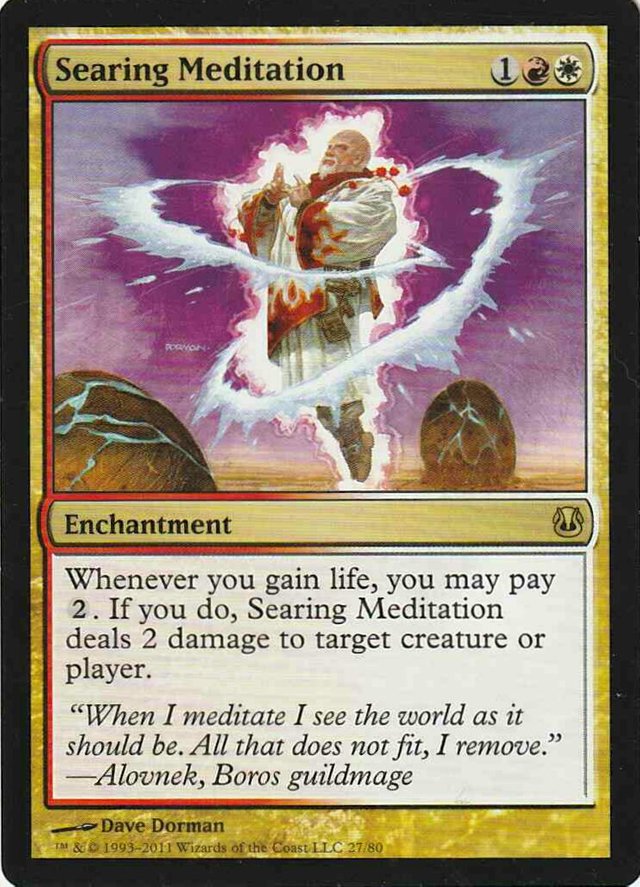 ---
Value - 0.35 Cents USD.
Card Count - (3)
Condition - Used
Mana Cost: 1RedWhite
Converted Mana Cost: 3
Types: Enchantment
Card Text: Whenever you gain life, you may pay 2. If you do, Searing Meditation deals 2 damage to any target.
Flavor Text: "When I meditate I see the world as it should be. All that does not fit, I remove."
—Alovnek, Boros guildmage
Expansion: Duel Decks: Ajani vs. Nicol Bolas (Rare) Duel Decks: Ajani vs. Nicol Bolas
Rarity: Rare
All Sets: Ravnica: City of Guilds (Rare)Duel Decks: Ajani vs. Nicol Bolas (Rare)
Card Number: 27
Artist: -Dave Dorman
---
Thought's regarding card:
With all the evil cards in this game, it's refreshing to see such a nice card. This is totally a card I would likely use.
---

Please considering voting helpie for witness

Our hope is that those who decide to support @helpie's efforts do so because they see the value in people too.
---

Much love,
@futuremind


---
---