Greetings Steemian's
Today I am going to share the 14th card from my collection that I recently acquired.
I am sharing these cards in sequence of least valuable, to the most valuable card I own.
Any input regarding these cards, or the game, is highly welcome, and encouraged!
The 14th card in the collection is:
Ebon Stronghold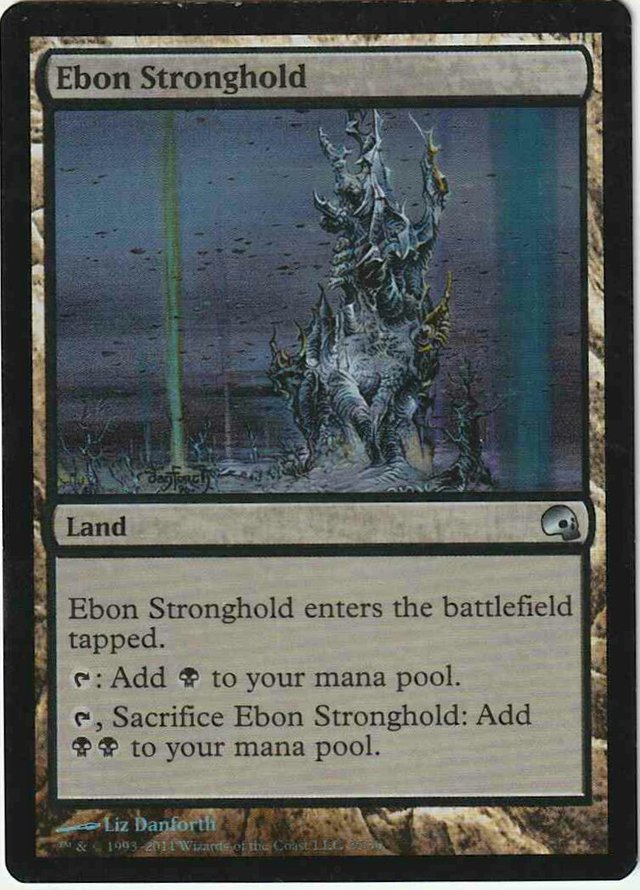 ---
Value - 0.35 Cents USD.
Card Count - (1)
Condition - Used
---
Types: Land
Card Text: Ebon Stronghold enters the battlefield tapped.
Tap: Add Black.
Tap, Sacrifice Ebon Stronghold: Add BlackBlack.
Expansion: Premium Deck Series: Graveborn (Uncommon) Premium Deck Series: Graveborn
Rarity: Uncommon
All Sets: Fifth Edition (Uncommon)Classic Sixth Edition (Uncommon)Fallen Empires (Uncommon)Beatdown Box Set (Uncommon)Masters Edition II (Uncommon)Premium Deck Series: Graveborn (Uncommon)
Card Number: 25
Artist: -Liz Danforth
---
Thoughts regarding this card:
There's something eerily mystical about this land card. I find that it draws my attention and fascinates me. I like this card very much.
---

Please considering voting helpie for witness

Our hope is that those who decide to support @helpie's efforts do so because they see the value in people too.
---

Much love,
@futuremind


---
---