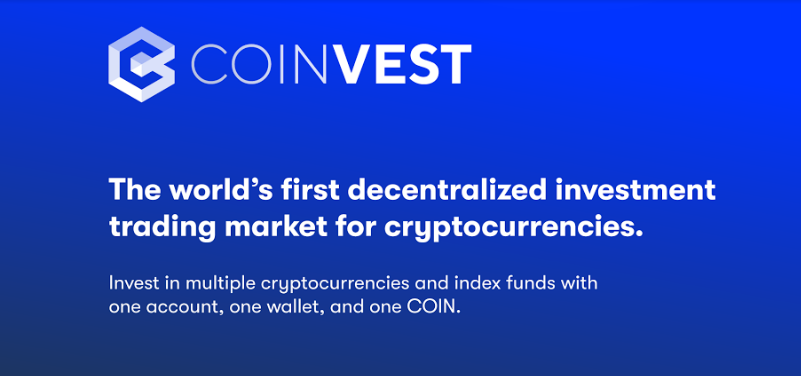 **********What is Coinvest?************
Website: https://coinve.st
To Explain in one word " ALL IN ONE TRADING PLATFORM"
Basically coinvest is a platform who lets you invest in multiple cryptocurrencys and index funds in just one click. That means all of your funds in one wallet , one account , and one COIN. This is the world's first decentralized investment trading market for cryptocurrencies.
**************What Problem does coinvest Trying to Solve here?****************
Well as you already know investing in crypto isn't that easy for everyone. Those who don't know much about technical part but still want to catch the crypto train. You have to move funds from here and there in order to buy crypto, because some of the coins you want to buy they are not avalable at your favorite exchanges. Coinvest makes it simple, you can buy, sell , store and spend(Yes they do have a debit card for that ) in one platform. So any noobies want to invest in crypto they can do just that with coinvest.
**********How it works?**********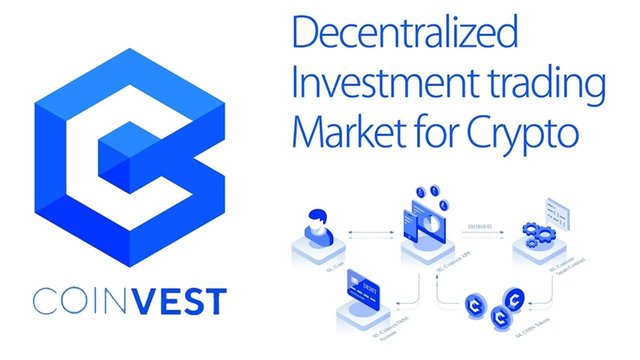 Coinvest represents a new method of investing in crypto assets virtually. Users can virtually invest in crypto assets without the need for an exchange, multiple wallets, or a centralized third party.
Here's the basic process by which Coinvest works:
Create a Coinvest virtual portfolio with your favorite cryptocurrencies
Trade and withdraw investments directly with a smart contract.
Spend COIN using your debit card account.
You access the platform through your Coinvest app, which acts as your brokerage account, a wallet, and a debit account rolled into one convenient platform.
You can also participate in the index funds created by other users. Or, you can create your own index fund, then earn rewards when other users invest in your fund.
**********Coinvest Features***********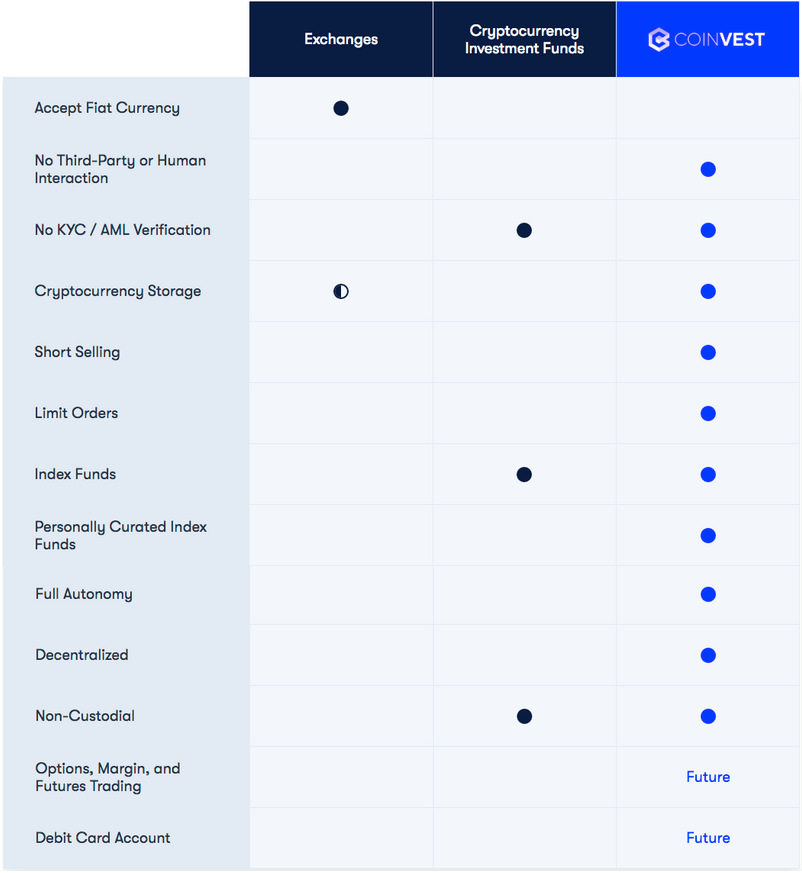 Coinvest advertises all of the following features:
1.No third party or human interaction
2.No KYC/AML verification
3.Cryptocurrency storage
4.Short selling
5.Limit orders
6.Index funds, including personally curated index funds
7.Full autonomous
8.Decentralization
9.Non-custodial
10.Options, margin, and futures trading (planned for future development)
11.Debit card account (planned for future development)
Many of these features are designed specifically to differentiate Coinvest from other options on the market today – like cryptocurrency investment funds or exchanges. The company doesn't accept fiat currency – unlike exchanges – for example, and doesn't require KYC/AML verification (something that all exchanges require). It also works in a fully autonomous, decentralized, non-custodial way.
***********Benefits of Coinvest**********

Trading Rewards: Accumulate COIN rewards with every trade on the Coinvest platform.
Super Trader: Make profit from trades in your virtual investment portfolio.
Index Fund Management: Collect 50% trading fee revenue from users that invest in your personal index fund.
Value Appreciation: Platform adoption, transaction volume, and buybacks increase the value of COIN tokens over time.
************Crowdsale Details**********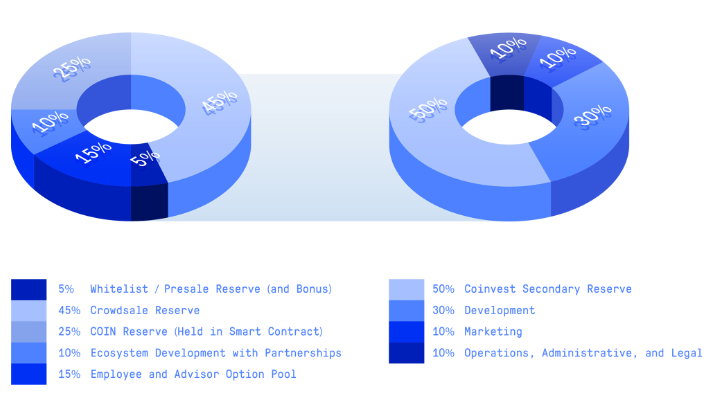 Coinvest is creating a total fixed supply of ~107 million (107.142.857) COIN tokens, distributed as follows:
5%: Private Whitelist Reserve (Including Bonus)
44%: Crowdsale Reserve (Including Bonus)
25%: COIN Reserve (Held in Smart Contract)
10%: Ecosystem Development and Partnerships
16%: Employee and Advisor Option Pool to Recruit and Retain Talent
Token Supply: Fixed supply of ~107 million (107.142.857)
Distributed in Crowdsale: 52,500,000 million (49%)
Symbol: COIN
Value: 1000 COIN = 700 USD
Blockchain Platform: Ethereum ERC20 / ERC223
Now Lets talk about the most importent thing. (TEAM)
************Coinvest Team**************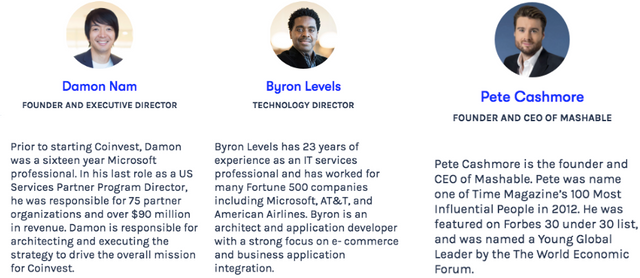 I must say they really have an increadible team.
Damon Nam founder and executive director. From what I could find he was high up in Microsoft with high management roles. I've read some articles on Damon with Microsoft taking on leadership roles for over 5 years.
Byron Levels is their technology director. He has been involved with big bluechip companies for some time.
Pete Cashmore is the CEO over at Mashable which is a newssource. So he is very much into technology and all those type of things.
Seems as if just a few short years ago Mashable was able to raise $14 million. So it I'm sure Pete has some connections seeing he's been at this for quite some time.
********Conclusion*********
At the moment Coinvest looks really good and it certainly is aimed at the masses. There is also no KYC process required.
They can legally bypass this because there's no exchange, there's no fear currency and there's no assets. It's all run by the Coinvest coin.
To know more visit their website : https://coinve.st