Dear Steem Community,
The next contest is here!!
As you all know, CoinGecko recently integrated KyberWidget to enable instant KyberSwap on selected ERC-20 tokens right in our website. KyberWidget makes it possible for users to swap tokens without needing to go out of coingecko.com into exchanges. We aim to make your experience on coingecko.com as smooth as possible and give you all the tools you need when it comes to researching cryptocurrency.
To celebrate this partnership with Kyber Network, we decided to give away cool limited edition merchandises with a writing contest! You can win exclusive T-shirts and Stickers this one time only!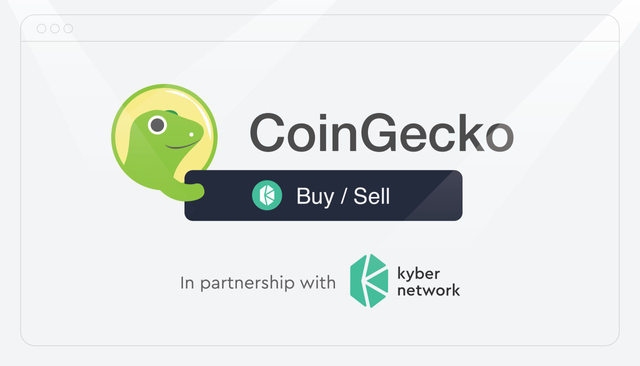 We want to know what the Steem community think of this new integration. Do you know that you can now perform instant token swap inside coingecko.com? Have you tried the widget? How was your experience and what do you think about it?
Write about it in your submission!
How to Participate and Qualify
Resteem this post.
Follow @coingecko on Steemit
Tag your submission with the following: #coingeckowritingcontest #coingecko
Write about what you think of KyberWidget in CoinGecko.com.
You may include a guide, add screenshots of the KyberSwap process.
Post a link to your submission in the comment section below.
Rules
Ensure your post is at least 300 words long.
Include at least one screenshot of the widgets; you may show the entire KyberSwap process.
Use your personally owned images or non-copyrighted images - Make sure you are licensed to use any stock images in your post.
This contest will run for 14 days and will end on 22 November 2018 23:59 GMT.
You can submit as many posts as you want, but only one post per Steemian will qualify to win.
Prizes
Don't miss this rare opportunity to win a limited edition CoinGecko T-Shirt, Kyber T-Shirt, Kyber Laptop Sleeve, and Stickers!!
Top 3 best post will receive 1 CoinGecko T-Shirt, 1 Kyber T-Shirt, 1 Kyber Laptop Sleeve, and assorted Stickers. You will also receive ten steem
17 winners will receive assorted merchandise and three steem.
Every qualified post will receive an upvote from @coingecko as a thank you note
Bonus : Exceptional posts may be rewarded up to 30 steem for in-depth guide and opinion about KyberWidget on CoinGecko.com.