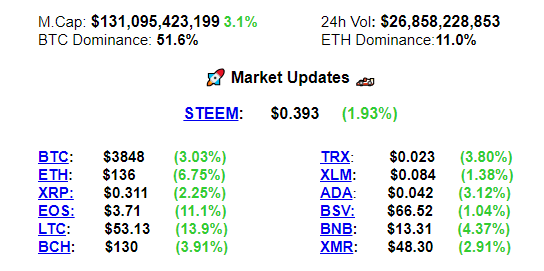 What's Up Steemians!
Here are 3 noteworthy news of the day:
1. Kraken Futures Trading Nears $1 Billion in First Month after Acquisition
Cryptocurrency futures provider Crypto Facilities has seen "tremendous growth" since being acquired by Kraken.
In total, nearly $1 billion in crypto futures has been traded over the past 30 days.
On February 4, Kraken announces an acquisition of crypto futures startup Crypto Facilities, which rebranded into Kraken Futures.
2. IOTA releases Coordinator-less Testnet
IoT-focused IOTA (MIOTA) has released a testnet that do not require coordinator nodes.
The new Coordinator-Less IOTA Reference Implementation (CLIRI) codebase is available for volunteer to download and run.
IOTA invites beta-testers to run the testnest and report any bugs.
3. BlockFi Offers Crypto Deposit Account With Compound Interest
Cryptocurrency lending startup BlockFi has launched a crypto deposit account that provides compound interest.
The service offers customers an annual interest rate of 6 percent, paid on a monthly basis in cryptocurrency.
Users from across the globe can deposit either BTC or ETH to earn interest from the offering and can withdraw their funds at any time.