You can't put the genie back into the bottle once it's out. - Bobby Ong
The Don Speaks about Bitcoin
10 years after the invention of the world's first truly decentralized money. Bitcoin has finally made its way into the zeitgeist of he who is at the very top. Naturally, President Trump says "I am not a fan of Bitcoin".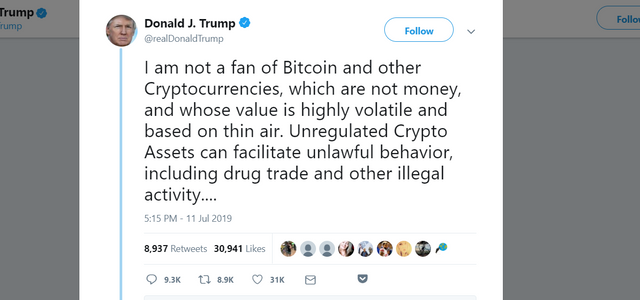 The truth of the matter is, his tone towards Bitcoin almost doesn't matter. The very fact that a leader of a nation has openly acknowledged Bitcoin has undoubtedly solidified Bitcoin's position and awareness in the real world.
We are talking about something that is only discussed in cypherpunk email-list merely a decade ago. Bitcoin and cryptocurrency is still in its very nascent state as a technology.
Facebook's Libra
The President also talked about Libra, while itself debatable whether a decentralized cryptocurrency, has done a great job introducing this idea of a free and borderless money system to the masses.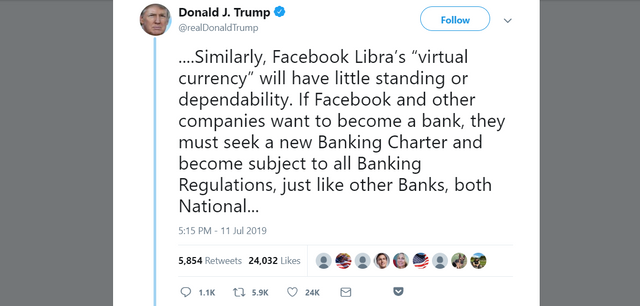 It is obvious that Facebook's Libra will likely follow the same fate as Paypal when regulation and its centralization means governments can properly control and enforce its laws within national jurisdiction.
Facebook WILL be a Bank, despite its claims to be a new "asset class". Regulation often does not keep up with technology, bureaucracy will apply existing laws to regulate new technology until they no longer can do so.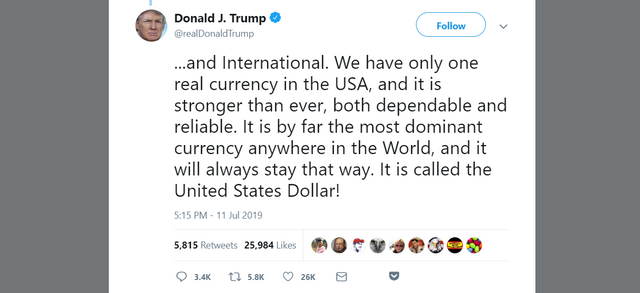 Typical of a US President, Mr. Trump of course double down on his belief that the US Dollar to be the most dominant global currency.
There is no need to argue whether that is true. What is undeniable now is that there is a new form of technology that has the potential to render the concept of National currency a relic of the past.
New form of Social Media
Similar to how Bitcoin has disrupted governance and finance, we see similar disruption in Steem towards work and social media. Never before has a social media platform rewards its users democratically. Facebook, Youtube, Google Adwords, all have a final say in how their content creators get paid.
There is no such thing as a written "Community Guideline" in Steem and we see that as a good thing. After all, it is the community who should decide amongst themselves what is acceptable and what is not, which can be seen by how users of Steem upvote and curate content. Moderation of speech within Steem is done peer-to-peer instead of top-down as typical to most social media. Following our ethos of decentralization, this is a good thing.
We're on the right track, guys! Hodl on your coins and preach the crypto gospel!