There are only 400+ syllables in Mandarin. Out of this small number, only 4 pure vowel syllables (V, naked vowel) and 39 open syllables (CV, consonant + vowel) exist in all four tones. Below is a table with one Chinese character for each pure vowel syllable, in two different romanizations (spelling systems):
(1) 漢語拼音 Hànyǔ Pīnyīn (PY), the 1958 government standard which shows tones using optional diacritics (easily overlooked and quite confusing for foreign learners).
(2) 國語羅馬字 Gwoyeu Luomaatzyh (GR, usually spelled Gwoyeu Romatzyh), the slightly more complicated 1928 government standard that is based on Chinese phonology (many native-speaker teachers are unaware of this) rather than Chinese phonetics (individual sounds).
Because it is based on phonology (the systematic relations between groups of sounds), GR uses mnemonic spelling changes to show tones in an unforgettable, systematic way.
Example: because the 3rd tone is the longest of all 4 tones (two or three times longer than the 4th tone), most pure vowel 3rd tone syllables in GR are spelled with double letters: aa, ee, ii, oo, uu, yy. Indeed, for some Chinese speakers, the vocal cords stop vibrating in the middle of third tone syllables: these people really do produce two vowels!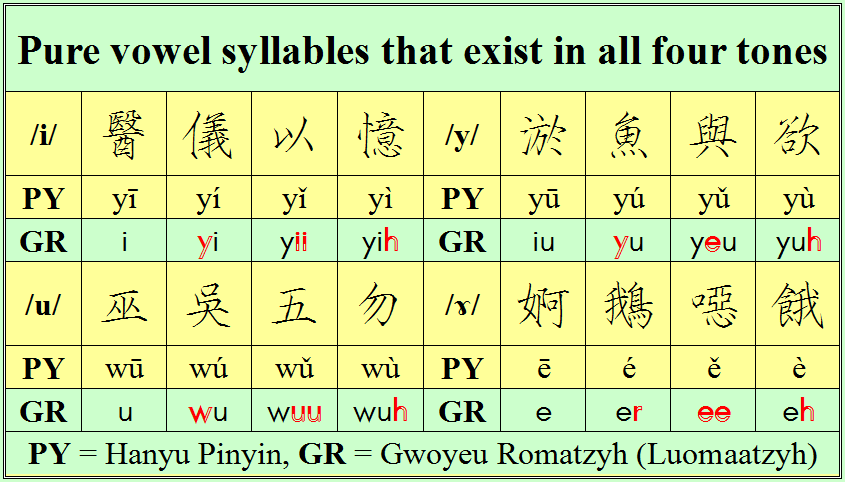 If you are an English speaker beginning to learn Chinese, please note that there is NO w- semivowel at the beginning of wū, wú, wǔ, wù, only one single pure vowel, so these four syllables do not sound like the English word woo.
Most of these syllables represent bound morphemes (meaningful word parts, like inter- and -cracy), not independent words. The only common words above are 魚 yú / yu "fish", 鵝 é / er "goose" and 五 wǔ / wuu "five". 勿 wù "don't", for example, is used in written Chinese (as in 請勿吸煙 qǐng wù xīyān / chiing wuh shi'ian "no smoking").