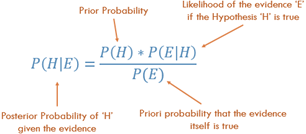 source
As you might not know heard of Bayesian Theorem. But how exactly does it works? Some people see it as magic and some get terrified by its ability to deduct things. After all, this theorem is from a book written by a Presbyterian that has 300 years of history.
To be honest, I heard about this theorem when I was in college years ago. But the whole concept of it can be complicated if you have a very complex question.
I was looking up on some machine learning articles and it gets to a point I will need to have a firm grasp of Bayesian inference.
Thanks to the mighty internet and smart people that willing to teach for free. I came across a gitbook which have explained it from the top to bottom.
See here: https://brohrer.mcknote.com/zh-Hant/statistics/how_bayesian_inference_works.html
If are interested in this theorem but couldn't find any good explanations from the internet. I strongly recommend this book!
That's it! Cheers!
---
你可能不知道貝葉斯定理。 但它究竟是如何運作的呢? 有些人認為它是神奇的,有些人會抱著敬畏的心情看待。 畢竟,這個定理來自一本有300多年曆史的書。
老實說,幾年前我在大學時聽說過這個定理。 但如果你有一個非常複雜的問題,它的整個概念可能會很複雜。
我正在查閱一些機器學習文章,並且需要我掌握貝葉斯推理以便我再前進了解。
感謝互聯網和鷓私的聰明人,他們願意免費教學并在網上留下資源。
請參見:https://brohrer.mcknote.com/zh-Hant/statistics/how_bayesian_inference_works.html
如果對這個定理感興趣但無法找到任何好的解釋。 我強烈推薦這本書!
Cheers