Splinter Daily - 031320 - DEC Earning #70 | 賺DEC之路 #70
What's up, Splinters! I hope everything is great and well.
---
I hope you all had a great week.
I know right now is a tough situation in which the WHO had already declared the coronavirus as a pandemic.
It's time to empower our friendly neighbor with some proper personal hygiene habits.
Get back to Spinterlands, I am currently rank as Diamond 2 and I get harder to reach Diamond I than before.
It is just me or does anybody felt the same?
It is a bit strange that suddenly strong players get into this level.
Anyhow, it is now getting to my favorite part of the daily, unpack the daily quest reward.
---
My main goal now has changed to accumulate DEC, so I can replace my normal card to gold card because I would like to earn more DEC on each battle.
---
希望大家度過愉快的一周。
目前形勢很艱難,世衛組織已經宣布冠狀病毒為大流行病。
現在是時候讓我們的友好鄰居有一些適當的個人衛生習慣了。
回到Spinterlands,我目前的排名為Diamond 2,而與Diamond I感覺有比以前更加困難提升。只是我還是有人有同樣的感覺?
突然有許多強大的玩家在這個級別有點奇怪。
無論如何,現在它已成為我日常最喜歡的部分,一起來看看我打開日常任務獎勵的包裝。
---
我的主要目標現在已經改為累積DEC,完成每日任務更像是一個副任務。 我的DEC餘額的短期目標是25K。 因為我打算繼續為公會做出貢獻。
---
Today snapshot of DEC Balances
今天的 DEC Balances 快照
031320 - DEC Balance: 4,079
---
As always here is my daily reward from the daily quest. Comment to this draw:
This time we have 4 cards, 3 legendary potions, and 3 gold potions. Not so bad! Maybe I should open a pack with these perks!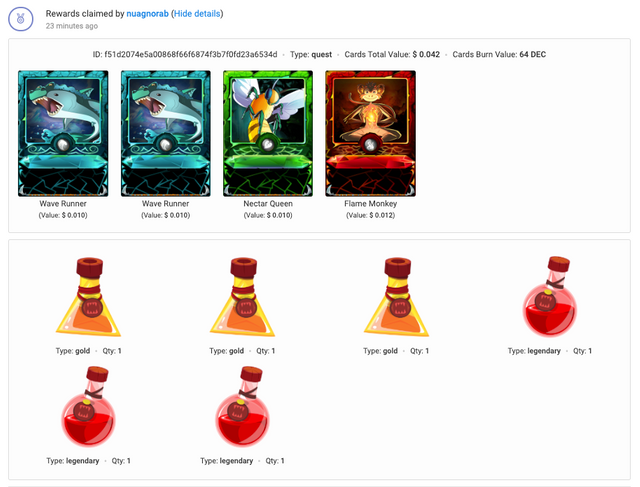 ---
Interested in one of the best Cryptos games that can earn coins while playing?
Splinterlands is fun and lets you earn crypto that can convert back to Steem, Tron and many more with the help of partner exchanges.
---
Splinterlands 很有趣,可以讓您賺取可以轉換成 Steem(STEEM) 或 Tron(TRX) 的加密貨幣 - DEC 。
對好玩而又可以賺幣的加密貨幣遊戲感興趣?
Come join us on Splinterlands! https://steemmonsters.com?ref=nuagnorab
---
Cheers