Splinter Daily - 021920 - DEC Earning #66 | 賺DEC之路 #66
What's up, Splinters! I hope everything is great and well.
---
How is the new reward system doing to you?
As much as I dislike the new rewarding way of Splinterlands, I must say this looks better in the long run.
you might have not known that at the very beginning of Splinterlands (previously called Steemmonsters), each player can get at least 1 beta pack when you complete the daily quest.
Until then, there are many more players, the admin changed the rewarding unit from pack to card, which was what we have been used to be rewarded.
Time flies, Splinterlands now become one of the biggest Dapps on Steem (or even overall of Dapps!?) they changed again.
I bet the decision was made to help Splinterlands healthy and long-lasting.
Anyhow, that is the rule we are bounded to since we are in the Splinterlands.
I am still enjoying the game. What about you?
---
My main goal now has changed to accumulate DEC, and completing the daily quest is more like a side quest. My short target of DEC balance is 25K. As I intended to continuously contribute to the Guild.
---
新的獎勵制度對您有何影響?
儘管我不喜歡Splinterlands的新獎勵方式,但從長遠來看,我必須說這對遊戲本身是更好的。
您可能不知道在Splinterlands(以前稱為Steemmonsters)的一開始,完成日常任務後,每個玩家都可以獲得至少1個beta包。
管理員將獎勵單位從包更改為卡。
時光飛逝,Splinterlands現在成為Steem上最大的Dapp之一(甚至是整個Dapps !?),它的獎勵方式又發生了變化。
我敢打賭,做出這一決定是為了幫助Splinterlands健康持久。
無論如何,這是我們必須遵守的規則,因為我們身處在Spinterlands。
我仍然很享受玩這遊戲。 你呢?
---
我的主要目標現在已經改為累積DEC,完成每日任務更像是一個副任務。 我的DEC餘額的短期目標是25K。 因為我打算繼續為公會做出貢獻。
---
Today snapshot of DEC Balances
今天的 DEC Balances 快照
019020 - DEC Balance: 1,955
---
As always here is my daily reward from the daily quest. Comment to this draw:
Today we have an epic card Imp Bowman with 1 Gold potions plus 250+ DEC. Very nice!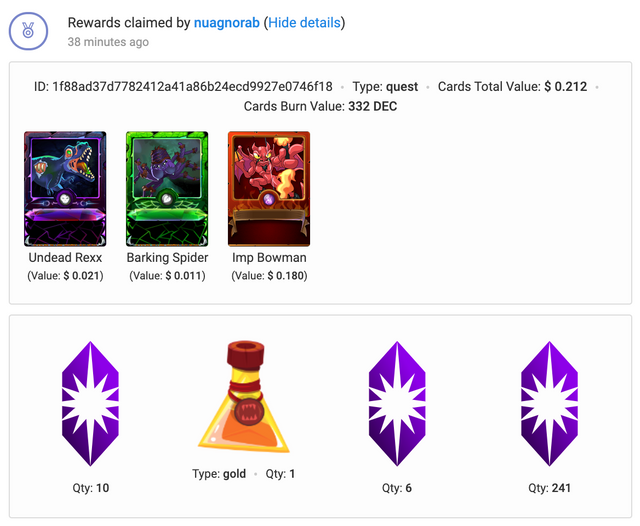 ---
Interested in one of the best Cryptos games that can earn coins while playing?
Splinterlands is fun and lets you earn crypto that can convert back to Steem, Tron and many more with the help of partner exchanges.
---
Splinterlands 很有趣,可以讓您賺取可以轉換成 Steem(STEEM) 或 Tron(TRX) 的加密貨幣 - DEC 。
對好玩而又可以賺幣的加密貨幣遊戲感興趣?
Come join us on Splinterlands! https://steemmonsters.com?ref=nuagnorab
---
Cheers