超级好吃的烤箱版茶香熏鸭 | How to smoke a duck
Smoke duck is our family's favorite food. Whenever I cook it all the family will be very happy to enjoy it. It is not difficult. After reading this recipe I think everyone can make it at home.
自从第一次做茶香熏鸭,就收到儿子跟娃爹的盛赞,这道菜就成为我们家最热门大菜之一。每次做,儿子都兴奋得要飞起来。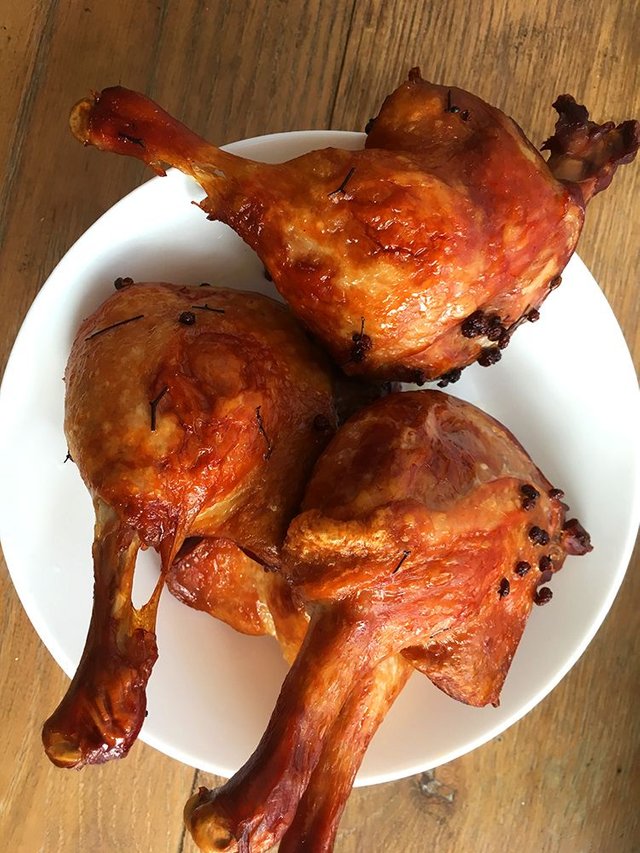 | Ingredients | 材料 |
| --- | --- |
| Sichuan pepercorn | 花椒(推荐汉源牌) |
| Salt | 盐 |
| Clove | 丁香 |
| Bay leaf | 香叶 |
| Dried orange peel | 干橘皮 |
| Star anise | 八角 |
| Cinnamon | 桂皮 |
| Rice | 大米 |
| Tea | 茶叶 |
| Sugar | 糖 |
You can buy all the ingredients above at a Chinese grocery store.
Instructions:做法
Make Sichuan peper and salt 制作椒盐

Put Sichuan pepercorn and salt into a pan at a ratio of 4:1 (by volume). Using small fire to fry them (no oil). Remember to stir constantly to prevent over burn. When the salt turns to a little yellow and dark you can smell a special aroma, which means it is done. You can keep this Sichuan peper and salt in a sealed container for storage.
把花椒跟盐按照4:1的比例用小火无油炒制,炒制途中记得经常翻动,以免炒糊。当盐开始变黄变深,有香味出来时,椒盐就炒好了。用不完的可以放在密封罐中保存。

Marinate duck 腌鸭子

Wash the duck carefully and use the kitchen towel to wipe it dry. This time I only use the duck drums because I only have these at home. But you can use whole duck too.

Put some (according to taste) Sichuan peper and salt on the duck's skin and massage for one minute or so. Sealed them in a container and put into the refrigerator over night.

鸭子洗干净,用厨房纸巾擦干,然后把椒盐均匀的抹上去,按摩一分钟,封好放冰箱一晚。我家里没有整鸭,我就鸭腿来代替,烤出来一样好吃。

Wrap up the duck

Prepare aluminium foil on the baking pan. I recommend heavy duty aluminium foil. Put Sichuan pepercorn, clove, bay leaf, dried orange peel, star anise, rice, tea, sugar and cinnamon on the foil. Mix them together. If you cann't find all of the ingredients you just need to put a little more rice, tea, sugar and Sichuan pepercorn. Put a rack on top of it and put the marinated duck on the rack. Put duck's belly facing down if you use whole duck. If you just smoke duck drums like me put the skin side face up. Use another foil to cover everything and seal all four edges. The most important thing is to seal all edges carefully and make sure there is no any leakage. Any leakage will result in failure.

Remember the side with skin face up. Not like this picture.

用超厚的锡箔纸垫在烤盘上,放上花椒,丁香,香叶,干橘皮,八角,桂皮,茶叶,糖跟米,混合均匀。在上面放一个架子,然后把腌渍好的鸭子放上去,记得肚子朝下,如果是鸭腿,就把有皮的一面朝上。用另一张锡箔纸盖住,并封上四边。封口非常重要,一定要封死,不能漏气,如果漏气,成品无论从味道还是色相上都会差很多。

Smoke the duck 熏鸭

Preheat the oven 450F. Bake it about 3 hours. If you just smoke duck drums you just need to bake them about 2 hours.

As the temperature increase the foil bag will expand. Put the baking pan into a lower level.

烤箱预热华氏450度,整鸭需要烤三个小时,如果是鸭腿,两个小时就够了。

Open it and enjoy the smoked duck 开包品尝

I have to remind all of you that you MUST be very careful at opening it. I was burned by the steam in the past. Very very hot.

打开的时候务必小心再小心。我就曾被烫过两次,一次手指竟然烫起了泡,浸在冰水里好几个小时。
Now you can enjoy this delicious smoked duck.
一切就绪,可以慢慢享受美味了。