女人有时候真的一点都不讲道理,怎么治?
包治百病!
Why are women sometimes really unreasonable? Is there any solution?
Buying her a bag will work perfectly.
今天阴到多云,阳光没有什么存在感,去奕欧来买包包,回来发现照片好丑,暗沉沉的,我特地给自己的照片来了个十级补光,如下图,哈哈。"奕欧来"购物中心坐落于风光旖旎的的阳澄湖半岛,大家金秋十月来品尝阳澄湖大闸蟹的时候,别忘了到奕欧来转悠一圈,保证收获颇丰。购物村仿造的是英国Bicester Village,亦是血拼购物最佳圣地,除了疯狂的折扣,更是让购物变成一种优雅的体验。
It is cloudy today. There is no enough sunshine to take quality photos. When I check the photos after coming back, I find the photo is too dark before of the dull weather. I specifically add extra light to my selfie, lol. Now it looks better. "Yi Ou Lai" shopping center is located in the beautiful scenery of the Yangcheng Lake Peninsula. If you come to Suzhou to enjoy the hairy crabs from Yangcheng Lake this October, do not forget to visit here. The shopping village mimics the British Bicester Village, which is also the best shopping destination. Besides of the crazy discounts, shopping is really an elegant experience there.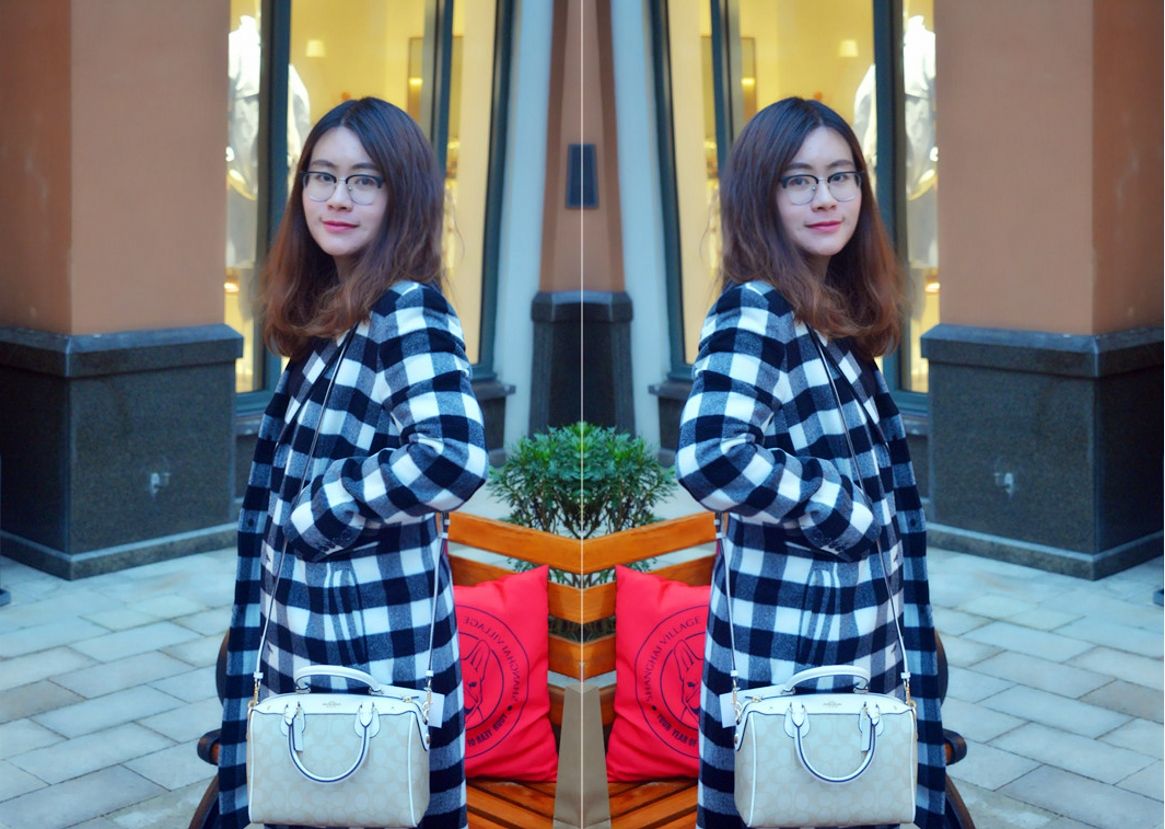 背上我新买的包包,一边逛一边拍一边晒,这才是outlet的节奏嘛
This is my new bag. Taking photos while shopping, this is the rhythm of Suzhou shopping Village.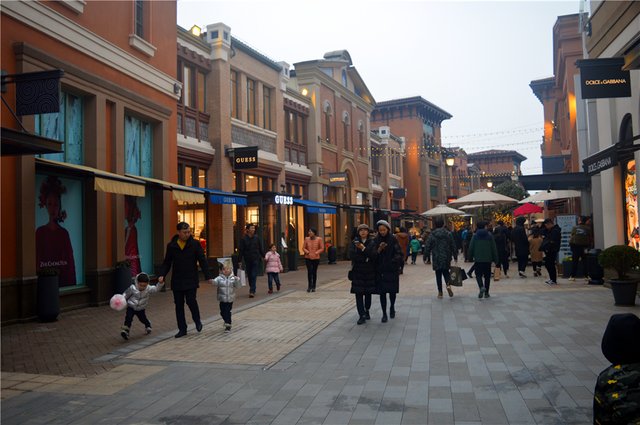 春节假期,游客也好,购物者也好,到处都是人人人,不过我们大中华儿女应该已经适应了。奕欧来距离我家自驾大概半个小时就能到,在火车站有接驳车,好像是免费的。逛了一个下午,主要的品牌有BALLY,LACOSTE,GANT,GUCCI,COACH,MK,BOSS,ARMANI,D&G,等等,很多一线二线大牌入驻,数目还是比较可观的。
Now it is near the end of Chinese New Year holidays. The village is full of tourists and shoppers. But I have already get used to it as it great population of China. It takes about half an hour from my home tu Suzhou village. And it has a shuttle bus at the train station. After spending a whole afternoon there, I figured out the main brands: BALLY, LACOSTE, GANT, GUCCI, COACH, MK, BOSS, ARMANI, D & G, etc. Many first class brands settled there, It is a good place to visit.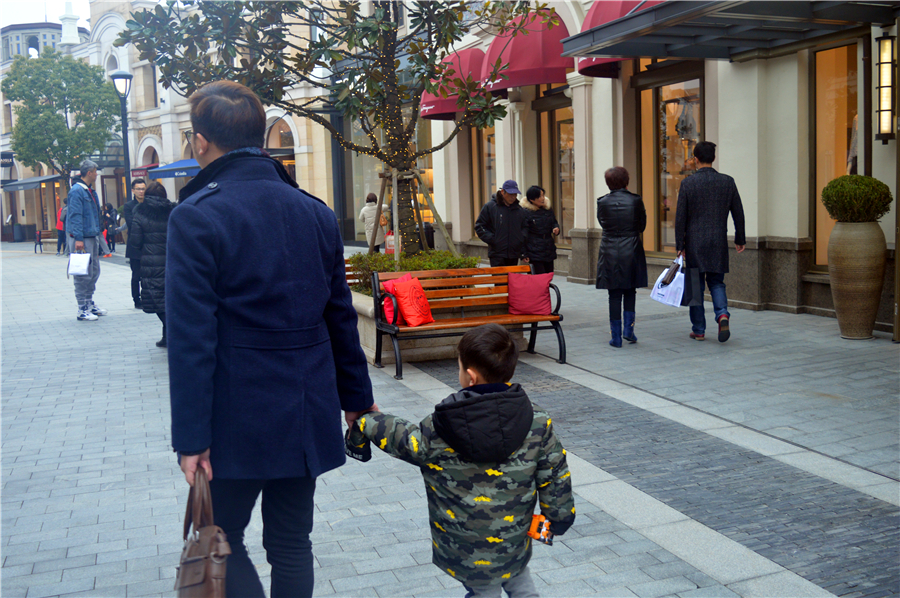 某只猪拉着小盆友。
My husband and son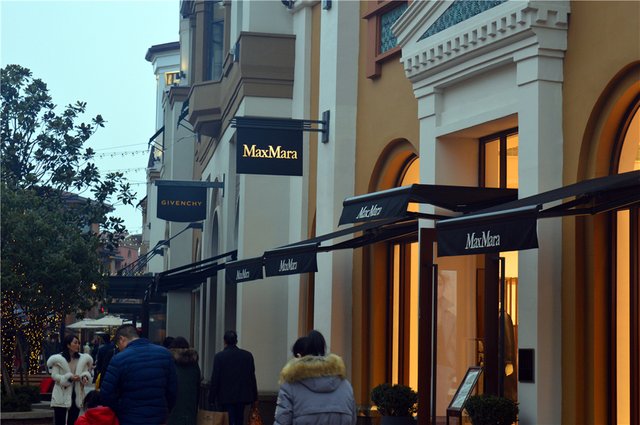 熟悉的各类品牌扑面而来。
Do you see any familiar brand here?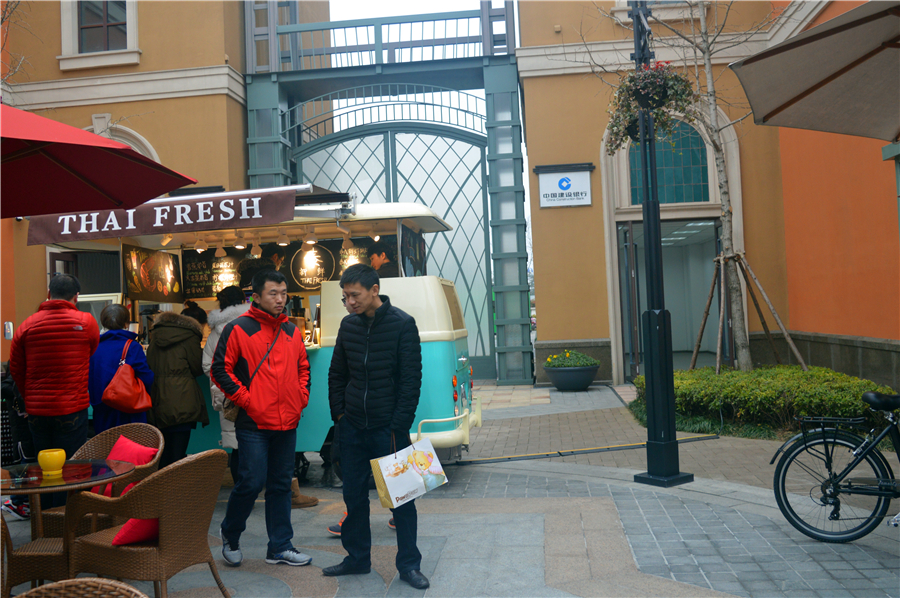 点心车
Snack car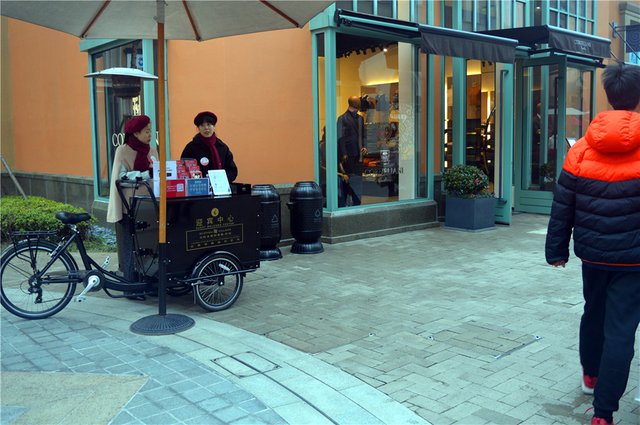 迎宾的小姐姐们
Beautiful waiters welcome every customers.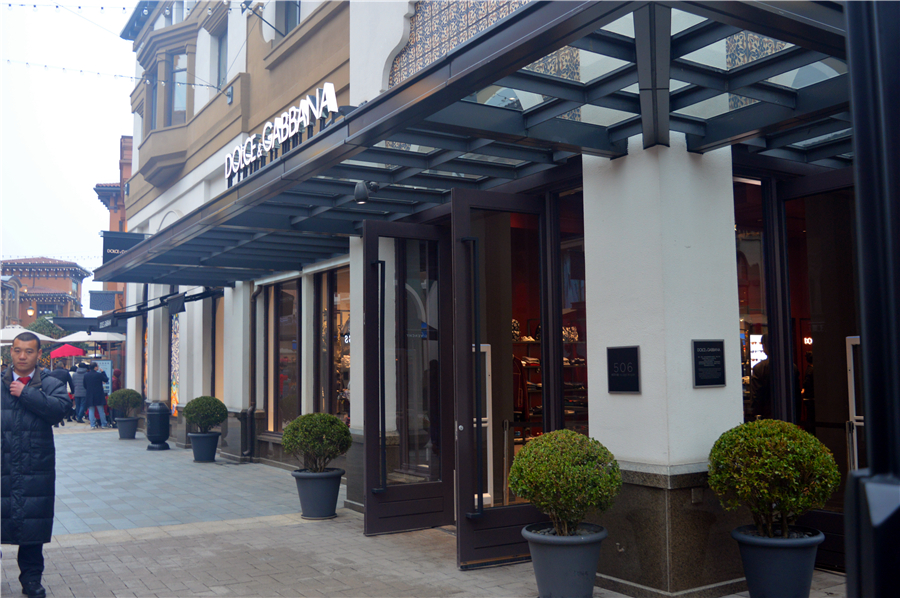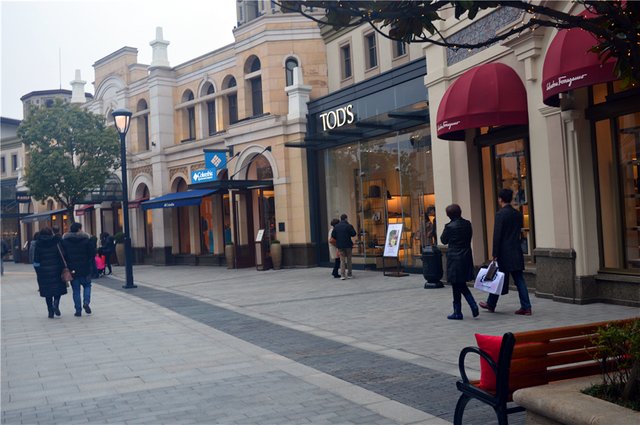 Gucci门口在排长队
People line up in front of Gucci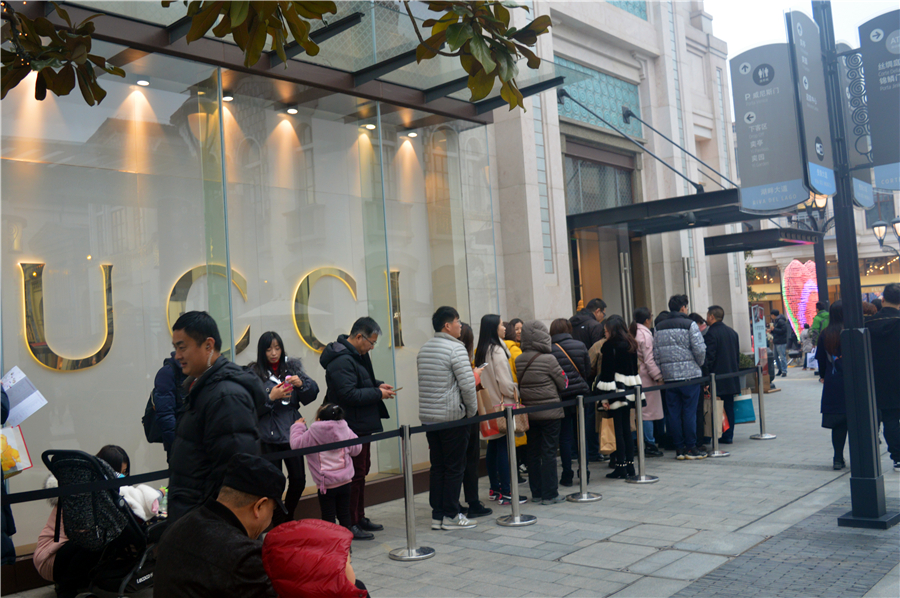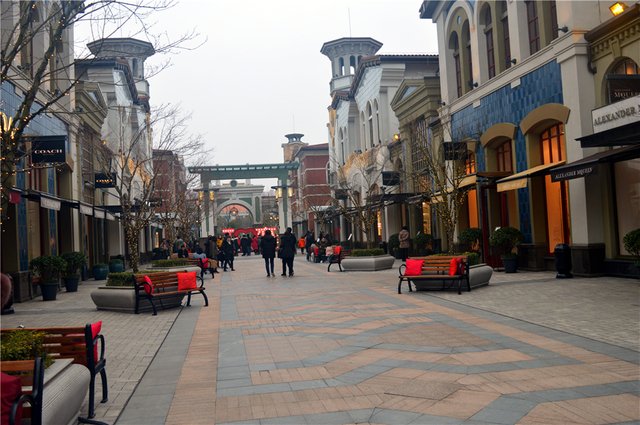 跑到coach门口,好开心以为不需要排队,走进才发现,原来排队很人性化的安排在室内,只能开始自己的排队生涯。这张是排队的时候无聊拍的。
I run to the coach door, feeling so happy that I do not need to line up. But when I come closer, I see a long line indoor.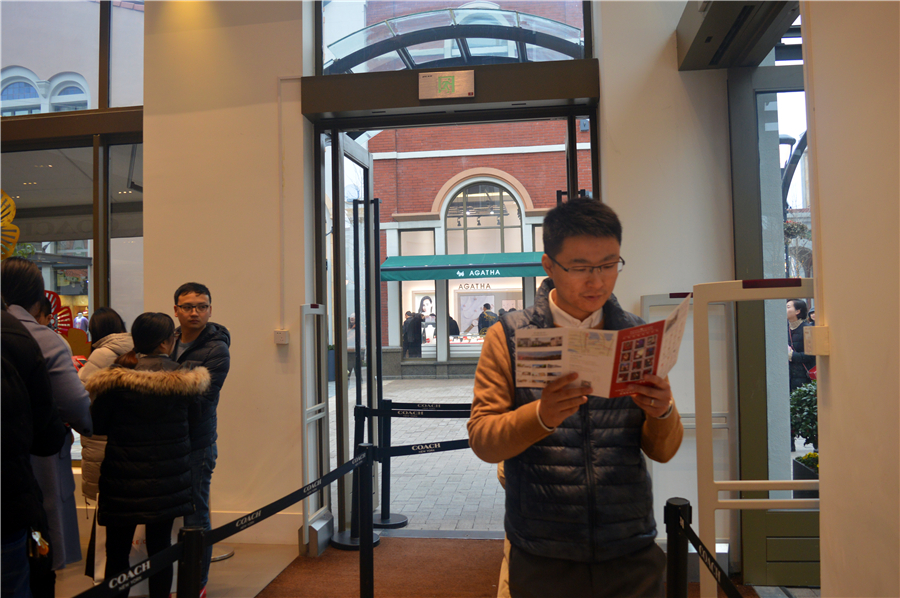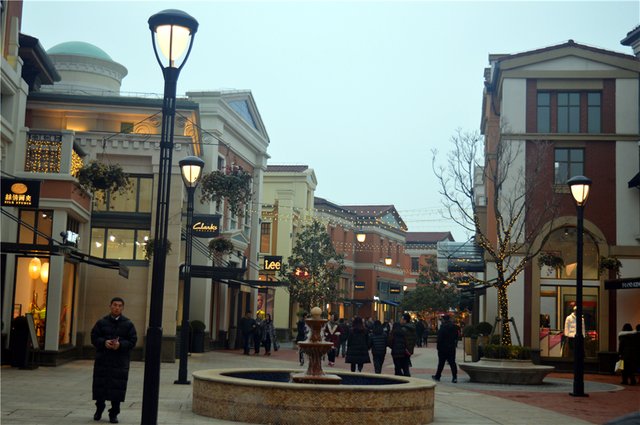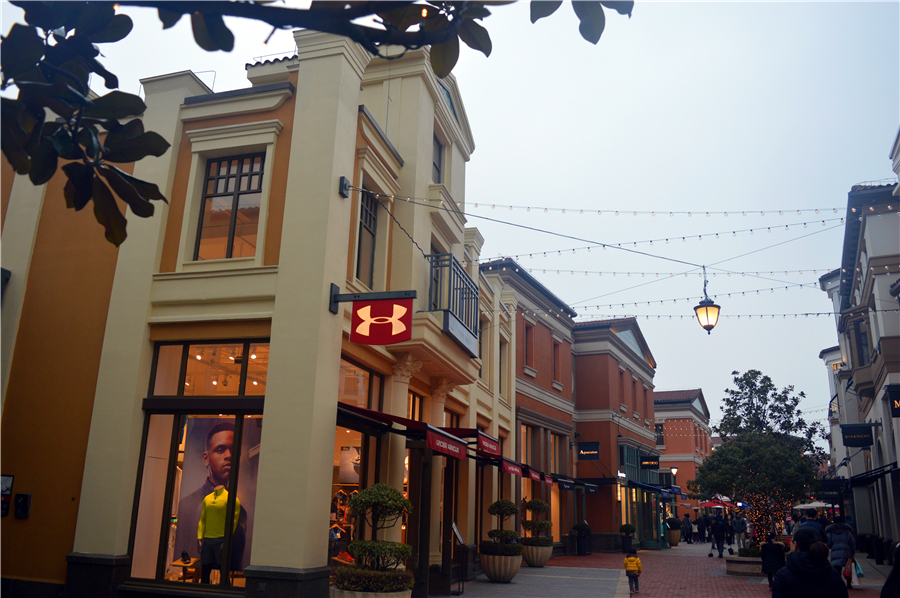 这里的店员服务态度都很好,不会甩臭脸。唯一需要注意的是,不要刷爆自己的卡,当然如果是老公的卡,可以随意刷,尽情刷~
The staff here are with quite good service attitude. The only thing to note is that double check the price before buying.