下星期二,就是在新马一带都是第三大种族-印度人的大节日-屠妖节 Deepavali。新马两国这一天都是公假,所以很多人也都会请星期一年假,拼成长周末回老家或出游。
Next Tuesday will be the Deepavali festival for the Indian, third largest ethnic group in Malaysia and Singapore. As this day will be public holiday in both countries, many would take annual leave on monday to combine it with weekend for long weekend- either travel back hometown or going for holiday.
这节日在印度称为Divali,中国则称为光明节,是印度兴都教徒最盛大的节日,就好像我们的新年庆典一样,但我记得这一天不是他们日历里新一年的开始。
Deepavali is called Divali in India itself, it's the largest festival for the Indian Hindu, as grand as our Lunar New Year, but I do remember this day is not the start of the year for Indian calendar.
我们公司生产部门蛮多印度人的,加上是民族庆典,所以公司入口处每年都有印度裔同事发心自行布置,其中最常见的就是用各种染上不同颜色的米粒,拼成印度色彩的绘图-Kolam (南印度) Rangoli (北印度)。
My company production department has got many workers from India, moreover this day is the festive day. Every year my company main lobby is decorated by voluntary Indian colleagues. Among the most common decorations is Rangoli (North India)/Kolam (South India)- an art piece decorated with colourful rice and sands.

我看他们在准备绘图的当儿,好像都是临场发挥的,没有一个"起稿模",以方便置放不同色的米粒,还蛮厉害的。
I saw process of making the Kolam/ Rangoli during their preparation, it was like doing the art piece without sketch paper, this really impressed me a lot.
公司另一道大门也布置了米粒图。
Another lobby was also decorated with nice Rangoli/Kolam

今年不知怎的,感觉屠妖节的庆祝气氛比较浓一些,我家附近的商场也布置了印度风味的装饰(往年都没布置的)
And I felt this year Deepavali ambiance is stronger than previous years. The mall near to my house also decorated with Indian-style lighting.

连地铁内车厢都大费周章地布置一番,这的确少见了些,况且我常乘搭的红线橙线都没经过小印度区。
Inside the MRT also with Deepavali festive atmosphere, this is rather rare occasion as the mrt lines that I always take- the red and orange line are not passing by area near to Little India.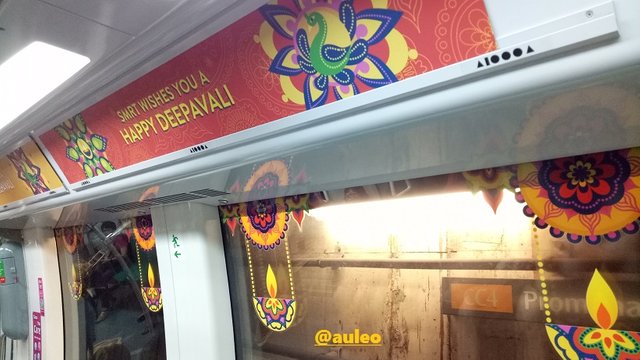 如果大家有谁在这期间来到新马一带旅游出差,想体验印度风,可以到以下地点:
And if you are happened to travel to Singapore Malaysia during this time, and would like to feel the Incredible India, you can go to these area:
新加坡:小印度 Little India (地铁站:Little India)
Singapore: Little India (MRT station: Little India)
吉隆坡:小印度十五碑 Brickfield (地铁站:KL Sentral )
Kuala Lumpur: Brickfield Little India (LRT station: KL Sentral)
新山: Jalan Trus(新山关卡、City Square 步行约10-15分钟即可)
Johor Bahru: Jalan Trus ( walking distance 10-15min from JB custom & City Square)
最后送上大马鬼才创作歌手黄明志写的印度歌曲,
祝兴都教徒屠妖节快乐,非兴都教徒则假期愉快!
Last but not least, wish every Hindu friend a Happy Deepavali, and Non-Hindu, Happy Holiday.
with Namewee's Songs -Little India. I find this is very creative production, do spend time to watch it ! (The MV was taken in KL Little India)
https://www.youtube.com/watch?v=Ls2SQqSgzAg
---
Posted from my blog with SteemPress : http://auleo.vornix.blog/2018/10/29/deepavali-festival/
---