#Burnsteem25 #club75: The Food Diary Game: Mang Inasals Unli Rice with Husband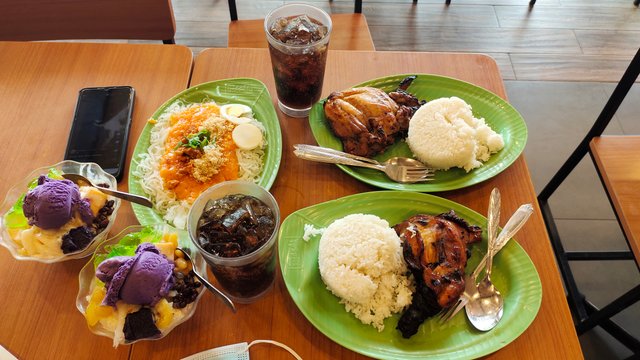 Food is waving and I am definitely ready to dig in. Hello steemians! and hello Steem foodies! Today I wanna share one of my favorite fast food here in the Philippines. Back in college my husband and I couldn't afford to go to restaurants, whenever we go on a date it's usually in affordable place. But at times when we are able to save some we eat in fast food chains.
Mang Inasal has been very famous for its unli Rice or unlimited rice. I guess this place contributed in my weight gain. I remember making jokes about how thin my husband and I were back then.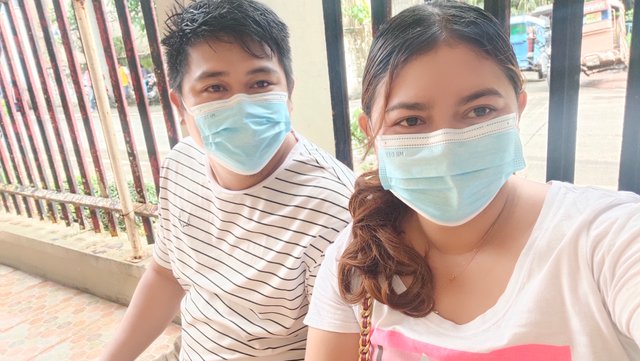 Today's schedule has been hectic, with so much struggle of making ends meet since my husband hasn't got back from work we decided to give ourselves a break. Well it doesn't mean we are stressed we will be depriving ourselves.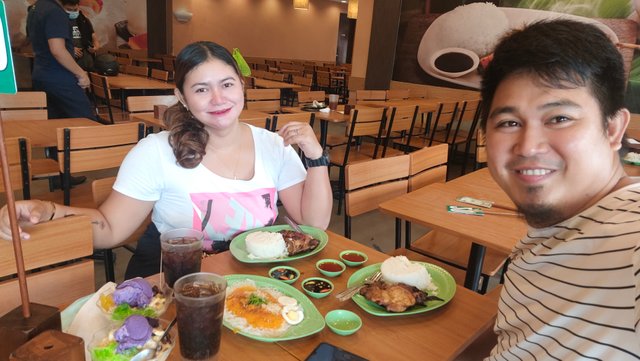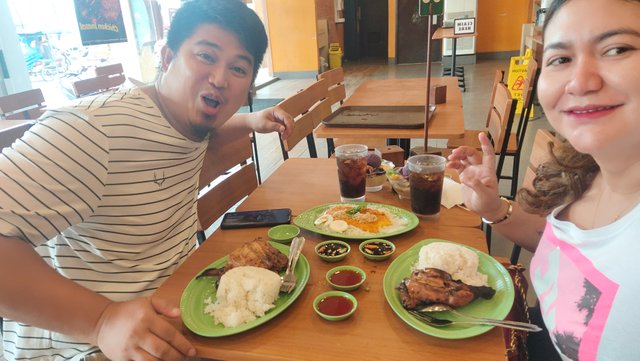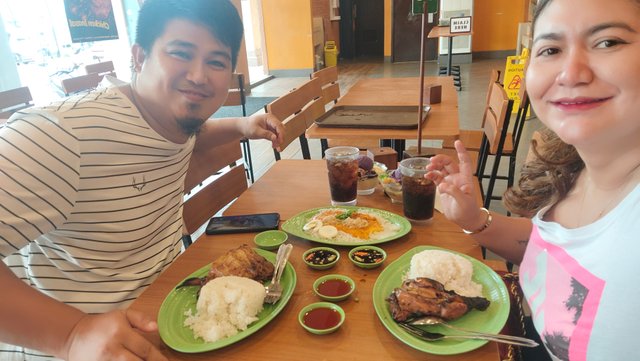 I ordered Two Unli Rice Chicken Inasal, thigh for my husband and drumstick for me, mine is worth 119 pesos and 129 pesos for my husband's order . I added Palabok which is my favorite. It is a delicious Filipino noodle dish topped with shrimp gravy, shrimp, smoked fish flakes, pork cracklings or chicharon and eggs. And finally for desert I included the famous Halo-halo, officially spelled haluhalo, Tagalog for "mixed," is a popular cold dessert in the Philippines made up of crushed ice, evaporated milk or coconut milk, and various ingredients including ube. Who wouldn't know such delicious desert right.
For today's meal I only spent 500 pesos. My husband ate more than 5 cups of rice and I had 1 1/2. This is another day of gaining weight with all that rice I ate and sweet.
Today's food diary game would be one of those days I will remember, my husband and I had a glimpse of what we used to eat before. Talking about our college days and remember our simple but happy days are just nice to look back to. We even get to talk about how Jollibee almost get defeated by Mang Inasals fame. Anyways adulthood, having kids and a lot of priorities we forget even the simple things that matters.
I invite @jess88, @sweetspicy and @georgie84 to share their food diary too.