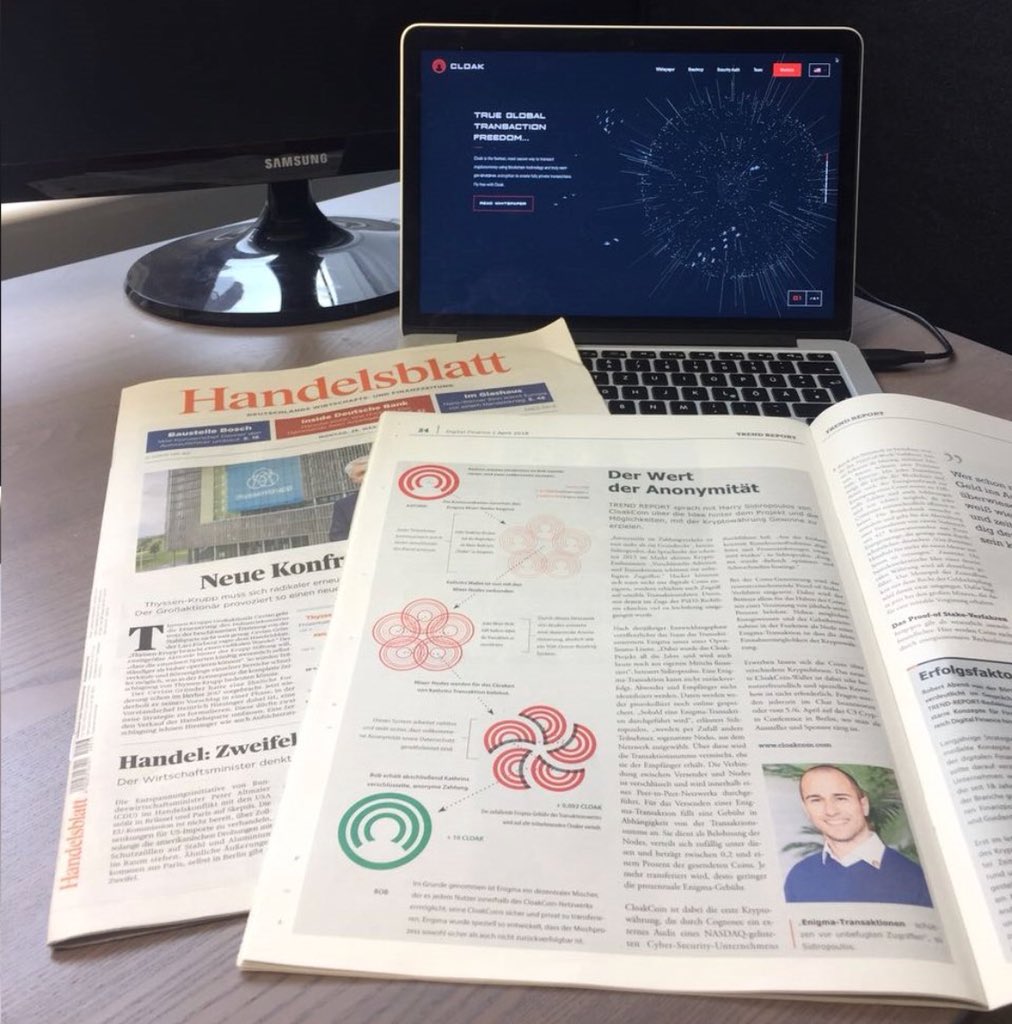 TREND REPORT spoke to Harry Sidiropoulos from CloakCoin about the idea behind the project and the possibilities to make profit with the cryptocurrency.
"Anonymity with payment transactions is way more than a basic right", underlines Sidiropoulos an active crypto-enthusiasts since 2013 in the market. "Encrypted addresses and transactions shelter from unauthorized access." Otherwise hacker could not just get a hold of digital coins, but also get access to sensitive transaction data. Data, which is dealt with thoughtless through the PSD2-guideline.
After a three-year development phase, the team published the transaction system Enigma in hold of the open source license.
"During all that years till today the project is self-funded", assures Sidiropoulos. An Enigma transaction cannot be traced back, sender and recipient cannot be identified. Data are neither recorded, nor saved online. "The moment an Enigma transaction is realized", explains Sidiropoulos, other participants, named nodes, are chosen by the network. Via those the transaction amount is mixed, before the recipient receives the amount. The connection between sender and nodes is encrypted and is realized within a peer-to-peer network. For the sending of an Enigma transaction there is a fee charged depending on the transaction amount. This serves as a reward for the nodes, it's distributed between those randomly between .2 % and 1 % of the sent coins. The more coins are transferred, the less Enigma fee percentage is charged.
CloakCoin is the first cryptocurrency, which is audited by Cognosec, a NASDAQ listed cybersecurity company.
"From this audit corrective actions could be derived and processual changes could be implemented", says Sidiropoulos. "Enigma was optimized and weak spots were eliminated."
The resource-efficient Proof-of-Stake algorithm is used for the coin-creation. Thereby the owner is rewarded with yearly six percent for simply holding the coins. This is the third income possibility for the cryptocurrency, besides a possible price gain and the fee income as a node for Enigma transactions.
A purchase of the coins is possible via crypto exchanges.
The newest CloakCoin-Wallet is withal user-friendly and further know-how is not necessary. Questions are answered in the chat at any time or at the 5. / 6. of April at the C3 Crypto Conference in Berlin, where Cloak is going to function as an exhibitor and sponsor.
Source: https://trendreport.de/der-wert-der-anonymitaet/