Dear Cloak Community,
We are proud to announce our new editorial Partnership with the great Team of LekkerCryptisch!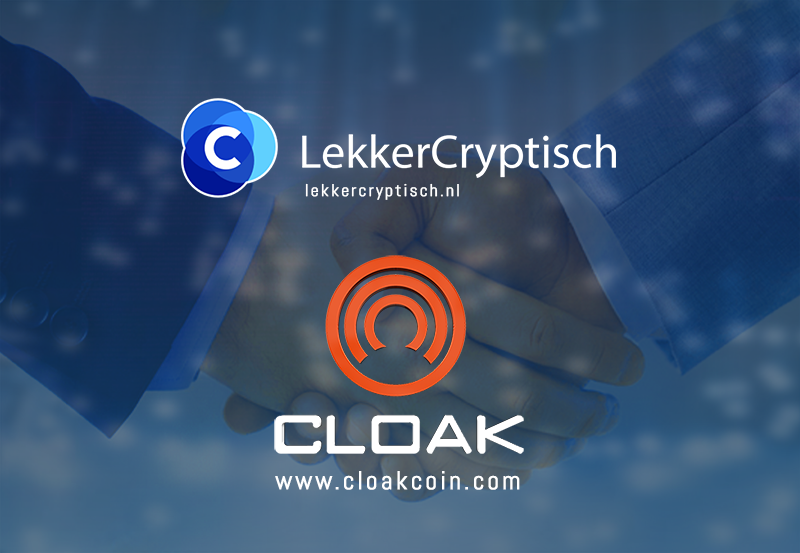 Here are some facts about the new partnership:
Setting up a dedicated project page, which will be the backbone on everything on Cloak (see https://lekkercryptisch.nl/project/cloakcoin - already launched ✅ ).
Write 6 articles on privacy and anonymity, why these subjects are important, how crypto currencies play an important role and why Cloak is a huge step forward and unique in this market (see https://lekkercryptisch.nl/post/2018/04/02/Cryptogeld-is-anoniem-toch).
Create a dossier on privacy using said content, maintaining the references to Cloak.
Engage with the Dutch community on Telegram and Twitter actively, naming Cloak as a key example in the industry.
Cloak has a huge reach and a big interest in Netherland (Google Trend Analyse: https://bit.ly/2vcBpAR)!
As for community support, Cloak will be actively redirect to the Dutch community members and groups. With this way Cloak can increase the influence on those who are Dutch and interested to participate, and improve the relationship with the Dutch Cloak community.
We are happy to collaborate with the Dutch Crypto Community!
PS: CLOAK Dutch Telegram Group is now available: https://t.me/CloakCoinNederlands
Peace & Love
Team Cloak
Bitcointalk: https://bit.ly/2IXlett