Over recent years consumers have been looking for cleaning products that are safer to use in their homes. They want products that will not be harmful to them or their loved one's health. Products that use less or no harsh chemicals for them to be exposed to on a daily basis. Products they can feel good about!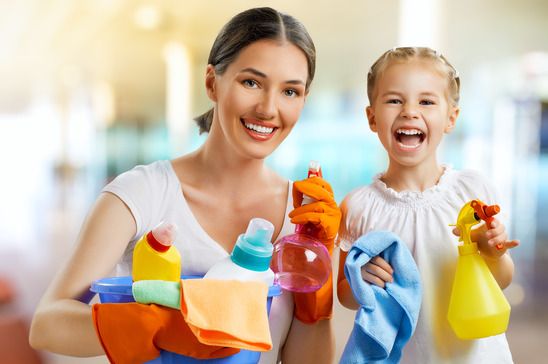 Companies that produce household cleaning products have not turned a blind eye to this. After all, they want to create a product that a consumer is going to want to buy and therefore stay in business. Unfortunately, some of the products on the store shelves promising green cleaning ingredients are not as safe as buyers are led to believe.
The best way to tell what is actually in a cleaning product is to read the label. Just picking up a cleaning product and turning it to the back label and reading will probably render the average buyer confused as to if it is truly a safe and/reliable product.
Here are some tips on reading cleaning product labels to help you determine if a product is truly safe to use in your home:
Ingredient List A large number of cleaning products' lists of ingredients make no sense to the average person. Some ingredients have long scientific chemical names or vague descriptions i.e. dish protectant. They may label what they are legally required to, but to get the specifics of what everything in the product is or does requires a call to customer service or searching for an MSDS (material safety data sheet) for the specific product on google.
Instructions Many people bypass the instructions on cleaning products because the procedure for using them seems pretty straight forward, especially if you have used a similar purposed product in the past. If you read the instructions on the label, however, you can actually find some useful information. By reading these you can find what surfaces and environments the cleaner is safe for and which ones you should avoid using it on.
Caution or Warning Statements Nearly every cleaning solution has a caution statement printed on the label somewhere. This will tell vital information such as if the product is an eye irritant, if it is harmful when swallowed, contents under pressure, and/or if it needs to be used in well-ventilated spaces. The longer the caution/warning statement information the less likely it is that it is a safe product to use on a regular basis.
Contact Information The best way to learn what is in a product and its potential effects on a person's or household's health is to go to the source. Look for the contact information of the manufacturing company on the label. It might be located next to the words questions or comments with a phone number. There may be a website listed to visit for more information or even a direct mailing address. These avenues help you to do your research about products and to learn more about certain ingredients to help you with your next cleaning product purchase.
If you are curious about the cleaning solutions for carpet cleaning, deep cleaning or tile cleaning,
All Kleen Carpets
encourages customers to please take a look at our
product safety info page
or give us a call anytime. We are happy to answer any questions you may have about our green carpet, tile, and upholstery cleaning process.!