I came across @josejirafa 's clay art contest tonight on my feed and I believe it was synergy. Today in Canada, we are observing a statutory holiday called FAMILY DAY. It is a relatively new holiday meant for families to spend time together during a long weekend for whatever purpose they like. This holiday supports the importance of families, family life and their communities. With that said, one of the activities I took part in this weekend was making clay charms with my 7 year old daughter. This bonding time was so fun but the synergy came from the fact that we chose to make mostly snacks that we enjoy, which just so happens to be the theme for this week's contest!!
I felt compelled to submit our clay creation but am also very proud of it because my daughter and I spent quality time together making it and now we can share it with my Steemit community!
Thank you for the opportunity to participate in your contest @josejirafa :)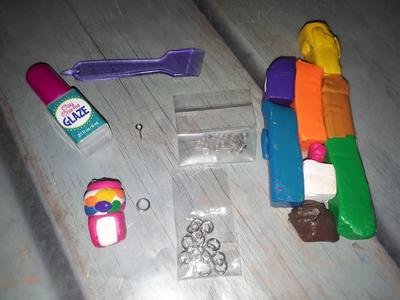 We also made this small gum ball machine but it was too heavy for the bracelet. The process was very easy. We used images for inspiration and just used small pieces of the coloured clay to mold the items. When finished the desired shape we put in one of those little hooks and then had to bake in the oven on a baking sheet for 25 minutes at 250 degrees Fahrenheit to harden them. We then let them completely cool, drew on any faces or letters in marker and applied a layer of glaze which is just clear nail polish like substance that dries on and leaves a shiny gloss on the charm. We then hooked the other metal ring on so we could attach it to the bracelet. My other daughter as I write this, is asking to make some animal charms so off I go....