Visibility contest!!! Give me your best #classical-music post!
TL;DR: Submit your favorite Steemit classical-music posts in the comments. Contest winners will have their articles promoted in Facebook ads during the month of August in order to bring more of Facebook's classical music enthusiasts to Steemit. Details below.
---
Update: July 26
As of yet, there have been no contest entries, so I have picked 7 of my own favorites that I'll add to the comments (in alphabetical order by author). Feel free to add your own submissions - one entry per comment - or to vote on any of these comments. If no votes are received, I'll use random numbers to select two from among these seven.
Also, I'm updating the rules to say that nomination comments must be entered before the main post pays out and the winner will be decided when all on-time comments have paid out.
End update
---
Background
Back in March, on a whim, I purchased a $10 facebook ad for the Steemit's Best Classical Music page. It promoted @silentscreamer's Open Mic post from week 75:
STEEMIT OpenMic Week 75 ❍ |"Theme from Schindler's List" |, with this video:
So far, that promotion has reached about 300 Facebook users with a steemit link. (Aside: That post is still eligible for upvotes, so please click through and vote!!!)
The Contest
So here's something new. During the month of August, I have decided to place two more $10 ads in Facebook for the Steemit's Best Classical Music Facebook page in order to put Steemit's #classical-music community in front of more Facebook users (Aside: Please "Like" the page and share our links!!!). But this time, I'm going to let the Steemit community pick the links. Submit your favorite #classical-music post from the Steem block chain as a "Reply" below, one link per comment, and I'll buy one Facebook ad for the post in the comment that gets the highest number of votes and another ad for the comment that gets the highest value from Steem voters.
Rules:
In the event that the highest value post also gets the most votes, I'll pick the second link from the runner-up based on value of votes.
Posts do not have to be currently eligible for payout votes. (i.e. they can be older than 7 days)
I want to promote separate authors, so if the same author wins both categories, I'll move down the lists until I get to a different author.
You may submit your own posts or someone else's. Please don't duplicate submissions from earlier comments.
It does not need to be a musical performance. Textual articles are also permitted.
Self votes on comments are OK.
I will not be voting on any submissions.
I reserve the right to veto posts that, in my sole opinion, are off-topic or don't shine a good light on Steemit as a platform.
I am the final decision maker if anything in these rules is ambiguous or if Facebook's ad pricing changes. ; -)
Nomination comments must be entered before the main post pays out and the winner will be decided when all on-time comments have paid out.
---
As a general rule, I up-vote comments that demonstrate "proof of reading".


---
Thank you for your time and attention.
---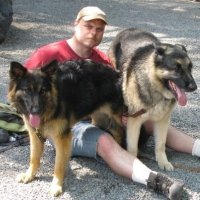 Steve Palmer is an IT professional with three decades of professional experience in data communications and information systems. He holds a bachelor's degree in mathematics, a master's degree in computer science, and a master's degree in information systems and technology management. He has been awarded 3 US patents.
---