Sorry Friends! Note that I've had to "let AREA51.fm go for now" while concentrating my time on the 2017 Roswell UFO Conference. News articles are still featured on the Facebook page, and please enjoy my Program Archives Ep 1-28. 
If you'd like to Sponsor future weekly broadcasts of AREA51.fm please contact [email protected]
AREA51.fm Reporting from Roswell
"ALL THE NEWS THAT'S FIT TO RETRACT!"
Listen Live, Fridays at 5pm Mountain Time  /  Call-in 504-273-7379
Facebook  News Links mentioned on the program / RosGuide  Roswell NM Upcoming Events Calendar  /  Past Program Audio Archives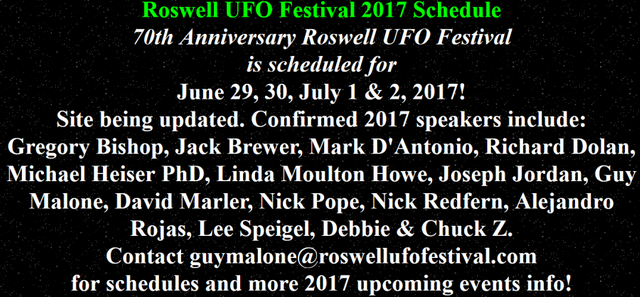 Behind the scenes I am also working on the conference scheduled for July 2017's Roswell UFO Festival! Conference Speakers, Full Schedule and Early Bird Registrations are being accepted HERE

GO HERE to browse the Silver Starter Pack and/or Survival Goods frequently mentioned on the program (DISCLOSURE: this is an affiliate link, but I was a very happy customer BEFORE becoming an affiliate). 
... a.k.a. Roswell's NM's "Alien Stranger"(Professional Photo above by MattHoyle.com 2006)  @bringawareness.com for links to read the online version of my book "Come Sail Away : UFO Phenomenon & The Bible", click thru to read the Amazon reviews; and/or watch my videos on YouTube starting with "Roswell 1947 : What Really Happened?" and "Why Christian Fundies Think Aliens Are Really Demons" ...Visit www.AlienStranger.com 
Area51.fm Website Now Powered by STEEMIT -
 - the social network that PAYS you to post! Free to join and to host your own pages (like this one). See also Steemtalk.org for a great variety of today's new content published by Steemit authors.
See @ibringawareness and/or @ancientofdays for MY user profiles
AREA51.fm on Facebook  / RosGuide  (Roswell NM Upcoming Events)  /  Program Archives
Contact [email protected]