Rise up, take up your mat, and walk!
Asking
Simply ask! James 4:2 says "you do not have because you do not ask." There are certain things that God will not do unless we ask Him. Why? Because God loves the relationship. Prayer is God's appointed way of receiving from Him. He is looking for relationship and partnership with Him. In Luke 18:1-8 Jesus tells us that God will quickly bring about justice for His chosen ones who cry out to him day and night. (Luke 18:7-8)
He's waiting for us
God is not apathetic. He actually desires justice more than we do. He gives us the desire for justice because it is His desire. He is just looking for people to feel what He feels about it. Once we actually feel what God feels about it then He will quickly bring about the justice we are seeking! ☺
Don't give up!
Jesus tells us in Luke 18:1 that we "always ought to pray and not lose heart." This story of the persistent widow, who's "continual coming wearied the judge" (Luke 18:5) demonstrates how God rewards persevering prayer. Sometimes God just appreciates our faith that He will grant our request and may honor it because of our "shameless audacity" (Luke 11:5-8). Jesus tells us in Matthew 7:8, "For everyone who asks receives, and he who seeks finds, and to him who knocks it will be opened." Asking, seeking and knocking is critical in God's Kingdom.
It works!
When we pray, we allow God to do what only he can do and really go to work on problems that we cannot solve on our own. James 5:16 says that "the earnest (heartfelt, continued) prayer of a righteous man makes tremendous power available (it's dynamic in it's working)."
Work from a place of victory
After asking we are to simply believe that we have received it. We don't have to fast for 40 days and pray in tongues for 8 hours a day. Faith is just simple, childlike trust in God. Not willpower. Just simple belief. Its not complicated. Jesus tells us: "Therefore I say to you, whatever things you ask when you pray, believe that you receive them, and you will have them" (Mark 11:24). We receive. We don't earn. We work from a place of victory that Jesus has secured for us, not for a place of victory that we try to earn ourselves.
Try it out!
For example, if you were praying for healing, try to do something that you couldn't do before. That is when the healing is often manifested. We see Jesus encouraging this approach to try to do something that was previously not possible when he encourages the cripple to try to stand up and walk (John 5:8). Think to yourself: If you were "normal/healed" what would you do? Then try and do it!
Prayer
God, I thank you that You are love! Thank you that You actually desire my wellbeing even more than I do! Lord right now I pray for __________ (Pray for something that is on your heart) I ask that Your kingdom would come and Your will would be done in this situation! I ask for ___________. I thank you that You paid the price for salvation and healing for everyone! I now believe that You have granted my request! I thank you in advance for hearing my prayer! I now step out in faith and live as though __________ [I am healed].
Seriously! Try it out!
Now simply try to do something you couldn't do before. Seriously! If you are in a wheelchair right now, try to put weight on your legs and stand up. You are healed! Claim it! Stand on it! (Pun intended! 😛) "Jesus Christ is the same yesterday, today, and forever" (Hebrews 13:8). He said this 2,000 years ago and says it to you again today: "Your faith has made you well. Go in peace, and be healed of your affliction" (Mark 5:34)! 😃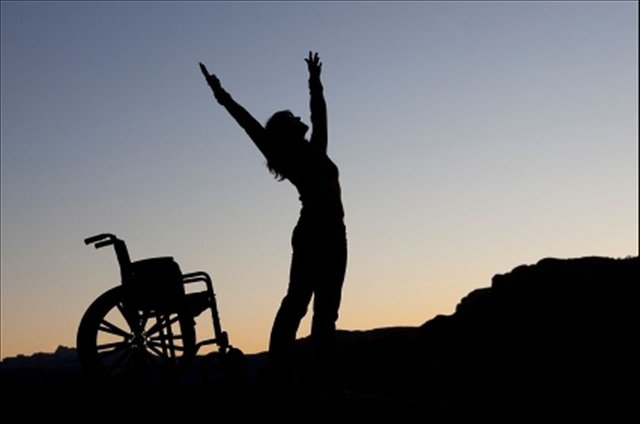 Image Source