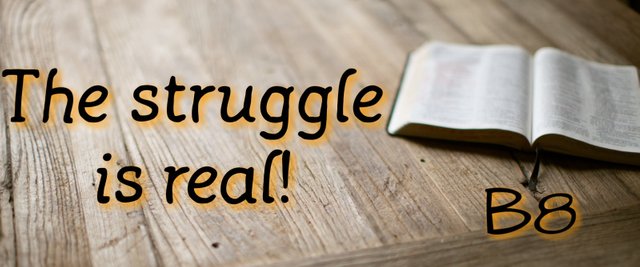 Matthew 5:10 NKJV - Blessed are those who are persecuted for righteousness(doing-right)' sake, For theirs is the kingdom of heaven.
The Law was done away with, you don't mean the Hebrew Law is no more? So the verses that say "He made them male and female" in the Genesis story has no more meaning to us, well what about the Exodus story; so is it just a story? But I thought a lot of what Yeshua(Jesus) discussed was in Leviticus 19:15! OK then, so what about Numbers 14:19 "Pardon the iniquity of this people, I pray, according to the greatness of Your mercy, just as You have forgiven this people, from Egypt even until now." What do I do with that verse? But wait a minute if I do-away with the Law that means I don't need to give to those who are in need, like it talks about in Deuteronomy 15? What a confusing mess because I saw somewhere, that the Torah… is the Law; but wait… isn't the Torah the first 5 books and part of the Holy Scriptures?
II Timothy 3:10‭-‬15 NKJV - But you have carefully followed my doctrine, manner of life, purpose, faith, longsuffering, love, perseverance, persecutions, afflictions, which happened to me at Antioch, at Iconium, at Lystra—what persecutions I endured. And out of them all the Lord(Elohim) delivered me. Yes, and all who desire to live godly in(as) Christ Jesus(Yeshua) will suffer persecution. But evil men and impostors will grow worse and worse, deceiving and being deceived. But you must continue in the things which you have learned and been assured of, knowing from whom you have learned them, and that from childhood you have known the Holy Scriptures, which are able to make you wise for salvation through faith which is in Christ Jesus(Yeshua).‬‬‬‬‬‬‬‬‬
Reflection:
On the right side of this struggle is Truth which is following the Torah with its instructions, and on the left side is Love with its feeling and sharing which everyone talks about. What would happen if we all would just apply love to the Instructions? I don't know about you, but that sounds like faith!
Psalms 119:84‭-‬87 NKJV - How many are the days of Your servant? When will You execute judgment on those who persecute me? The proud have dug pits for me, Which is not according to Your law(Torah). All Your commandments are faithful; They persecute me wrongfully; Help me! They almost made an end of me on earth, But I did not forsake Your precepts(instructions).‬‬‬‬‬‬‬‬‬