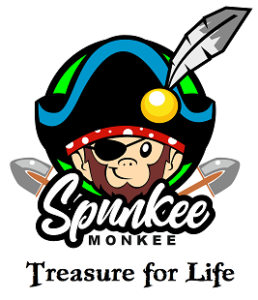 Shadows tells me that my time as Monkee Pal for my Spunkee Monkees has come to an end. She told me this would happen but I thought if we all did really good that she'd let us go longer. Alas, this phase of Spunkee Monkee has an actual finish date. I don't know about my Monkee friends but I've had fun. I got to learn about them and tell stories about Shadows. What could be more fun?
In just a month these Spunkee Monkees have started to form habits and think about things which will be good for them now and in the future as they grow up and go out into the world. They have some really cool talents and very kind hearts. What a great combination.
So, let's have a last look at them.
She's an aspiring artist with a talent for drawing, animation and creating videos. Look for some of her design work to end up in a future game world. Or she might just start her own video channel with her animations she creates to share. Over the course of the month, she explored several different possible future career paths. She even thought about working at Starbucks. She likes their product but I suspect she's too creative to want to work there long.
She developed the habit of looking after her own hair without being told and making mom and dad tea regularly along with many other chores and areas of service. Great work @purplemaze.
She earned a total of 2330 points, did 23 digs on the map and has a balance of 30 remaining.
She started off the month thinking of heading into being an Olympic swimmer and then started talking about dancing more. Who knows, we may one day hear of her up on that Olympic podium if she practices enough. She also developed the habit of looking after herself especially making sure she had fruit regularly. In addition to helping out around the house, she also helped look after her little brother a lot. Good stuff.
She earned a total of 2150 points and did 20 digs on the map which left a remaining balance of 150 points.
He's an active boy who has tried out both writing and making videos of his journals during the month. It was neat to see him on screen, including his dance. Speaking of dance, he loves to dance and to act. Just as the month was wrapping up he was performing in a play that his Prime MInister visited and he got to shake his hand. That was pretty cool that @raynen had that experience as he gave up playing competitive soccer to give the acting a priority.
He showed a lot of interest in treating the environment well by refusing single use plastics like straws and not wasting water. He was also very good about cleaning up around him and helping his mom with chores.
He eared 2200 points in total and did 22 digs which left him with 30 points left.
I'm sad to not be hearing from the Spunkee Monkees each day but I do hope their moms let them post sometimes so I can know what they are up to. I also hope that Shadows will let me write some more posts. She thinks I've got a bit big for my puss n boots but I think she will come around. I maybe should keep reminding her that when I'm writing, I'm not being a little hellion getting into stuff.
Great Work Spunkee Monkees -- stay in touch.

---
Posted from my blog with SteemPress : http://idesofmay.com/2019/03/02/the-final-check-in-for-these-spunkee-monkees/
---