Steem Blitz Chess Tournament 30 Dec 2017.... And the winner is .....SteemChess King: @stayoutoftherz (full video commentary by @schamangerbert)
The 12th edition was completed with 10 highly motivated players
" Keres: The older I grow, the more I value pawns. "
Die 12. Ausgabe wurde mit 10 hochmotivierten Spielern absolviert
"Keres: Je älter ich werde desto mehr wertschätze ich Bauern."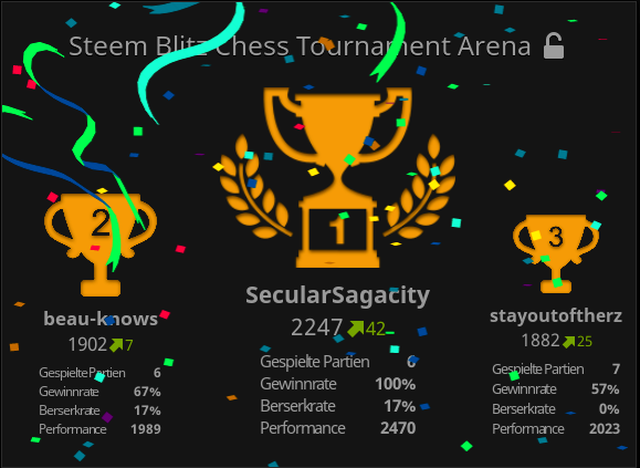 The last tournament of the year was very well attended. Exciting games and great emotions determine the course of the game. SecularSagacity alias @ape-5th was again able to win a clear victory. This will be a pleasure for the upcoming tournaments, as now 3 players with a rating of over 2000, and another 5 players with over 1800 points show quite demanding games. Here is the result:
Das letzte Turnier des Jahres war widerum sehr gut besucht. Spannende Spiele und große Emotionen bestimmten den Spielverlauf. SecularSagacity alias @ape-5th konnte wiederum einen deutlichen Sieg erringen. Das macht Freude auf die kommenden Turniere, da jetzt 3 Spieler mit einer Wertungszahl von über 2000, und weitere 5 Spieler mit über 1800 Punkten recht anspruchsvolle Partien zeigen. Hier ist das Resultat: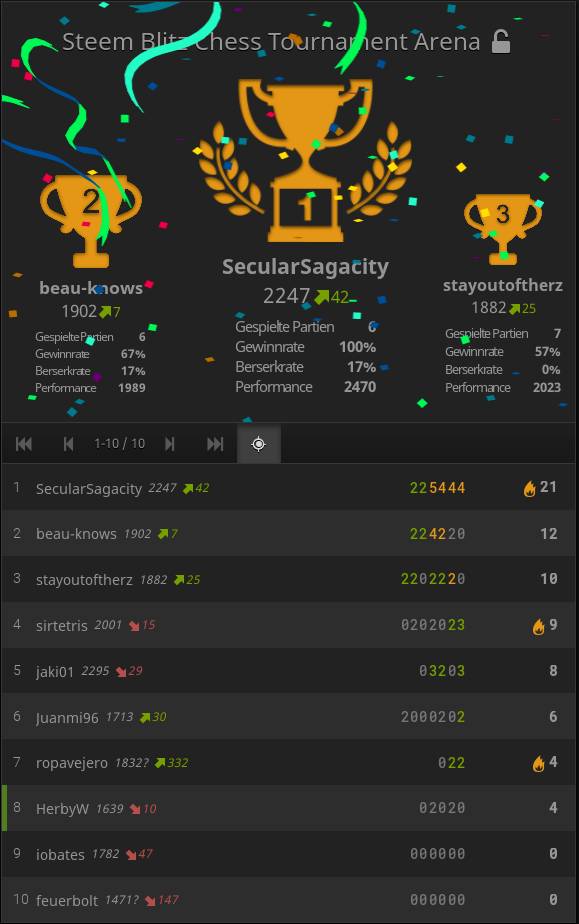 In the overall standings after 12 rounds, our new chess king is the undisputed leader:

@stayoutoftherz

I thank all players for taking part in SteemChess' first season and hereby announce the start of the second season on January 6, 2018!
In der Gesamtwertung nach 12 Runden führt unangefochten unser neuer Schachkönig:

@stayoutoftherz

Ich danke allen Spielern für die Teilnahme in der ersten Saison von SteemChess und kündige hiermit den Start der zweiten Saison am 6. Januar 2018 an!
Details and rules: / Details und Regeln:
https://steemit.com/steemchess/@schamangerbert/steem-blitz-chess-tournament-every-saturday-20-00-gmt-steem-blitz-schach-turnier-jeden-samstag-um-22-00-uhr
Video Commentary (66 minutes HD)
---
Final result / Endergebnis
Points are given for 1. (10) 2. (8) 3. (6) 4. (5) 5. (4) 6. (3) 7. (2) 8. (1)
Please feel free to post your chess related links in the comments to grow the pool of players, thank you! You are welcome to create your own analysis or promotion post!
Bitte zögere nicht, Deinen schachbezogenen Link in den Kommentaren zu posten, um den Pool der Spieler zu vergrößern, danke! Gerne darfst Du einen eigenen Analyse oder Promotion Post erstellen!


Please visit @beauknows post and video too.
Happy New Year! / Frohes neues Jahr!

Bis nächstes Mal! / See you next time!
Danke für Deine Aufmerksamkeit! / Thank you for your attention!
Original content by @schamangerbert


Schaman Gerbert