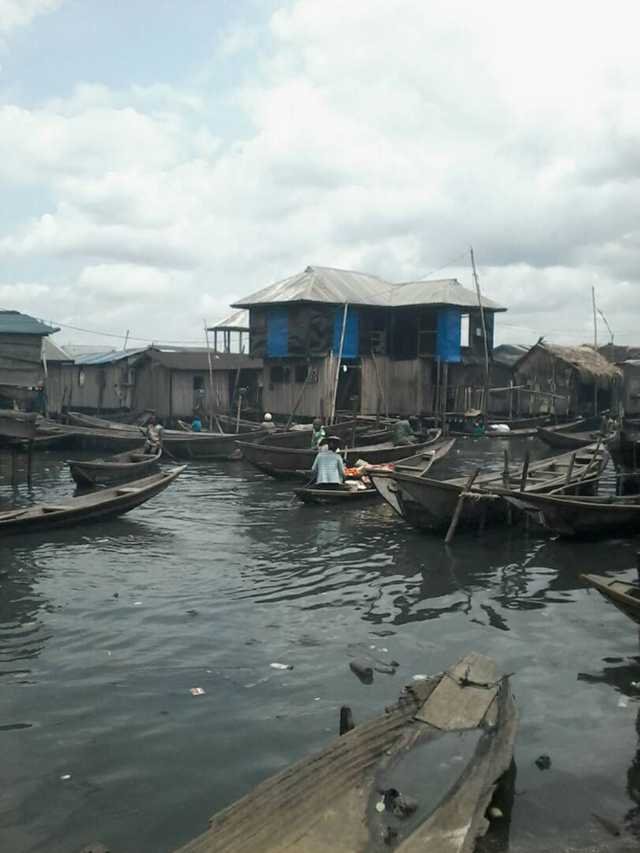 ---
The aim of our(@steem-lagos) project in the largest floating slum called Makoko is to enable decent education in the face of climate crisis at the grassroot level, it was stated here REACTIVATING MAKOKO A BLOCKCHAIN PROMISE UNFULFILLED. This is the third update, oh well: there hasn't been much progress recorded so far but an updated is important for those monitoring the development from the start back in 2018.
From the image above, that was our canoe path in the dirty murky waters as we pass through the community to the school, being the only school the floating community could boast of. The nauseating looks of the swampy water is sickening, we took more unpleasant pictures not worthy of showing, but we hoped people could realize the state of things in these slums, the water level and smell is hazardous to health and the school sadly is also falling apart into it.
Our objective is to help rebuild this school, make it safe on that little sand filled island and donate Textbooks and other educational materials for those kids. We have a go ahead from the community in 2018, we sure want to fulfil that promise if its the last thing we could give them. We as a team do not plan to donate money to the floating village, we do not want a story of embezzlement and abandoned project hence we shall be super seeing the project for start till finish ourselves.
Our total budget is a little below $10,000, we understand the Crypto market high volatility, that was the reason the project stood still for long, and would appeal to our sponsors to not fret over this market movement. We strongly hoped for a massive bull run, it will help our cause during this project as the donations we got so far is not up to a $90. That's a little fraction of the total amount needed, but we still hoped for a surprise as well as a miracle to complete this project.
Thanks for reading this little update.
---
Please help and support this project by sending donations in fiat and tokens to the following wallet addresses:
Bitcoin- 16jbD7t7WdeGmpeXDJdRgAjoLssykyGuUU
Ethereum- 0x7cAa221ec65f0D5797ceF4B97E2dfc26952440F4
Money Button- [email protected]
$Handcash- $captainphilips
BCH- 1J8o7c4uFpaz4ZrYnirSE7WSKD7EsHPAK7
BNB- bnb136ns6lfw4zs5hg4n85vdthaad7hq5m4gtkgf23
LTC- LgDP8dtZohLvQC8AiNNLYRpXaaRrtfioF7
STEEM- @steem-lagos
TRON- TE3Az4T8b8aUZeCBLp1iaHHgHTtVBSUEPK
EOS- captainphils
XRP- rEb8TK3gBgk5auZkwc6sHnwrGVJH8DuaLh
DASH- Xx9vGL7rNjGcLFNSRo4LZgWKFiUnhTsMT5