@SchoolForSDG4, crowdfunding for school supplies and excess funds for emergencies. Nr.11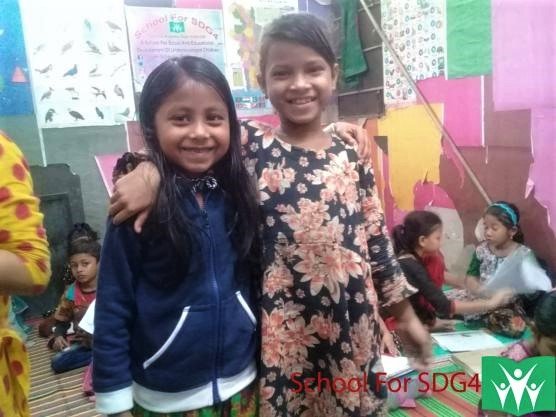 Today we will talk about the friendship in my favourite charity school first. I fell in love with this image on top. These two lovely girls are Koli (left ) and Khadija (right). They are friends not only at school but also when the bell rings and studies are over. They come to @SchoolForSDG4 together and I am sure they leave hand in hand as well. Koli loves joining drawing and English spoken class, she looks like a bright young lady if you ask me. Her grandfather helps her study at home which is quite amazing as many children in the charity school are deprived of the very necessary parent-children time spent together. Most adults are busy trying to earn enough to survive and provide for their children.
P.S. I am sorry I am late, around three weeks, with this post. I will try to get the Fruit and snack post up tomorrow as it seems that is the first day when I am not swamped. Haven't stopped running since the beginning of this month!
The SBD/STEEM from this post will go to the @SchoolForSDG4 account. The Steem Power will stay with me, @lindahas. It will be used later on to help fund my trip to Sylhet, Bangladesh and do something useful in real life.
---
---
So, on Monday the kids had a drawing lesson and an English spoken word class additionally to the usual curriculum. It is also when this post was supposed to be up but I have been flying high on responsibilities lately. Also, in the first video, new elementary pupil, Samia was helping her classmates learn the ABC's. Her sister Juma is also studying at the school.
One of the students, Robiul was not very attentive in class before. Recently, however, the boy picked up some speed and is trying to bring in the homework that is given in class, after lessons. Another child, Sumona who is an orphan and is living with her grandmother has a very attentive granny that often comes to @SchoolForSDG4 to check in on her granddaughter's progress. The woman works as a housemaid to keep the family afloat but she never skips out on Sumona.
Sitara recently came back to study, after a long pause. Her mother may not know the location of her school yet but the daughter is studying and that is what matters. Mohammed (@Azizbd) has not met her mom yet but Sitara is happy to come to school every day. Sitara was discovered by Mohammed while he was visiting slums. In the class, she is helping other classmates write on the whiteboard.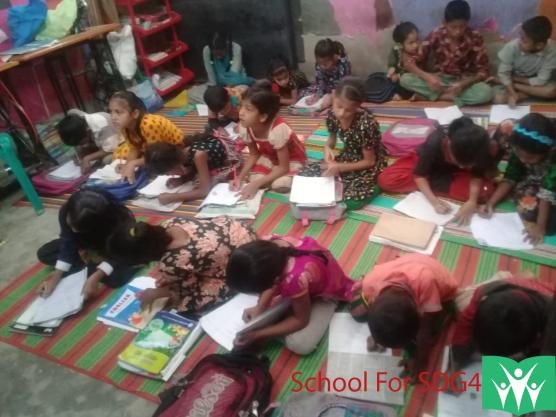 Those busy bees!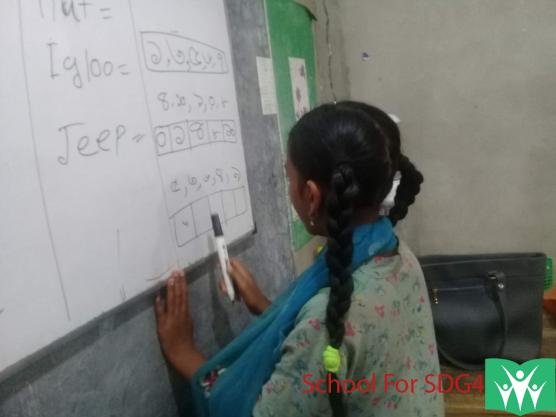 Sitara resuming her education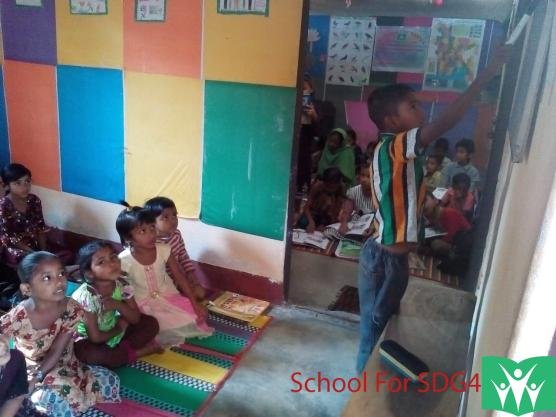 Rimon writing on the chalkboard.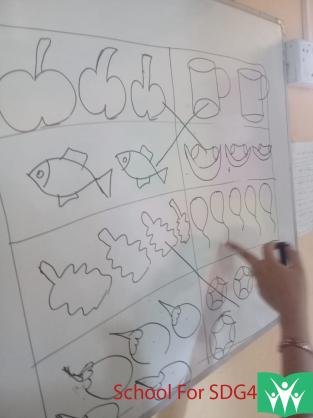 The numbers game.
---
All the pictures are recent and provided by @Azizbd. any questions about the project can be resolved with him if you are interested in helping this project and have any idea about how to make it better. He will even get up at 4 AM just to talk to somebody about ideas. Here is a link to his Steemit chat: https://steemit.chat/direct/azizbd.
If you would like to contribute by making a post, you can contact Mohammed (@azizbd) and he will provide pictures for you. Anyone spreading the word is welcome. The income from the post can be sent to @schoolforsdg4. Even a small donation from your posts means a lot to those kids.
If you have any Steem that you want to gift, donations are welcome. @SchooForSDG4 is where you want to send them. If you can't spare any Steem, because I know everybody has their lives to live and expenses that need to be covered, a simple upvote is very much appreciated. A resteem is encouraged.
Have the best day. Today, tomorrow, and forever!
Linda