 CREDIT: LumpyTouch
Time is a flat circle. A circle of memes and striped orange cats. What was will be again... and is.
When I was a child, I could not get enough of Garfield. I think my parents bought me 25 of Jim Davis's beloved creation. As I grew older, I stopped asking for Garfield books, but the comic strip will always be precious to me.
What interests me now is horror. More specifically, cosmic horror. So I was thrilled to discover that time does indeed fold in on itself and all things return. The Garfield comic of old died with me as I became an adult, and the cosmic, formless god of the beyond, Garfield the soul eater was born.
When William Burke reinvented the ornery orange cat into a cosmic horror mascot is when I understood my destiny.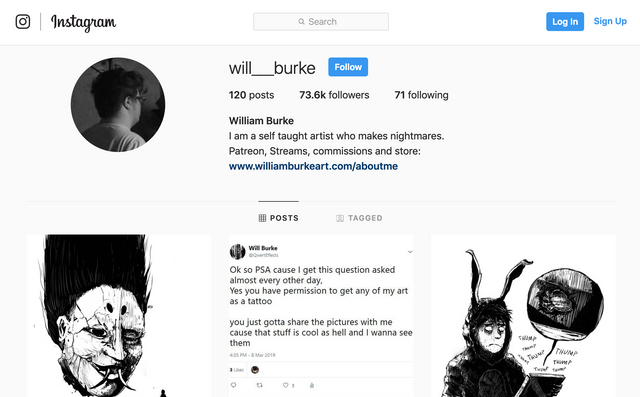 For a brief moment, I caught a glimpse of the formless, pitiless universe. How it operated according to the laws of something too terrifying to imagine. Cosmic horror, Changelings, Garfield... Garfield-ThingGod.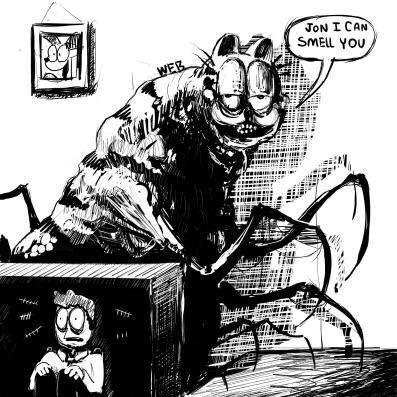 So far as I can tell, the above, twisted image of Garfield made its way to Reddit and a movement was born. The subreddit /r/imsorryjon is a Lovecraftian project where Garfield has been elevated to the status of a formless, insatiable god. Hungry for Jon's flesh. Garfield's owner and provider has been imprisoned in a universe that not only delights in terrifying him, but feels indifferent to his entire existence and inevitable doom.
I love this subreddit. Here's a couple of more gems.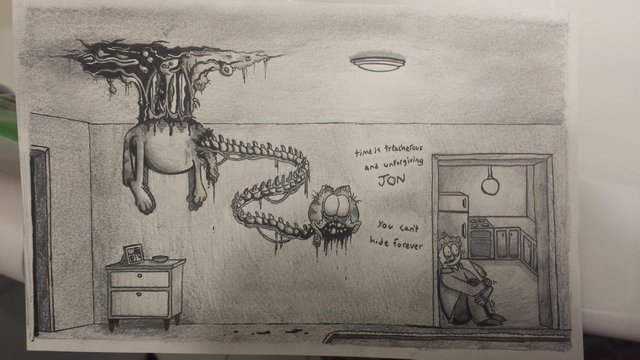 CREDIT: Churbex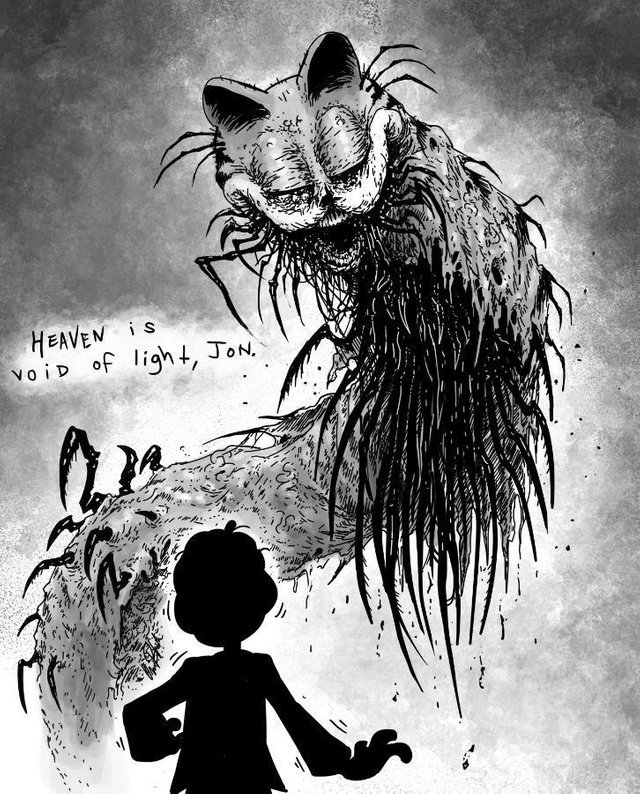 CEDIT: OmegaBlack
They encapsulate cosmic horror so well. The feeling of helplessness against something you don't understand, can't be killed and wants to eat you for eternity. In these cosmic strips, Jon has been transported into an endless prison. A maze of Garfields that are cat and not cat, insect and not insect, alive and not alive... and hungry.
The bottomless stomach of Garfield has finally turned on Jon and boomeranged back into my own life. It makes me want to believe that there's some kind of order to the universe, but more than likely it's a radioactive nightmare where we got lucky.
I will say though, if there was ever a sign post of destiny, I think this would count.
It's an enjoyable subreddit to follow. If you're into the macabre, I highly recommend lurking. If you're an artist, please contribute so I can lurk for you.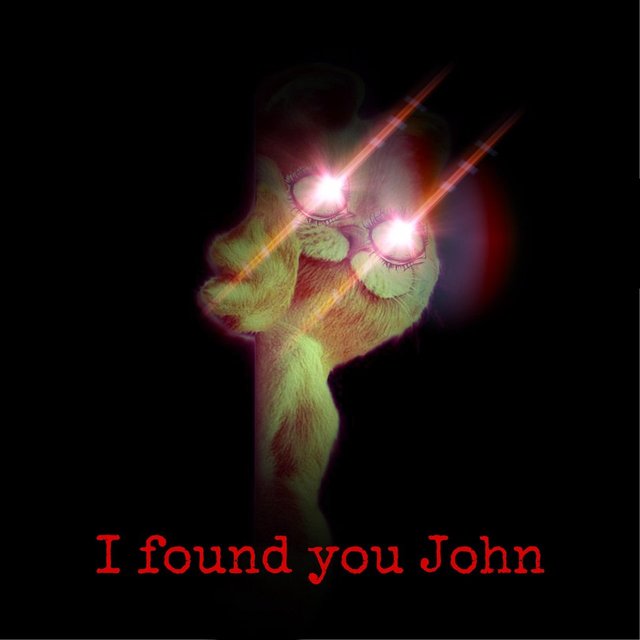 CREDIT: King_Sheepadern
This place will definitely serve as a source of inspiration for Changelings. It makes me want to write the most insane concepts I can think of! Horrors of the flesh beyond!
Phil
---
WHO DIS IS
If you want to know who I am and what Distant Signal is, check this out. It's sort of a manifesto. The TL;DR is that I've won an award for producing, make a lot of reality TV, live in LA and think that artist and media incentives are misaligned and serve large corporations and not independent artists.


The fist horror / thriller film made on and with the Steem blockchain. Use this hashtag to find out all about it!
DISTANT SIGNAL SOCIAL:
SUPPORT ME ON BITBACKER FOR $2 A MONTH:
http://bit.ly/DSBitbacker
WEBSITE: http://www.thesignalisstrong.com
SPOTIFY TARE PLAYLIST: Listen to it here!
LBRY: Direct LBRY App Link!
INSTAGRAM: https://instagram.com/distant_signal/
GAB: https://gab.com/Distant_Signal
MINDS: https://www.minds.com/DistantSignal
MISSION
In 2019 the goal is to produce the short horror film, Changelings, the world of that story and to build a community of filmmakers that are enthusiastic about filmmaking and crypto currency.

————————————
OTHER DISTANT SIGNAL PROJECTS
Dollar for Dollar:
————————————
PHIL ABATECOLA'S PERSONAL SITES:
INSTAGRAM: https://instagram.com/abatecolasan/
WEBSITE: http://www.philabatecola.com
MISSION
To create narratives, comedies and documentaries that are short, fun, interesting and cinematic.


Distant Signal Youtube Channel

Posted from YouTube via Share2Steem