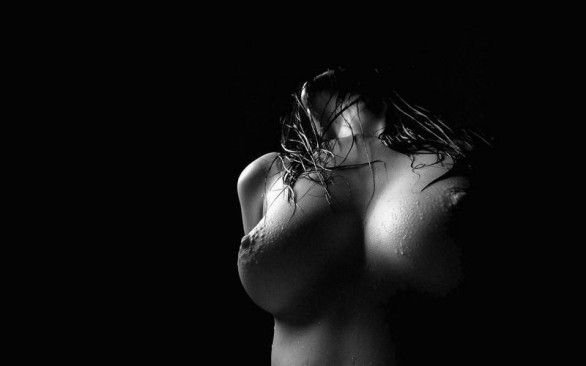 Embríagate amor mío
Ésta noche de cerveza y vino
Pídeme los deseos que nublan tu mente
Y confunden tu juicio.



Toma un poco de aire
Sobre mi espalda
Rodea mi cuerpo
Aprensandome sin salida
Muerde mi cintura
Aprieta mis nalgas



Juguemos a ser dos desconocidos
juntando sus almas
Sintiendo el fuego abrasador
que producen nuestros cuerpos
Con la mirada



Háblame despacio
Sé caprichoso
Como un niño sobre mis piernas
Extásiate de mis caricias en tu cabello
Con tu fuerza varonil sorpréndeme
Sentados en el mueble oscuro
Iluminado por un rayo de luna.



Con tu fragancia embelézame
Roza mis labios en un intento de beso
Déjalo para el final de este encuentro
como un gesto cariñoso
Tócame con tus dedos fríos primero
Estoy preparada para calmar tu sed
para entregarme a tu retorcida mente



Perverso, hazme adicta de cada rincón de tu cuerpo
Escrito en una madrugada de insomnio, mientras todos dormían
Translation
Be drunk, my love
This night of beer and wine
Ask me the wishes that cloud your mind
And they confuse your judgment.
Take a little air
On my back
Surround my body
Prolonging me with no way out
Bite my waist
Squeeze my buttocks
Let's play two strangers
gathering their souls
Feeling the burning fire
that our bodies produce
With the look
Talk to me slowly
Be capricious
Like a child on my legs
Extend your caresses on your hair
With your manly strength, surprise me
Sitting on the dark furniture
Illuminated by a moonbeam.
With your fragrance embase me
Brush my lips in a kiss attempt
Leave it for the end of this meeting
as a loving gesture
Touch me with your cold fingers first
I am ready to quench your thirst
to surrender to your twisted mind
Perverse, make me addicted to every corner of your body
Written in an early morning of insomnia, while everyone was sleeping.
Thanks to @deusx who helped me with the translation
Fuente de la imagen http://www.cotilleoblog.com/galleria/bellas-mujeres-desnudas-fotos-de-erotismo-en-blanco-y-negro-01/41