I've been traveling all over the world attending Bilderberg conferences for many years.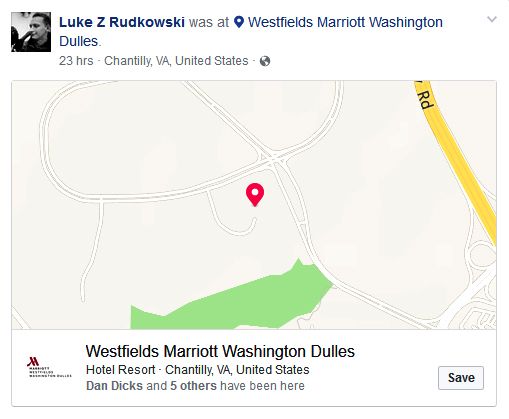 You can see some of what I've done & experienced for the last 7 years on my YouTube Playlist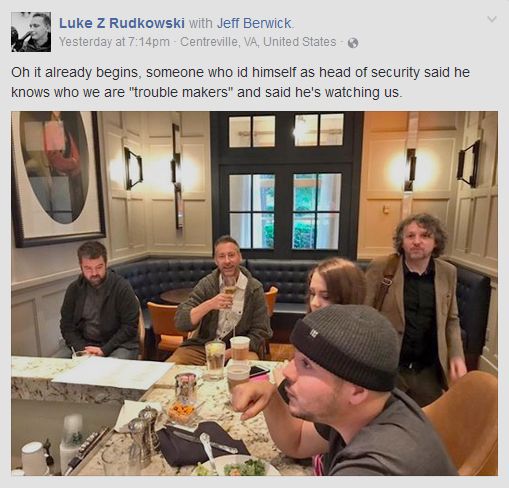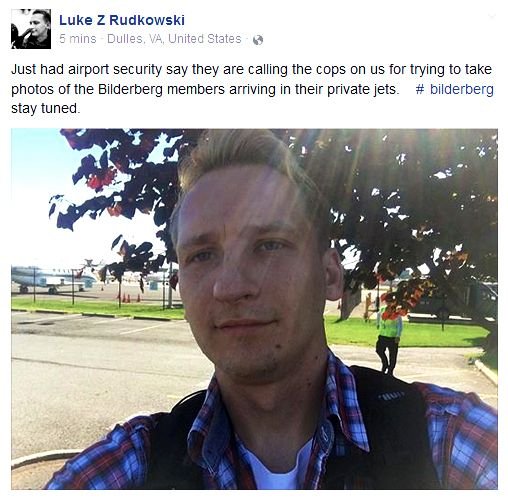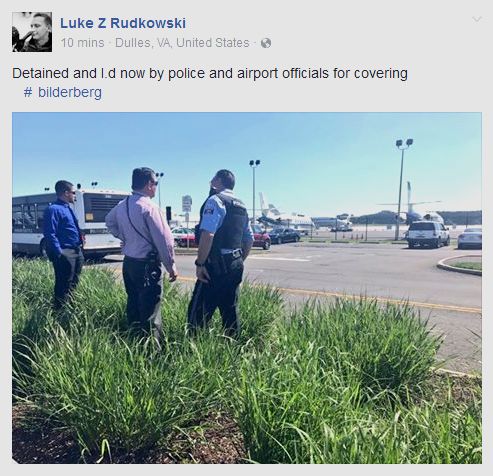 This year Bilderberg was at the Dulles airport in Virginia where we were able to interact with around forty Bilderberg attendees on arrival. Usually, we're immediately harassed, arrested, or thrown out of the premises.
This year was different- we obtained a permit beforehand from the airport as "official media" and got permission to interview and use our cameras at the airport. Bilderberg security briefly detained and released us several times. Dan Dicks of Press for Truth was threatened with arrest, but then the Bilderberg security realized they couldn't do anything about him. Their security seems to be stuck without legal jurisdiction and eventually they realized they couldn't stop us. They even tried getting Homeland Security involved and eventually HS told Bilderberg security to just leave us alone.
Earlier in the morning we were threatened with arrest in a different part of the airport, and this was before we even started filming. We showed our airport press credentials beforehand and the police were still called- accused of being "disorderly and suspicious". The police arrived, asked a few questions, and determined that we were legally allowed to be there.. They then notified the rest of the police department that there were two journalists at the airport who are doing nothing wrong and to just leave them alone and let them film.
My first interview target in this video was Jose Luis Arnaut- a Portuguese lawyer and former politician as he was leaving the airport- but he wasn't willing to answer any questions. Shortly afterward I spoke with another French Bilderberg attendee who is himself a journalist, who stated that he would report on Bilderberg according to the Chatham House Rule- a standard of the Royal Institute of International Affairs.
There were Bilderberg staff in the airport with signs to help attendees find them, which made it a lot easier to identify them. I tried to interview Larry Summers as he arrived, but he was very reluctant to talk, saying "No Comment, No Comment!". Larry wasn't very happy to be peppered with questions.
Al Jazeera TV was the only other news media to show up at the airport that day, and they have been getting some of the arriving Bilderbergers too. Max was able to get several European Bilderbergers to respond, they were likely surprised since Max speaks German. Max spoke with two individuals that told him about what they do, one was Axel Springer a German digital media publisher, another was a leftist green party political member.
The Bilderberg public agenda is quite vague and the actual topics are often quite different from the press release. Also, it's not uncommon for people not on the official guest list to be invited. Bilderbergers are generally corporate heads, bankers, heads of state, and owners of media monopolies. These are some of the most powerful people in society, who are using tax payer funds for their private security. Then they have a meeting where paranoia is the essence of it's entire existence.
Few attendees will talk about it, but there was one Dutch politician who did discuss the meeting, at some length a few years ago, his career took a nose dive shortly afterwards and he was never invited back. There is so much to talk about with Bilderberg, its importance and significance. The proof is in the way the US mainstream media treats it, like it does not exist, and there is rarely any substantive coverage of these meetings.
Some of the topics on the official list are really intriguing, with the first being the "Trump Administration: A progress report", others include the "War on information". Interestingly the director of CERN, the company that operates the large Hadron Collider will be in attendance. Dan voiced his concern about CERN's involvement. I interviewed longtime friend Jason Bermas on the topic.
I asked viewers, "Do you think that Bilderberg is opposed to Trump as Infowars has implied or are they in fact colluding with him?" I've pretty much lost all faith in Trump especially after the 480 billion dollar arms deal that he did with Saudi Arabia. They are a hotbed of Wahhabism, and because of them ISIS and Al Qaeda grew out of that region. Trump has given that country an unfair advantage against their neighbors, like Iran and the rest of the Middle East.
Trump is a member of the swamp, and isn't draining it like he said he would. Max and I discuss interview strategies, as we try to be friendly with the Bilderbergers to soften them up and then catch them off guard with a hardball question. Max said he surprised one woman from Belgium, who seemed shocked that there was a camera on her.
It looks like Bilderberg is changing with the times- they are no longer pushing away the internet, and are inviting people from Google, Microsoft and other tech companies, which is fascinating. I responded to a viewers question on Bitcoin and explained how it's helped me, but caution people to diversify, and not put all your eggs in one basket- as crypto currencies tend to fluctuate a lot.
Please support real independent media via wearechange.org/donate or via whatever way you works for you. Your donations mean the world to us. Please subscribe and click notify on our YouTube channel to see when we go live.
Thanks so much to all who donate and support your independent news services!
PATREON <-Support us -> WRC

We love BITCOIN too : )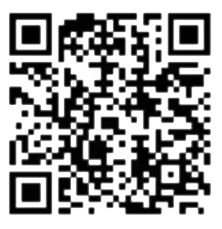 12HdLgeeuA87t2JU8m4tbRo247Yj5u2TVP

Visit our MAIN SITE
for more uncensored breaking news
FACEBOOK * TWITTER * INSTAGRAM
SNAPCHAT: LukeWeAreChange