Misty became part of my life, and I became part of hers one day about nine years ago.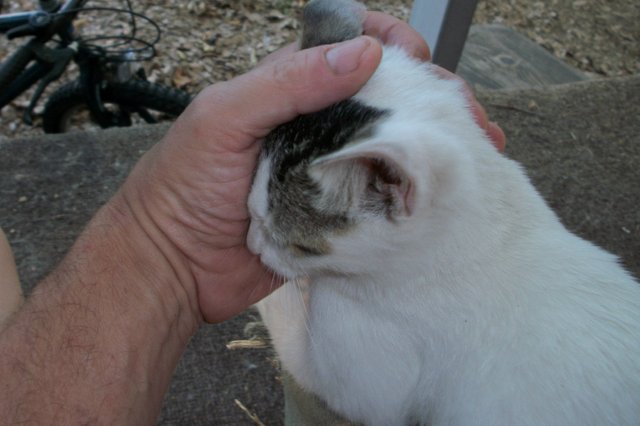 While doing a pressure washing job on the bricks of an apartment house (rear portion) from the corner of my eye, I spotted a little white ball of fluff sitting under a small bush, gazing out at me, with 'misty' eyes.
She didn't seem afraid of me, yet kept a comfortably safe distance every time I would stop for a break and talk to her. As the days progressed, Misty inched closer and closer to me until she began coming right up to me for the food I would bring her.
The work took about five days to complete, because I also had to paint some of the woodwork around doors and windows. Every morning, soon after arriving, the little kitten would scoot out from under a fence to greet me when I called to her; I'd fill her bowl with fresh water and sprinkle out some cat food for her belly.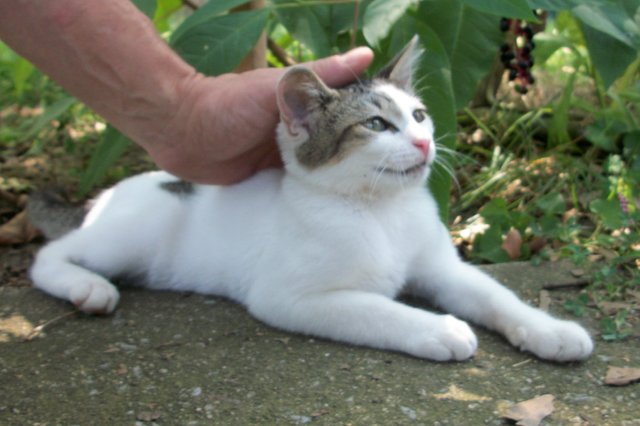 Tenants who lived in the building told me that 'she' had just appeared there one day, and seemed to be living alone; it was a 'mystery' how she got there. One guy who lived on the third floor, was throwing slices of salami down to her from his window.
On the last day of working there, after packing up all my tools, I lingered for awhile with Misty who was perched by my feet and petted her little head (As she finally allowed me to do so)
Reaching down, Misty let me pick her up into my arms and began purring...my heart was breaking having to leave her there alone once again; my guess was that she was probably only about four or five months old.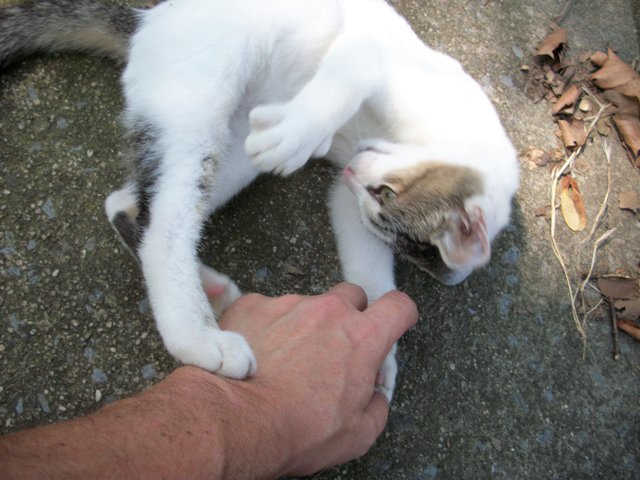 As I left that day, she followed me all the way down the alley and sat watching as I drove away.
That evening as I sat on the back porch thinking about her, a thunderstorm rolled in with fierce bolts of lightening and a roaring downpour of cold rain. In my mind, I envisioned the poor little girl cowering under something in the dark, for protection.
The next day, I decided to go visit her and make sure she had food and water. Then I would visit her every two days or so after that. She always seemed as happy to see me, as I was to see her...
About a week later when I came to visit her, she was nowhere to be found. Usually, if she was not out waiting for me, she appeared within moments of me calling to her. I searched nearby expecting the worse...after all, the back of that apartment building had a huge, adjoining commercial parking lot with cars and trucks zooming around, all day long.
Shortly after returning to the back of the apartment building, and crouching with food in my hand, calling her...she ran out from under a bush, circling me...then back under the bush.
Misty had a long piece of packing tape stuck on her tail, which crackled behind her as she ran; she was obviously distressed. I reached under the bush, lifted her up to my lap and gently removed the offending object.
Relieved, Misty ate some food and lapped up a bit of water while I comforted her. I decided in those moments, that I would return with a pet carrier and take her home with me.
Which I did...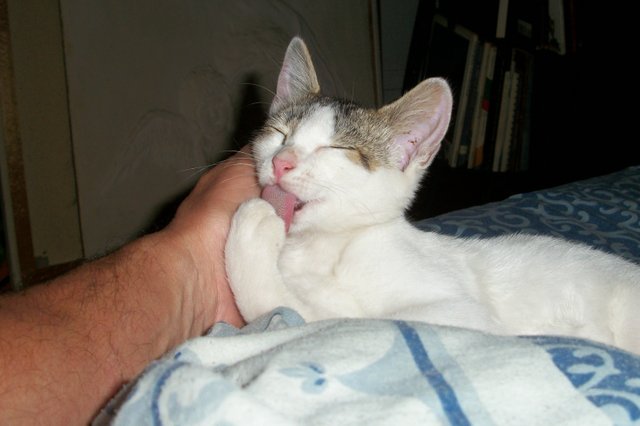 We still have each other after nine years, and she's still as sweet and beautiful as the first day we met.
My Happy Caturday Story