Welcome to our family / Willkommen in der Familie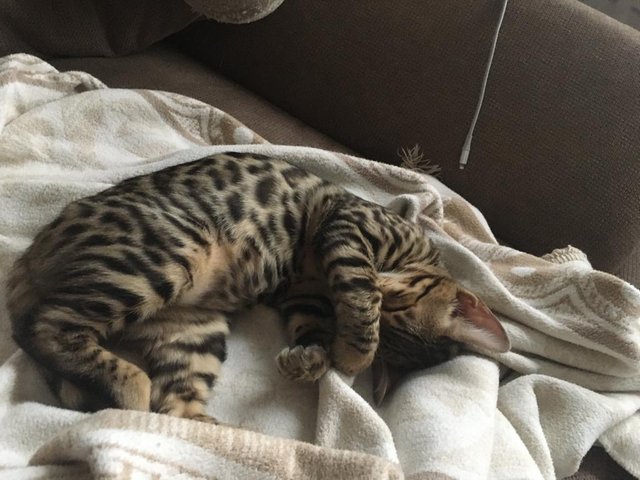 Hallo Ihr Lieben,
da wir gern wollten das unser Sohn mit einem Tier aufwachen soll, haben Wir uns für einen kleinen Kater entschieden!! 😺
Der kleine Mann ist nun 14 Wochen alt und wir durften Ihn endlich zu uns in sein neues Zuhause holen.
Die erste Nacht war sehr unruhig, Er hat starkes Heimweh und vermisst seine Mutter und Geschwister! Es ist wirklich Herz zerreißend Ihn mauzen zu hören und suchend durch die Gegend zu laufen wenn Er sich nicht gerade verkriecht.
Als wir Heute Morgen aufgestanden sind kam Er ca. nach einer Stunde aus seinem Versteck und hat sich angenähert, man hat gemerkt das er Nähe und Zuneigung braucht!
Nach sechs Stunden ist dieses Bild entstanden, plötzlich legte Er sich zu uns auf die Couch 😻
Ich bin mal gespannt wie der Morgige Tag abläuft!
Hello my dears,
because we wanted our son to wake up with an animal, we decided to have a little cat !! 😺
The little man is now 14 weeks old and we were finally allowed to bring him to his new home.
The first night was very restless, he is very homesick and misses his mother and siblings! It is really heartbreaking to hear him mow and to run around when he is not crawling.
When we got up this morning, he came out of his hiding place after about an hour and approached, you could tell that he needed closeness and affection!
This picture was taken after six hours, suddenly he lay down on the couch with us 😻
I'm curious to see how tomorrow will go!
Posted using Partiko iOS