Welcome to the internet where we have lots of cool ways to earn money. In recent times I have spent a lot of time looking for ways I can apply myself; I find it to have the "iron shapeneth iron" effect and with content creation, I found that niche.
During my usual stroll through the streets of Steemit, I encountered this interesting content creation platform called Catered Content.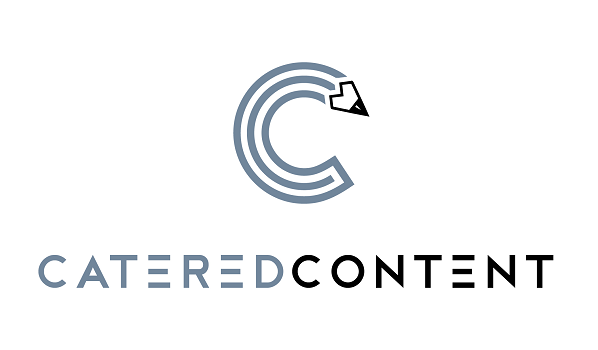 Source
About Catered Content
Catered Content is a platform that facilitates content creation for specific events by creating financial incentives to attract content creators.
Users of the platform can participate by creating content related to the the active event listed on the website. It is also affiliated with Original Works
Account Creation
Creating an account is a straightforward and easy process. All you need to do is fill a simple form that will include your email and your personal password.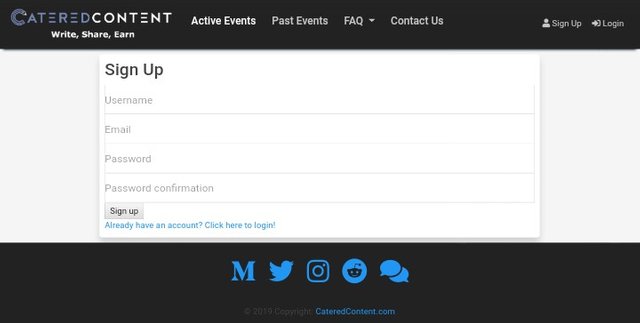 Click here to sign up.
Updating your Profile
After creating your account, the next thing to do is updating your profile.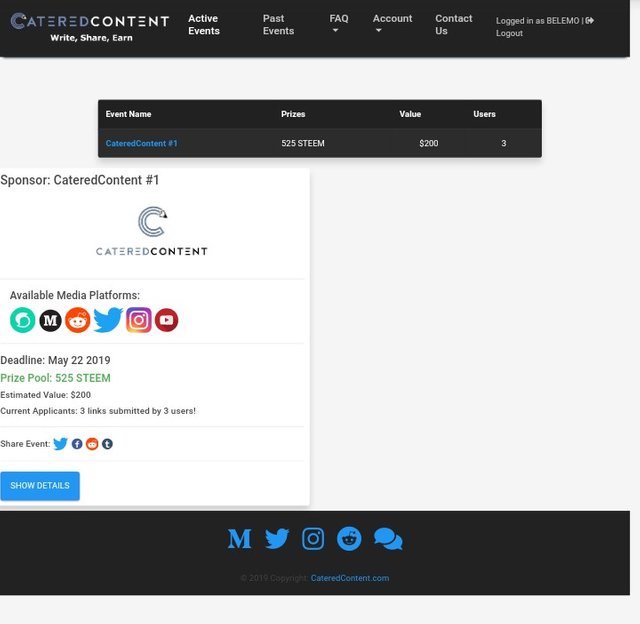 Screenshot of my dashboard
To update your profile;
Click on account on your dashboard
Select "profile" in the drop down menu
fill in the necessary information about yourself, include your ethereum and From wallet addresses and then finally your social media handles. These handles will be where you can create content through.
Creating Content
After creating your account, you log in and can instantly create content for active events.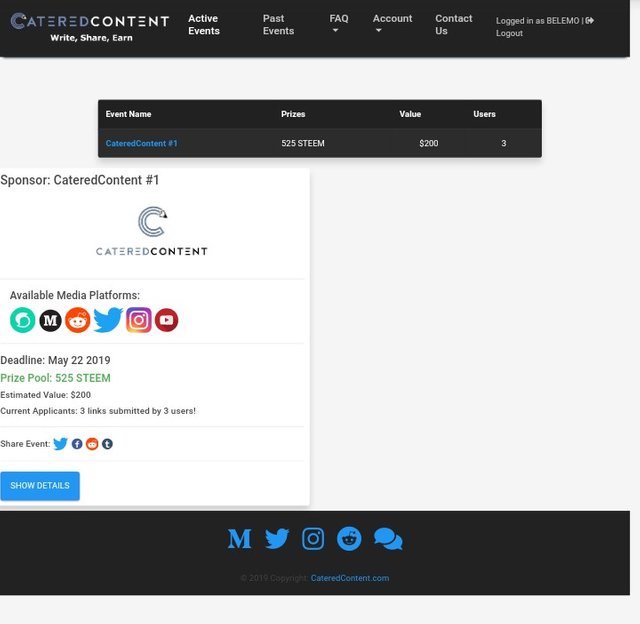 Screenshot of my dashboard
To create content for an event simply
select the event as stated
read about the requirements and what the event entails.
Use your various channels to write about the event as stated.
when you're done, you will submit your entry by scrolling to the bottom of the event.

Select the social media channel used for the created content and then include a link.
Note: it is advisable that you use the same social media channel as the one stated in your profile.
Important Points
Your submitted entries will be clearly displayed on your dashboard
You can create more than entry but make sure they're in different platforms.
The content created puts you in a position to benefit from the stipulated amount in the pool.
Content creators earn more by sharing in more platforms.
There is a ranking system in place. Everybody starts as a small fish and as the platform progresses, users will earn based on their ranking.
Stay in touch to hear about further development in the platform
For More information:
Website
Medium Profile
Twitter profile
Instagram
Reddit profile