TELOS Trading Card #9 - Telos Network and Sqrl Wallet
Trading Card #9 - Telos Network and Sqrl Wallet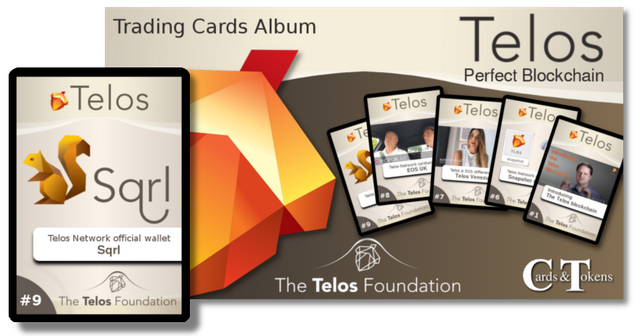 Telos Trading Cards
Cards & Tokens is going to be deployed over TELOS blockchain and celebrate it we decided to create a brand new album dedicated to promote this new blockchain the best way we can do it, with trading cards !!
Sqrl Wallet
SQRL is the official wallet for TELOS. It is a fork of the greymass eos-voter excelent wallet that no only connects to the TELOS network but any eosio blockchain that you could have an endpoint (even local chains).
One of the key differences that highlights this wallet is to have full governance features, meaning voting for BP, delegating to a proxy voter, having worker proposals and ratify/amend.
Full Governance
This wallet is equipped with everything involving the governance of the Telos blockchain.
Voting block Producer
First of all you can vote up to 30 Block Producers (you must remember that Telos apply a reverse weight voting to prevent misbehavior).
Proxy voting
Ahoter way of voting for Block producers is by delegating your vote to a proxy. If you do not have the time to research Block Producers on a regular basis, proxying your votes to a trustworthy proxy voter can be a very good way to use your voting power efficiently (this can be revoked at any time).
Worker proposals
Anybody is able to present a worker proposal and ask founds in TLOS for anything. When you upload a proposal, you may specify centarn parameters like a Title, a file with all the details, the amount of tokens you ask for and the amount of circuits (months) you plan to receive this founds.
Also you can support other's proposals by voting on each of them when listed as availables.
https://medium.com/@teloslogical/telos-worker-proposal-system-e56a90fab2ac
Ratify / Amend
The Telos Network is governed by five governing documents:
The Telos Network Operating Agreement
The human-language terms of the "Regproducer" contract dictate the terms by which block producers and block producer candidates nominate themselves and serve.
The block producer minimum requirements.
The human-language terms of the "Regarbitrator" contract dictate the terms by which elected arbitrators and arbitrator candidates nominate themselves and serve.
The arbitrator minimum requirements
Any one of these documents may be ratified or amended using the "ratifyamend" contract
https://medium.com/@teloslogical/telos-ratify-amend-system-ebc18ffd817e
Other features
New User Account Creation
Works Across Chains
New TLOS Key Generation
Token Transfers
CPU/Bandwidth Staking
Buy/Sell RAM
Create Accounts
Simple Contact Management
Interact w/ Smart Contracts
Local Wallet
for a complete list of features visit https://github.com/Telos-Foundation/Sqrl
Download
You can download this excellent wallet for free from the github releases repository and is available for Windows, Linux and Mac operating systems.
https://github.com/Telos-Foundation/Sqrl/releases
Find out more about this new aewsome blockchain at
https://telosfoundation.io/