Cardano, the most sustainable crypto, fundamentally and technically!
Cardano is one of the biggest cryptocurrencies in the crypto ecosystem by market cap and trading volume, a very bright idea with one of the most precise and technically well-written white papers.
Cardano's underlying currency is called ADA and it has been my fav crypto for a long time. so let's check some technical and fundamental issues about it: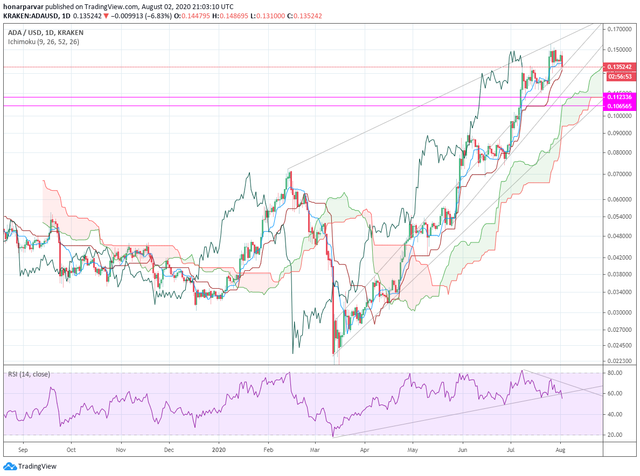 Cardano's primary goal of creating a digital currency economy using its ADA token isn't much different from Bitcoin's purpose. People want to send and receive digital currency on a secure and decentralized blockchain — they can do it using Cardano. But, that is not all Cardano is for.
Cardano's second layer and the way it interacts with the first is where things start to making it distinguished from Bitcoin and even its smart contract rival, Ethereum: The Cardano Settlement Layer (CSL), which is the Cardano Computation Layer (CCL).
The most recent Shelley hardfork of Cardano may cause some problems in the blockchain and may push the price of the ADA for a bit lower temporary; but technically the chart shows very strong signs of bullish trend that you may not miss this chance going up with them!
how low the price can come?
look at the chart, exactly on the day of the hardfork, the trend line I drew on the RSI broke below, and now I see the channel between two purple lines a reasonable level to enter.
the two levels are based on supports from Ichimoku cloud.
don't forget considering your:
money management rules
risk to reward ratio rules
set stop loss
have a great trade!
I may publish this post on my other social media channels with same username: @honarparvar