Heal naturally --- Treating Acne, insect bites, burns, joint pain and more
I used the following recipe to treat many skin conditions with no apparent side effects. This recipe is based on the powerful healing properties of Cannabis and Coconut oil.
Using it externally will not get you medicated but taking it orally (or vaginally for women) will. If you do choose to use it to get medicated than use it carefully and gradually as it is quite potent, instructions to follow.
Ingredients
2-5g. of Cannabis buds.
Extra virgin organic coconut oil
2 Glass jars
Oven capable of reaching as low as 75C
Grinder or knife
Paper coffee filter or cotton diaper
Sunflower lecitin (optional)
How to make it
Grind the cannabis buds in a grinder until you get fairly small pieces (not powder)
Put it in a glass jar and close the lid.
Heat oven to 100-105C, set the clock for 60 minutes and insert glass jar.
Rock (mix) the glass jar every few minutes so that the heat is evenly distributed.
Notice that the buds are turning brownish in color. Make sure they never turn black.
When done. Turn off the oven and leave glass jar inside to cool to room temp.
Open the lid and add the coconut oil. Make sure its about 1cm over the top of the buds. Close the lid.
Heat oven to 70C-80C and insert glass jar, set the clock for 3 hours.
Rock (mix) glass jar frequently. Don't open the lid.
When done. Leave glass jar to cool in the oven until it reach room temp.
Use coffee filter to cover the top of the empty glass jar.
Strain the cannabis infused coconut oil by spilling it into the coffee filter covered jar.
Close the lid over the glass jar with the coffe filter and wait until no liquid remains in the filter.
Extract any leftover oil from the filter by pressing on it.
Add the Sunflower lecitin
Usage
For external use:

Make sure area is clean. Put oil on the affected area.
Wrap area with a nylon wrap and let it rest for a couple of hours.

For internal use (vaginal or oral):

Take a quarter-half a tea spoon. Wait for 2 hours before increasing dosage.
BE CAREFUL: Using too much will cause hallucinations and/or panic attacks.
The end product (on the right a lite version):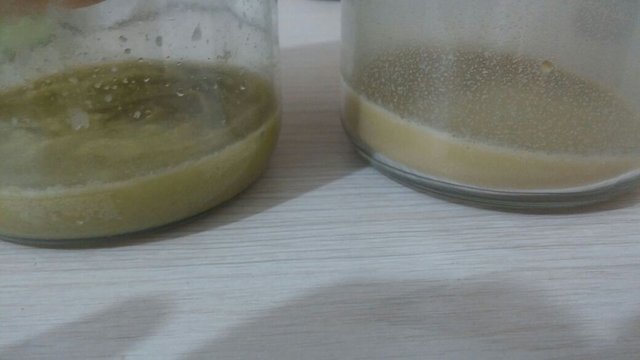 I successfully used it to treat acne, burns, scars (takes weeks), mosquito bites and inflammatory joints. I know women that used it to increase pleasure during intercourse and people that used it to reduce pain. I even used it once when I had 38C body heat and by the morning it was back to 36.6C.
THC and CBD are very powerful healing agents and work wonders.
Please watch The Scientist free documentary on YouTube for more information.
Disclaimer: Always adhere to your local country laws and regulations. Use at your own risk. I can't be held accountable for any use or misuse, effects or side effects of this recipe.