Canna-Curate is so excited to team up with @cannuration for a giveaway. We figured it's a perfect time to get people's mind off crypto and focus on the positive things about Steem. We got to take a step back and think, what else will we be doing if it wasn't for Steemit? Well the Canna team is all about the block chain, and we are not going anywhere!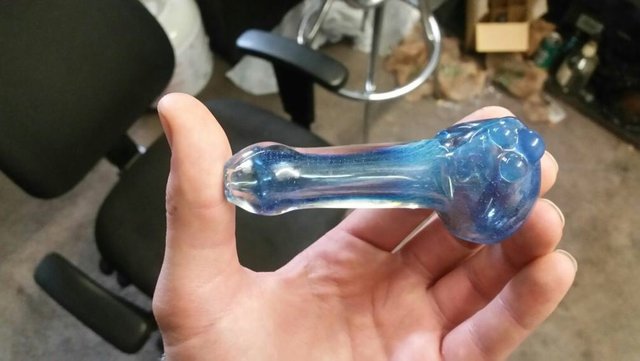 What is better to giveaway then a pipe made by a Steemian? @borofreak has been here since Jan of this year. He is the only glass blower that I am aware of on Steemit. What we are hoping to do with this giveaway, is show love to our supporters, bring some excitement into the community, and to showcase this amazing artist, and hopefully get people to buy their smoke ware from him. @borofreak accepts Steem or Sbd, Bitcoin, Litecoin, or PayPal. You can find him on Discord @JakeW_Glass#3268.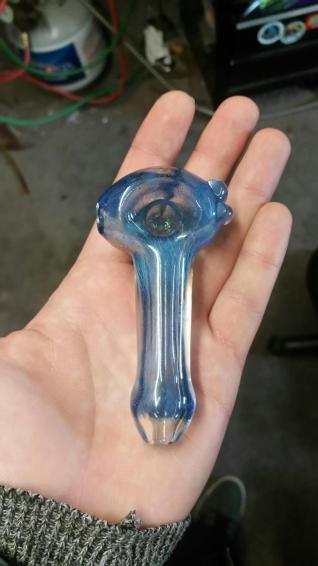 We are giving multiple ways to enter this giveaway, all you have to do is one of the things listed:
Be a delegator of @canna-curate

Sign up on the cannuration curation trail on Steemauto.com

Send 1 Steem to Canna-Curate. This Steem will be put in savings and used for future smoke ware by @borofreak giveaways. Put "I love Canna" in the memo.

Write a post telling us about your first time smoking cannabis and drop link on this post.
Everyone is free to enter! Drawing will be after the payout of this post. Good luck.

Delegators: @alchemage, @amymya, @ArtisticScreech, @battleaxe, @billmega, @Bluntsmasha, @cannabiscurator, @conradino23, @cryptohustlin, @darkprince66, @davedickeyyall, @deanpiecka, @dynamicgreentk,@dynamicrypto, @d-vine, @ELAmental, @ericwilson, @fatkat, @foodforestbot, @fracasgrimm, @ganjafarmer, @goldendawne, @hotsauceislethal, @jonyoudyer, @kimmysomelove42, @k0wsk1, @krazypoet, @lyndsaybowes, @mandyfroelich, @marksheppard, @movingman,@msp-creativebot, @netgodbeerus, @olafurthor, @pataty69, @pharesim, @paradigmprospect, @phusionphil, @rakkasan84, @rawpride, @realkiki85, @SammoSK, @sgt-dan, @skylinebuds, @soundwavesphoton, @underGRound

Trail Makers: @jonyoudyer, @Bluntsmasha, @conradino23, @ELAmental, @netgodbeerus, @cannabiscurator, @realkiki85, @doctorspence, @darkprince66, @cannaqueen, @hiatus, @tilestar, @naturalfox, @canna-collective, @deary, @foodforestbot, @nikema, @Tafgongthe1st, @loryluvszombies, @spicedlife, @gjones15, @mrunderstood, @benzeta, @stoned2thebone, @cannafarms, @thegreenhouse, @cultivar, @liquid-mike, @brockmorris, @ganjagirl, @MadPotters, @chey, @growingassets, @the-haze, @skylinebuds, @gingy710, @growroom, @kootsmedtree, @cowboyblazerfan. @suheri, @imammudarifqi, @grow-pro, @winnerchris, @twirlspin, @pdxlove, @cannabis-news, @cannuration, @steem420, @socialmisfit, @heyimsnuffles, @ambiguity, @phoenixwren, @batman0916, @greenfooteCO, @ceattlestretch, @njweedman, @superwoman916, @movement19, @bengiles, @growroom, @elderson, @hemp-lord, @deadisdead, @coffeebuds, @gregorypatrick, @asonintrigue, @freedomtribe, @bembelmaniac, @mango-juice, @powpow420, @oh-high-mark, @stonerfeed, @kaz2305, @derangedvisions, @veteranforcrypto, @rebeccaryan, @bigriffsbongrips, @spicedlife, @a1-shroom-spores, @kiefpreston.com, @dilwhosaskin, @argenisapaz, @sapphic, @paradigmprospect, @vegangod, @qwoyn, @borofreak, @sunnydays-r-over, @kawa23, @caperf35, @yogajill, @dynamicsteemians, @khackett


| | |
| --- | --- |




Hit that banner and come network and chill with like minded people.