When plants managed to fill the bud sites with calyxes and stigmas, and trichome production – in most of the strains– becomes visible, they enter mid flowering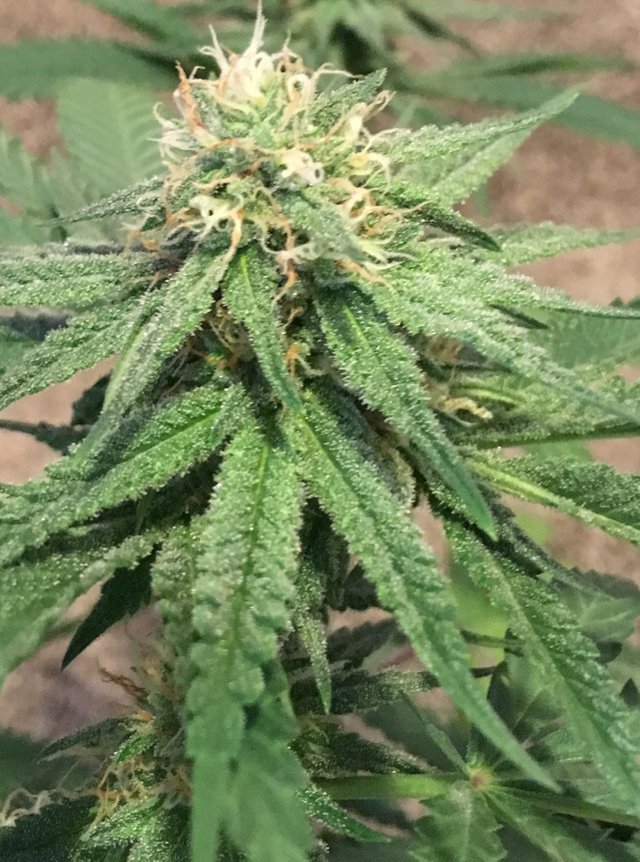 Santa Rita #3

And this is when magic happens! Cannabis really gets it on, and starts synthesizing cannabinoids, that are stored mainly in shiny glandular trichomes aka. trichs.
This is also when terpenes such as myrcene, limonene, linalool, pinene, humulene, carotene etc. start being produced by the plant in abundance, which is why we are able to detect a distinctive smell, that grows stronger by the day.
Cannabis in this stage needs a lot of water, which is why frequent watering is advised, sometimes even daily, if the root is large enough to utilise it.
As cations such as calcium, magnesium, phosophorus, iron, manganese etc. are used for producing primary and secondary metabolites, they need to be absorbed from the soil and transported within the plant with water.
This is also the moment for fertilisation! But once or twice is usually enough for plants grown indoor in containers, if you're not a commercial grower, and you're shooting for quality bud, that has excellent taste, good weight (not size), and gets you high as a kite!
Outdoor, if you're growing directly in soil, you might consider fertilising more. But that depends strictly on the strain, your conditions (sun index etc.), your experience, and your personal or business needs. But in the end it's whatever flaots your boat!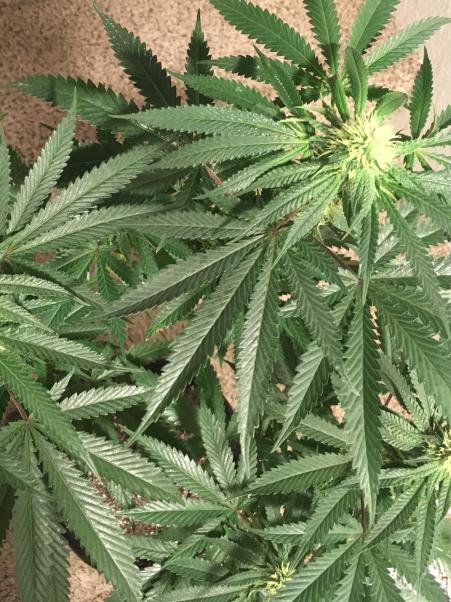 Tahoo Og x Og
Important thing to keep in mind is that the plants need to be inspected daily or as often as possible for pests, which usually find home and multiply underneath the lower leaves.
Should any spider mites, hemp mites, borers, thrips or aphids be found, we need to address the problem VERY QUICKLY by treating the plant in most efficient, but also THE SAFEST way possible. Organic methods ought to be always the first choice!
As far as light, RH and air flow indoor are concerned, cannabis needs a lot of attention in this stage. We also need to provide stable, moderate temperature that OPTIMALLY doesn't go higher than 80F/18C during the day, and lower than 68F/27C in the night.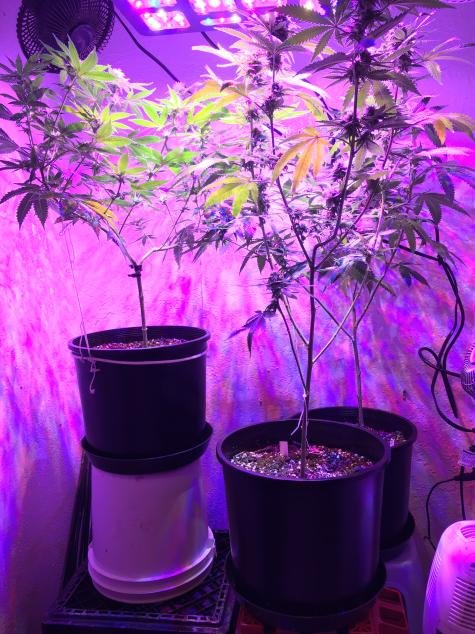 And last, but not least, this stage is the last call for the grower to trim the undegrowth, which consumes energy of the plant without providing a proper outcome. Any lower bud, that doesn't get enough light is a fair game. In certain conditions lollipopping should be considered.
Stay tuned for the next bit, and support @canna-curate by upvoting and resteeming this post 🌿
Written by: @conradino23
Photos by: @jonyoudyer

Delegators: @amymya, @ArtisticScreech, @battleaxe, @billmega, @Bluntsmasha, @cannabiscurator, @conradino23, @chronocrypto, @cryptohustlin, @darkprince66, @davedickeyyall,@dynamicgreentk,@dynamicrypto,@eaglespirit, @ELAmental, @ericwilson, @fatkat, @foodforestbot, @fracasgrimm, @gjones15, @goldendawne, @growroom, @hotsauceislethal, @jonyoudyer, @k0wsk1 , @lyndsaybowes, @mandyfroelich, @movingman,@msp-creativebot, @netgodbeerus, @olafurthor, @pataty69, @rakkasan84, @realkiki85, @reverendrum, @sgt-dan,@skylinebuds, @sieses, @soundwavesphoton, @undeGRound Co-Witness - @sapphic
Trail Makers: @jonyoudyer, @Bluntsmasha, @conradino23, @ELAmental, @netgodbeerus, @cannabiscurator, @debo4200, @sieses, @realkiki85, @doctorspence, @darkprince66, @cannaqueen, @hiatus, @tilestar, @naturalfox, @canna-collective, @deary, @foodforestbot, @nikema, @RebeccaRyanhelps, @knarly327, @Tafgongthe1st, @loryluvszombies, @spicedlife, @gjones15, @mrunderstood, @benzeta, @stoned2thebone, @cannafarms, @thegreenhouse, @cultivar, @liquid-mike, @Zainenn, @brockmorris, @ganjagirl, @MadPotters, @chey, @growingassets, @the-haze, @skylinebuds, @gingy710, @growroom, @kootsmedtree, @cowboyblazerfan. @suheri, @imammudarifqi, @elderson, @grow-pro, @winnerchris, @twirlspin, @pdxlove, @cannabis-news, @cannuration, @steem420, @socialmisfit, @heyimsnuffles, @ambiguity , @justinashby, @phoenixwren, @batman0916, @fortpeacesteemit

Dolphin Bonus Support & Donator: @RebeccaRyan
SBD Donators: @movingman, @ceattlestretch